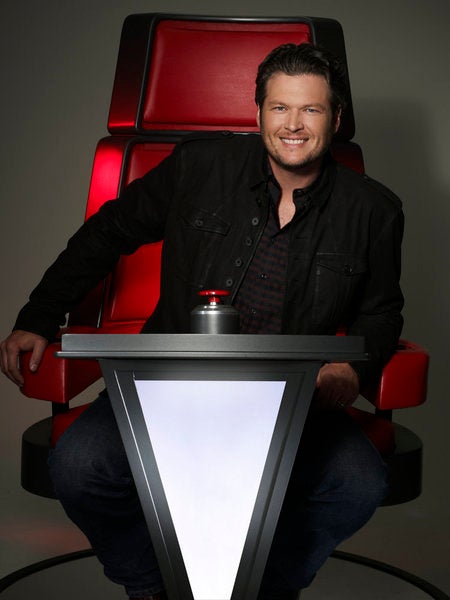 Shelton, who plays the wayward brother of Reba McEntire's character in the March 1 episode of "Malibu," admitted that although the new "Voice" dynamic is "different," the show is still "every bit as entertaining" as it was before. Read on for more of Shelton's thoughts on the new season, which of his fellow coaches is "kicking [his] ass," and how it feels to be up against his wife Miranda Lambert in the Academy of Country Music Awards nominations.
How far into filming this season of "The Voice" are you -- are the blind auditions done?
We're probably about 25 percent of the way through. We still have to film the actual battle rounds -- we've filmed all the mentoring that I did with Sheryl Crow, but now we have to film the battles and then of course we'll go live right after that. The blinds are all done and it was a ball. I've really enjoyed getting to know Usher and Shakira, it's actually been a lot of fun, and they're really good people and competitive -- my god, they're very competitive. Especially Shakira. I've gotta hand it to her, she came in with her claws out -- she definitely had done her research and saw the bartering that goes on in the blind auditions and she was ready for it.
How has the dynamic shifted now that Usher and Shakira have stepped in for Cee Lo and Christina?
It's different, obviously it's different. I never realized until Christina and Cee Lo had gone this year, how much of the show is carried by the four of us. I guess in my mind it was always the concept that carries it, and you find out that's not the truth -- it's the four down in those chairs; a lot of it, anyway.
It does change the dynamic when you take two of the people out -- especially now, four seasons into it, people have gotten to know each one of us -- to just unplug two of them and put two new in. But it's every bit as entertaining and it's just a different dynamic. There's no wondering what Cee Lo's gonna be wearing or what Christina's gonna do or say that drives people crazy. That poor girl, every time she opens her mouth, she just has to read about it in the tabloids. But that also has been part of the making and the building of the show. Usher came rolling in and, my gosh, the guy already beat all of us 'cause he found Justin Bieber. [Laughs.]
Who's got the best team right now? Are you feeling confident about your picks?
[Usher's] definitely one to watch on here, just because he has been involved in some of that mentoring and stuff, and I'm hearing through the grapevine -- you always end up talking backstage to production people and the crew -- like, "What's Shakira like? Is she taking it serious?" And everything I hear is, they're both really taking it serious -- probably to the point where Adam [Levine] and I need to step up our game a little bit, 'cause I think we both thought we could coast through, knowing how to play the game. I don't think that's gonna be the case at all …
The one thing Shakira is really good at is, you can't help but fall in love with her instantly, the first time you meet her. She's just beautiful and sweet and she's got that accent and it's real easy to go, "You know what, Shakira, it's okay -- you can have that artist, I don't wanna upset you." She's so sweet and at the end of the day you go, "Holy shit, man -- she's kicking my ass 'cause she's Shakira and I love her!" She's sneaky that way, for sure.
You're also hosting the ACMs …
Hosting the ACMs with my buddy Luke Bryan, which I'm excited about. If there's one other guy in country music who's not afraid to make an absolute ass out of himself, besides me, it's Luke Bryan. Actually, that could be a bad thing -- you normally need someone to play the straight person and we're both kinda crazy and it should be chaotic but should be entertaining too.
Congratulations on your nominations -- but you're also up against Miranda in one category, right?
Yes, we have one nomination together as songwriters and then we're against each other in the Entertainer of the Year category. I'm telling you right now, I'd love to win that thing but as much as I'd love to win it, I'd love to see her win that thing, because I know how much harder it is for a female to even make it to that category. Reba and I have talked about it and I've heard her and Miranda have conversations about when Reba won Entertainer of the Year -- it's historic. And Taylor [Swift] has made history and Taylor somehow has made it seem easy, she's just such a superstar, and I know it hasn't been easy for her. I would love to see Miranda win that thing, for real. And I won at the CMAs ... I'm happy either way.
We'll have more from our interview with Shelton before his "Malibu Country" debut on March 1. "Malibu Country" airs Fridays at 8:30 p.m. EST on ABC. "The Voice" returns Monday, March 25 at 8 p.m. EST on NBC.
REAL LIFE. REAL NEWS. REAL VOICES.
Help us tell more of the stories that matter from voices that too often remain unheard.
BEFORE YOU GO