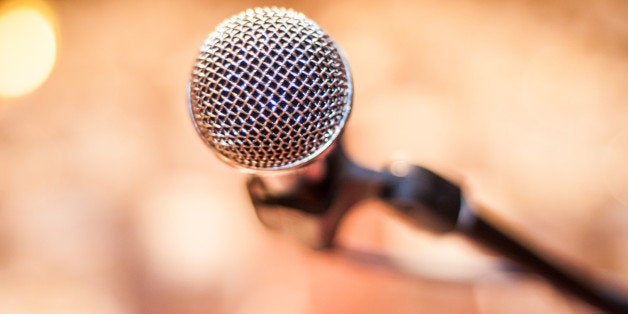 Season eight of the NBC show The Voice kicked off its premier a few weeks ago with a bang, and it was the first contestant that night who seems to have America still talking.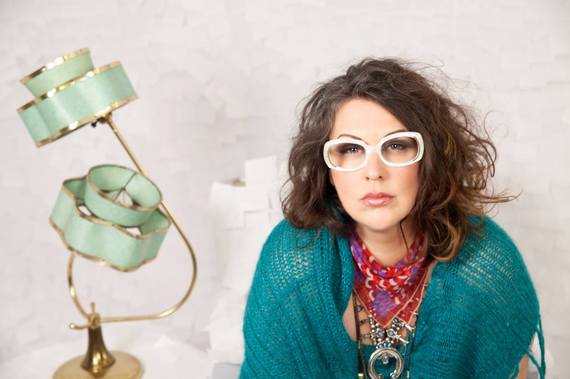 (Photo Credit: Stacie Huckeba)
Sarah Potenza, the bawdy rocker babe from Providence Rhode Island came out to do "Stay With Me" by the Faces (ie; Rod Stewart). Her performance brought her to her knees, literally, with one of the biggest wails I've ever seen on the show and it landed her a four-chair turn that had the judges at each other's throats vying for the chance to become her coach.
While Blake won the battle that landed Sarah on his team, it was Sarah that won the actual Battle Round on the Tuesday March 10th episode, knocking out Hannah Kirby with a mind-blowing rendition of the Rolling Stones "Gimme Shelter".
Her performances so far have been worthy of all the hoopla, but it is also her personal style and personality that seems to be resonating with women across the country. Blog sites and forums are buzzing about everything from her hair to her glasses to her coats and shoes.
Sarah is a proud size 14 and when we first saw her, she looked like a rock & roll goddess that you might expect to see singing background vocals for the Stones rather than a fresh faced contestant on a singing competition. Once the show started sending out the behind the scenes video's of the contestants, she once again started the fashion world murmuring about her appearance.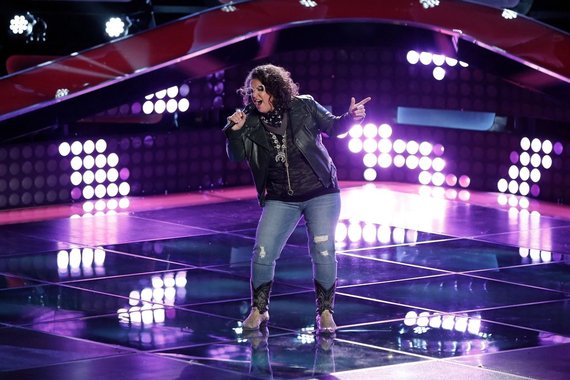 We've seen her pulling her curly hair into fauxhawks and walking around the studios in floor-length kimonos or big sweaters over huge muted colored American flag scarves which she pairs flawlessly with her eclectic accessories. But it was her battle round that sealed the deal for fashion lovers and thousands of plus sized viewers. She wore a simple black tank and jeans with tall studded motorcycle boots, an amazing long brocade jacket and one of the most amazing statement necklaces I've ever seen.
Sarah is hardly the picture of plus-sized that we are used to seeing on television and in addition to her monster vocal abilities; she herself is refreshing and funny to watch.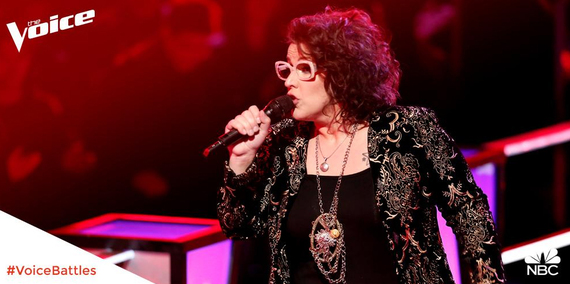 I sat down with her to ask her about her personal style. At first mention about it, she laughed and said, "I want to look like I just rolled out of bed with Mick Jagger." And then added, "It's been real Mick, but I gotta go." She really is quite funny.
When pressed on the subject she opened up honestly,
Being plus sized in this country is hard. We have options now that we haven't always had, but it is still not enough when you think about the fact that I am the same size as most of the women in America. I mean, how is that even possible? How is half of America my size but there are only two places at the mall I can shop?
With so few options for women over a size 12 I wanted to know how she seemed to always look so awesome. She told me that she starts with basic pieces from stores like Torrid, which is one of her favorites.
They have great pieces that actually fit and are well made. You can tour in those clothes and they really hold up after months of being tossed around in a suitcase, even after getting all sweaty on stage. Plus they have a great variety of styles, really simple basic stuff that you can dress up and loads of edgy pieces that you can really take somewhere fun with the right accessories.
Speaking of accessories, her glasses were also a hot button topic on the message boards and social media. Everyone wanted to know about those big white frames. She says,
I got the original white frames on Etsy from a store called Collectable Spectacle but after the first show aired, there was so much talk about the glasses that I teamed up with my old optometrist from Chicago, Dr. Mike Sculley who owns CustomEyes 2020 there.

Your face is the first thing people see and it is a great opportunity to really showcase your eyes and your features. And the best part about glasses is that they are just like your hair color, you can change them and what they say about you everyday if you want. I have tons of frames in every color. I have black, brown, red and several pairs in my signature white. Dr. Mike is so good at picking out frames that go with your personality that it's hard to go anywhere else for them now. Besides, he gets a lot of really unique awesome styles I haven't seen before.
Sarah believes in the power of an accessory.
I think everyone should own their inner rockstar. It's all about inner power and feeling good about yourself. So if throwing on fourteen necklaces and six rings makes me feel good, then I'm gonna wear fourteen necklaces and six rings.

I'll mix and match anything that makes me feel good or has meaning. One of the necklaces I wear a lot is really just an old broken sundial that I got from my dad and I put it on a chain that came from my Grandmother. It didn't cost one cent and it doesn't mean anything to anyone else, but it means the world to me. I'll wear that with a Native American squash blossom or just mix it with some other really big statement piece.
Growing up, Sarah's musical and style icons were artists like Stevie Nicks, David Bowie, Roger Daltrey and Blondie.
Those artist just looked and sounded badass but they were all tiny. It's one thing to look at Grace Slick in some killer fringe vest and tank top, it's another thing to figure out how to make that look work on my body. I can't pull off a crop top or bell bottoms, but I can take that idea and wear the fringe vest over a tight t-shirt and instead of bell bottoms, do ripped jeans. See what I mean, I take the elements that work and get creative with the rest.
I asked her who she gets style inspiration from now. She said she still gets it from those same people but that she has also been greatly influenced by her friend and sometimes boss, Elizabeth Cook.
Elizabeth really showed me how to be brave. She mixes and matches everything. I love watching her take something that everyone else would pass over and turn it into something show stopping. She's been like a fashion mentor for me.
Cook is a successful singer songwriter who is also is DJ on Sirius XM's Outlaw Country where she hosts the popular "Apron Strings." Elizabeth herself is known for her unique style and has found herself atop several "best and worst dressed" lists in Hollywood.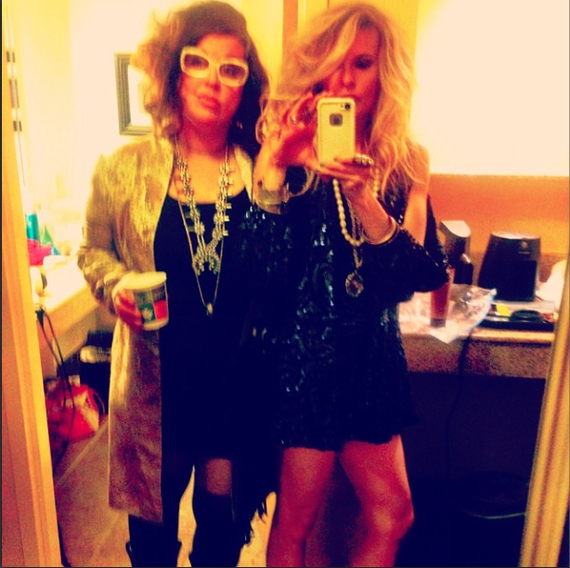 (Sarah & Elizabeth -- Photo courtesy of Sarah's Instagram @iamsarahpotenza)
Sarah has been known to juggle her career while waiting tables at a popular Nashville venue / eatery, The Family Wash while road managing other artists, acting as a personal assistant, styling video shoots for me and throwing pottery in her spare time. Didn't I tell you she was awesome?
Not all of Potenza's clothes come from the expected mainstream plus sized stores.
Forever 21 has great plus-sized clothing, and it's really inexpensive. It's a great place to pick up pieces that are on trend and still be able to pay the rent. Plus they support young artists and I love that idea.
She also spends time online. Asos Curve and Midnight Rider are also among her favorite online retailers.
Asos Curve is great, a little more expensive but they have a really solid collection and I love Midnight Rider. That is an awesome place to find kick ass t-shirts and sweaters. Their women's sizes are way too tiny for me, so I just order from the men's section.
She also spends time on Etsy and E-bay.
"Don't get me wrong," she said,
If you are over a size 12 in this country you are going to have to put in some time and some work to look like you just rolled out of bed with Mick Jagger. We don't have the option of going to the mall and two hours later, BOOM you have a killer outfit. And you are going to have to step outside your comfort zone and try things that you think won't work. Order everything, try on everything and send back what doesn't work. Whatever you do, don't be afraid. Don't let sizes or sexes or styles intimidate you.
Besides winning The Voice, one of her dreams is to one day open a store that caters to what she calls "the big girls". "
I don't like the term plus-sized", she says. "It's so '80s. I like to just say what it is." Her store would feature nothing but really great clothes for sizes 10 and up.
I want to carry all those clothes that you can find in every other store for regular sized women. I want it to be easy for us to find a gold sequin jacket in our size too. I don't think that is too much to ask!
We have this idea in America of what "plus-sized" looks like and Sarah Potenza is one of those women who wants to break that mold. And if her appearances on the show so far are any indication, we not only have one of the most talented contestants ever to appear on The Voice, but we have a new "big girl" fashion icon to look to for inspiration. Be sure to tune in Monday's and Tuesday's to see her on the show.
"No more frumpy dumpy," she said. "Own those thighs ladies and your inner rock star!"