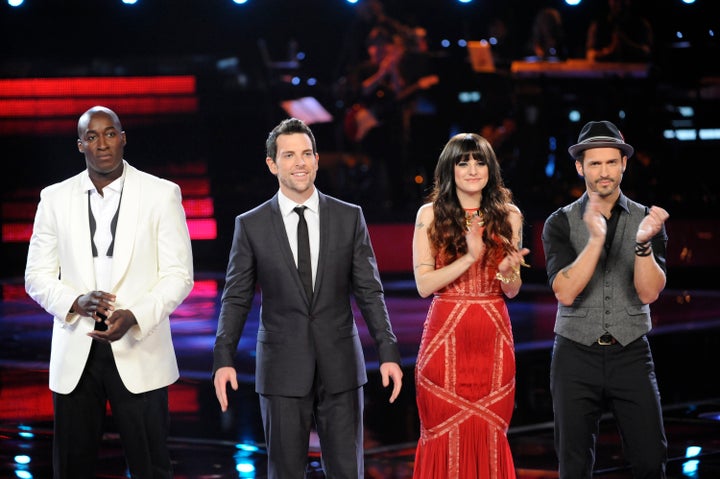 Note: Do not read on if you have not seen the first night of the Season 2 finale of NBC's "The Voice," which aired Monday, May 7.
It's not that hard to say goodbye to a reality competition when your favorites are gone (We miss you, Jamar, Erin and Katrina), but Christina Milian is not quite done saying "trending on Twitter," Carson Daly's hand is permanently stuck in microphone-holding position and Cee Lo has a couple more Purrfect tees to try out so we understand the purpose this final performance night of "The Voice" serves. Plus, they did a hilarious promo shoot that involves stern glances and wind machines so they gotta show them somewhere.
On the last night before the winner of "The Voice" Season 2 is revealed, there are a few things we learn during Carson's particularly extended intro before any performances begin (i.e. 10 minutes we wish we could get back): A) For the four finalists -- Jermaine Paul, Juliet Simms, Chris Mann and Tony Lucca -- this is the "single most important performance of their lives." B) This is their "chance to be music's next big star" C) Adam "can't think of a more important moment than this" D) Christina is sick and uses Swarovski crystals on her eyes in a way we thought only stars of "My Big Fat Gypsy Wedding" would.
Jaimie: "X-Teen's Swarovski crystal eyeliner is almost as subtle as her exposed breasts."
And that's the least of her problems (more on that below).
For the last performance night of "The Voice" Season 2, Jermaine, Juliet, Chris and Tony (how we possibly wound up with normal-named finalists after a season of Jonathases, Jordises, Pips and Mathais is beyond us) are singing thrice: a duet with their coadge, a tribute to their coadge of his/her own song and a final performance song of their choice.
The fact that we're supposed to believe that the tribute songs were just "a thank you" and "something special" to surprise the coadges is pretty absurd. But are we surprised? Nope 'cause "this is 'The Voice'"!
SOLO PERFORMANCE: "I Believe I Can Fly" by R. Kelly
We were slightly disappointed by this song choice, even though we knew he would sound great on it.  It just felt a little predictable.  Things got even more cliche when the performance began, as Jermaine stood on stage in a white tux with a church choir singing back-up.
Chelsey: "Wow! He has an army. LOVE the intentionally undone bowtie."
Jaimie: "Blake is creeping me out. There's lots of sporadic hand waving."
Jermaine sounded great on the song, as we knew he would.  His voice really is incredibly strong, but we just felt like the whole thing had been done before.  The coadges, however, are impressed (and apparently so is Cindy Crawford. She gave him a standing O!).  Christina tells Jer that he shined like a superstar, Cee Lo says the performance was incredibly strong, and Adam calls it "powerful." Jermaine has trouble holding it together.
Jaimie: "His 'I won't cry' jaw is horrifying."
Blake tells his finalist that even though he's heard the song a million times before, this is the first time he really HEARD it.  Deep, bro.
TRIBUTE PERFORMANCE: "God Gave Me You" by Blake Shelton
As a tribute to his coach, Jermaine sings one of Blake Shelton's biggest hits.  It's definitely not his best performance that we've seen, but, to be fair, this soul man had nothing but country songs to choose from.  Nonetheless, Blake's beaming pride throughout the performance is absolutely adorable.
After the performance, Carson gives us some of that classic Daly sarcasm we all know and love (JK) by saying that Jer's performance was "wayyyyy better than the original." Burn!  
In a tender moment, Jer tells Blake that he really feels like God gave him Blake. Awww.
DUET PERFORMANCE: "Soul Man" by Sam & Dave
This "odd couple" decides to stay more in Jermaine's vein for their duet by going with "Soul Man."  We can tell from their video package before the performance that they really are buddies, because they laugh a lot.
Then, Carson continues his hot streak tonight by introducing them as "Jermaine Paul and Blake Shufflin Shelton."  Oh, Carson.
Jaimie: "Did that just happen?"
Chelsey: "It did. He looked so pleased with himself as he said it too."
Now, we were both HUGE fans of Shelton's duet of Tom Petty's "I Won't Back Down" with last season's finalist Dia Frampton, so we figured it would be hard to top.  
Lack of Ray Bans aside, this had to be our favorite duet of the night.  They really looked like they were having a great time, and it was incredibly fun to watch.
Chelsey: "That was great.  Jermaine really does have an awesome voice.  I don't know why I don't like him more."
Jaimie: "I agree.  I just don't connect with him."
Despite our lack of feelings for Jermaine, it was nice to see him enjoying himself during this performance rather than fighting back tears.  Plus, it was great to see some "Cool Dad at Bar Mitzvah" dance moves from Blake.  Almost forgot how lovable he can be.
TRIBUTE PERFORMANCE: "Crazy" by Gnarls Barkley
Clearly, Juliet -- who's back to brunette for the finale stage of the performance -- gets her coadge: She wears the shortest dress we've seen her in this season as an homage to Cee Lo while performing his song.
Jaimie: "Now Juliet just looks like sophomore album Ashlee."
Chelsey: "Agreed. 'Boyfriend' era."
Jaimie: "This tribute situation is awkward."
‪Chelsey‬: "Incredibly. Did she get the dumb Zooey Deschanel sideburns?"
‪Jaimie‬: "Soon she'll be asking her iPhone for tomato soup."
Chelsey: "Except instead of real shoes, Juliet doesn't want to put on pants."
Afterwards, she thanks the short-armed, big-hearted coadge for turning his chair around. "I couldn't have picked a better coach," she says. "I absolutely love you." A bespectacled (thank god) Cee Lo is pleased, which we can tell in his gestures.
Chelsey: ‪"Cee ‬Lo looks like he's tryna be in 'MIB III'"
Jaimie: "He already is 'Cee.'"
Chelsey: "Agent Cee!"
Jaimie: "Sometimes, when Cee Lo goes to touch his hands together to creepily rub them or applaud, I wonder if they'll reach. It leaves me on the edge of my seat."
DUET PERFORMANCE: "Born To Be Wild" by Steppenwolf
Cee Lo confirms that Juliet is not scared of any of the three men she's up against, before they get down to the nitty-gritty of their duet. Juliet loves "Born To Be Wild" because it's "misfitsy" and "it's totally a Juliet and Cee Lo anthem." She is really on a Cee Lo high. "We have such a connection. I feel like he totally gets my soul," she says. At this point, he's her "homie" and "someone [she's] on a real team with." They've "really become friends" and they hope to work together in the future. [Note: We apologize this portion of the recap did not come equipped with "The Voice"-sick bags.]
‪Jaimie‬: "I am hating everything she is saying"
Chelsey: "Yup. obnoxious. #BRINGBACKVICCI"
Much like last year's final performance with Vicci Martinez, Cee Lo again went for the studs and the spikes, but did change a couple things up like Juliet's high-waisted sequined pants, the lack of children and the addition of motorcycles and grown people grinding up against fences.
Chelsey: "Major spikes. Are you freaking out? Spikes and studs abound man."
‪Jaimie‬: "Vicci did it better"
Chelsey: "Well yeah."
‪Jaimie‬: "Oh god! Did you just see that Elvis walk Cee Lo did as they cut to commercial?"
‪Chelsey‬: "Oh god. I did :( To be honest, I'm surprised he could move his legs like that."
SOLO PERFORMANCE: "Free Bird" by Lynard Skynard
Cee Lo says Juliet came alive when she sang "Roxanne," which he considers "one of the best performances ever in the history of 'The Voice,'" which is nice and all, but the show's been on for less than two seasons.
Anyway, channeling Florence Welch in a red ethereal dress, Juliet takes the stage and certainly rivals the performance Cee Lo said was for the history books. Adam says she's "incredible" and Christina -- a.k.a. the Back-Handed Compliment Master -- calls her "amazing ... under the circumstances" (and notes that they're in the same boat due to illness, which, of course, is not at all the same).
Coadge Cee Lo -- whose hands successfully clapped for his last contestant standing -- says, "With Juliet Simms on my team, I have 'No Problems,'" pointing to his t-shirt with the words printed on it.
Chris Mann
Team Christina
DUET PERFORMANCE: "The Prayer" by Andrea Bocelli and Celine Dion
As soon as Chris announced that this was their duet song, we knew it would be awesome. Obviously it's right up Chris's alley, and Christina's voice is unreal.
During rehearsals, it was interesting (and kind of cool) to see Christina nervous about the song and to see Chris coaching her. Role reversal! We wonder what this must have done to her fragile ego.
As the performance begins, we realize that we have seemingly left the studio and are now in church. A church that spins! And, of course, there's Christina's dress. And boobs.
Chelsey: "Oh boy. Back fat."
Jaimie: "Her boobs look like RuPaul's Drag Race contestants' breast plates."
Christina's appearance and the overly dramatic performance aside, the performance is really beautiful and they both sound as amazing as we hoped they would. If only Christina could put 'em away for once so we could actually focus on their singing.
TRIBUTE PERFORMANCE: "The Voice Within" by Christina Aguilera
It was pretty inevitable that Chris would choose this song. I mean, it has the name of the show in its title. Unexpected, however, was the letter that Mann seemingly wrote to Christina behind his head for the entirety of the performance.
Jaimie: "There is a letter behind his head. This is happening."
Chelsey: "Is he singing...to Christina?"
Jaimie: "He wrote her a letter and sealed it with that scarf."
Chelsey: "Marf*"
This was probably Mann's weakest performance of the night, and the complete and udder ridiculousness of the letter probably didn't help much with that. Coadge Christina runs onstage (AGAIN) to hug Mann after the performance is over. She calls him "a real man that respects women," which was an incredibly subtle stab at Tony Lucca. Super mature, X-Teenz.
SOLO PERFORMANCE: "You Raise Me Up" by Josh Groban
Okay, we realize that Chris Mann is a classically trained singer and all, but can we please take a moment to look at his set list tonight? These three songs could literally all be used as lullabies. Come on, man. Spice it up!
We spoke to soon though, guys, because he DOES spice it up! By adding sign language! And a high school choir! Who would have thought his performances could get more dramatic!?
Jaimie: "Oh my god. Chelsey. Sign language."
Chelsey: "YES. Perfect."
Jaimie: "Is this a deaf choir? What is happening?"
Chelsey: "That is the most animated ASL interpreter I have ever seen."
Christina of course bursts into tears and the performance hits its climax when the teens (who look like waiters) bust out the sign language as well.
Chelsey: "Ugh, he really has such an amazing voice. It's just so boring."
Jaimie: "I don't even recognize. Because I'm just yawning."
Christina continues to fight through her tears of sparkles and orange spray tan as she tells Chris how proud she is. Then she manages to make it about her again by talking about how she's sick and how it was hard for her to sing. Good god, woman. Can he have ONE moment for himself!?
FINAL PERFORMANCE: "99 Problems" by Jay Z
As the Tony Lucca montage illustrates, some things have changed: Christina has gone from hugging him to bashing him and Tony's son's hair is shorter, to name a couple of examples. But others, like Tony's love of vests and headgear, have stayed the same.
Tony admits that Christina's infamous feedback "changed the course of [his] career" and perhaps that's why he's singing Jay Z's "99 Problems," because she is certainly giving him girl problems. Adam says they chose the song to "stir the pot a little bit" because in this post-Britney era of the competition, "Tony needs a moment again" ... or "one more time," if you will.
Tony starts it off with a slow clap and even has someone playing the washboard.
Chelsey: "Kinda excited about this performance though it seems a bit inappro for a papa. But hey, X-tina's cleavage is always inappro for a mama."
Jaimie: "I'm not loving it, but I appreciate it."
Chelsey: "Agreed. Weird to choose a song that demands so much bleeping."
Jaimie: "True. There was a washboard. So ya know, there's that."
Chelsey: "Totes"
It's certainly different, as the coadges agree: Blake thinks it's "a really cool version of that song" and Cee Lo calls it "hard." But of course, Christina -- who is now paper holding a coffee cup -- was there to rip the song apart. "I thought the lyrical connotation was a little derogatory towards women, but all and all, I thought it was good fun," she explains.
Jaimie: "Did Christina just run to the bodega?"
Chelsey: "hahahaha ... She's a total bitch. A TOTAL bitch"
There's really nothing else to say about that, but before Adam gives his critique for his last man standing, he rips off his (of course) flannel to reveal a black muscle tee with the words "Team Xtina" emblazoned in pink glitter. It's quite the middle finger to Coadge Christina, but she doesn't seem to get it. Shocking.
DUET PERFORMANCE: "Yesterday" by The Beatles
Adam says this is an opportunity to show off Tony's "pure, simple musicianship." Tony is excited that these two diehard Beatles fans got together to "perform one of the greatest songs ever written" and Adam agrees that they're "kindred spirits."
While seated on stools, their bromance blooms.
Chelsey: "I think it'll be good for Tony to sing a quieter one because he's becoming kind of like schticky since Britney."
‪Jaimie‬: "Agreed. And his will make ladies melt."
‪Chelsey‬: "Yuuuuup. Tony Lucca: Da Ladiez Choice. I feel like Adam legit loves Tony, like not like he loved Javier for being so awesome ... like he thinks they're besties now."
Cue the high five-to-hug transition move the boys do at the end of the song.
TRIBUTE: PERFORMANCE "Harder To Breathe" by Maroon Five
We should have known this would be an awkward portion of the night after Carson's intro to the band: "They are ... the best." The man really understands the value of a dramatic pause. Anyway, it's time for Tony to honor Coadge Adam with a little Maroon 5 -- and for some reason, he picks one of the most lyrically-challenging songs in their discography.
Jaimie: "I see Tony doesn't understand these words any more than I do, which is cool, but like, he's singing it on national TV."
Chelsey: "I literally had JUST googled 'harder to breathe lyrics'"
Jaimie: "Fair enough. He has no clue what the words are."
Chelsey: "None" 
‪Jaimie‬: "Or can't say them fast enough. He just punched the air because he got a line."
Chelsey: "Adam giggled."
‪Jaimie‬: "it was a victorious air punch."
Chelsey: "F--- YEAH, BRO! I GOT ONE!"
‪Jaimie‬: "I feel him ... Now he's giving high fives to distract everyone else from the fact that he doesn't understand the words."
But Tony clearly knows the jig is up. After his performance, he tells Adam, "You got a lot of words in that one, man." No s---.
Then, Tony proceeds to thank not just his coadge, but Blake, Cee Lo and even the very un-Mousketeer-like Christina Aguilera, as well. But of course, she's on her phone as Tony explains how much he appreciates them all for the "life-altering experience."
"Seriously this has been like nothing and will probably be like nothing else to come," Tony says. "This has been the chance of a lifetime." When he steps down the stage to give probes to everyone, Christina is still on her phone. Really, the disrespect is out of control.
The final Season 2 episode of "The Voice" airs Tuesday, May 7 at 9 p.m. ET on NBC.
REAL LIFE. REAL NEWS. REAL VOICES.
Help us tell more of the stories that matter from voices that too often remain unheard.