Even (the voice of) Bart Simpson is excited. "I bought a Nissan Leaf about two years ago," said The Simpsons actor Nancy Cartwright. "I shaved nearly an hour off my driving to The Simpsons set and back because I can drive in the carpool lane. Got lots of thumbs up on the freeway. That said, I am a HUGE fan of Tesla and can't wait to 'fly' with my 'falcon-doored' bird, the Tesla Model X...Aesthetic, functional and sets a great example for safeguarding our environment."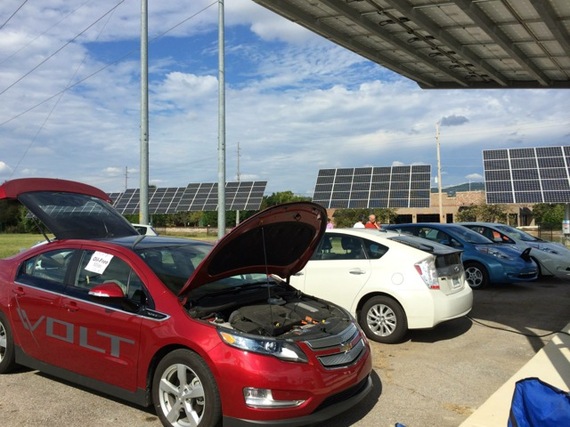 Ever wonder what it's like to drive an electric car? Have questions about where and how to charge them, whether they're reliable, and whether they are actually better for the environment than conventional cars? EV drivers will be on-hand to offer test drives, provide honest information, and -in many cases--feed and entertain you too. Check out the web site and register for an event near you.
In Scottsdale and Tucson, AZ, Las Vegas, and other cities there will be solar-powered public EV charging stations. In Los Angeles, actor Ed Begley, Jr. will talk about charging his EV with rooftop solar at his home. In Worcester, MA, event go-ers will be able to check out an all-electric transit bus that takes people to work cleanly and quietly. In Cupertino, CA, a group will attempt to set the Guinness Book of World Records for the largest parade of electric vehicles ever held. In Hartford, CT, the state's Commissioner of Energy & Environmental Protection Rob Klee and other leaders will offer test rides and present an award to the state's dealership that has sold the most plug-in cars.
Several mayors, including those in Cupertino and Huntington Beach, CA, Storrs, CT, Charlotte, NC, and Melbourne, FL, are expected to speak and or issue Drive Electric Week proclamations and will talk up the benefits of EVs for their residents. In the photo shown here the mayor of Oldsmar, FL Doug Bevis is giving a Drive Electric Week proclamation last week to the City's Sustainability Coordinator, Estevan Baza, with Helda Rodriguez of NovaCharge and Phil Compton (left) of the Sierra Club. I wish I were closer and could take my kids to the street festival planned for this Oldsmar event.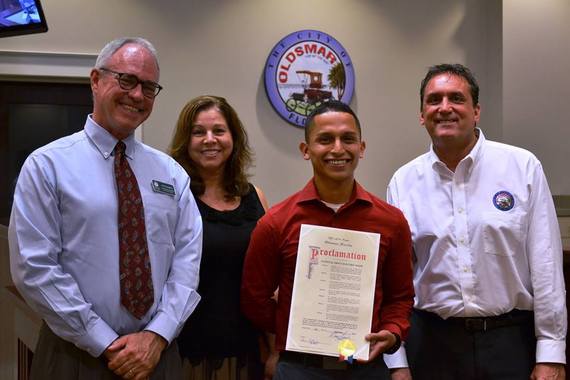 I'll be attending events in my home state of Massachusetts next week. Then on September 21, I'll be joining an 'EV Bloc' at the People's Climate March. If you're planning to attend the People's Climate March, expected to be the largest rally ever to call on world leaders gathered at the United Nations to take aggressive action on climate disruption, I hope you'll consider joining our 'EV Bloc;' you can register here.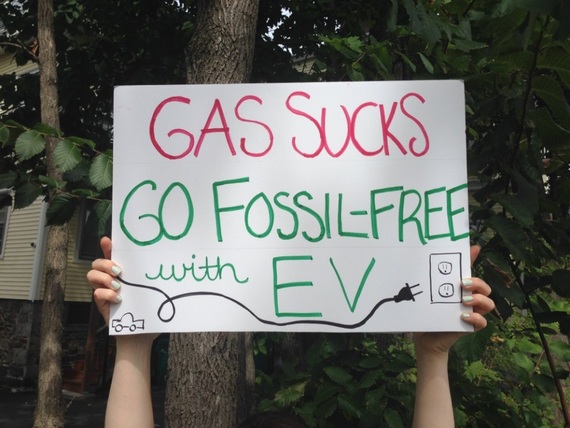 "Clean energy prosperity is on the way and there's no turning back," said Sierra Club director Michael Brune. "National Drive Electric Week and the dramatic increase in the number of plug-in electric vehicles on the road are just the latest examples of how American consumers are demanding 21st-century solutions to energy and the climate crisis, and given the choice would leave dirty fossil fuels in the ground."
Top photo from Huntsville, AL, courtesy of Tennessee Valley EV Drivers; middle photo courtesy of the City of Oldsmar, FL; bottom photo courtesy of Christina Rohrbacher.
Related