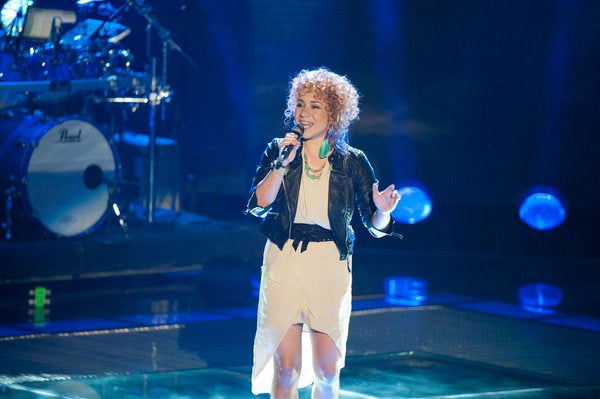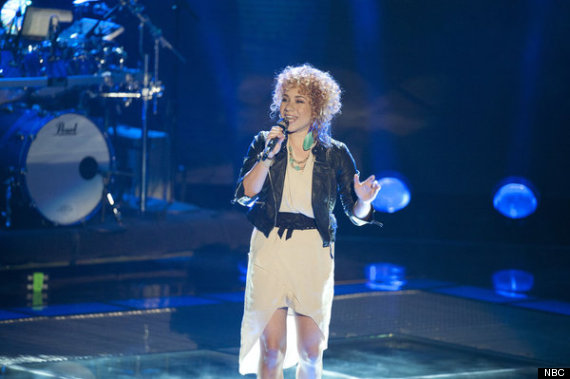 Round 5 of "The Voice's" blind auditions was all about filling the teams for the judges. And while that did mean a much-appreciated decrease in sob stories and excessive praise for supportive parents (We love you, too, Mom and Dad), it also meant that the contestants were not quite as entertaining as those that we've seen in the past four rounds of blind auditions. Also, unlike Season 1, "The Voice" said no to second chances and no hopefuls were allowed to audition again.
Nonetheless, we are definitely ready to move onto the battle rounds, if for no other reason than to allow the judges to have a change of clothes for the first time in more than a month.
Chelsey: "Final round of blindness begins! A.K.A. The longest day EVER for the judges apparently."
Jaimie: "FINALLY! I am so over Christina's plasticy chest, draped in chains."
Chelsey: "Definitely ready to move on. As Long as Purrrfect comes with us to the battle rounds."
Jaimie: "She will be the ref."
Whitney Myers
First up (and one of the only genuinely likable contestants of the evening) is Whitney, a performer in Reno, Nevada. Whitney tells us that she is in a band with her father and uncle (who may or may not be twins). She also tells us, like so many of her predecessors, that she's used to performing for the coffee shop crowds than larger audiences.
Chelsey: "This season looooves coffee shop performers."
Jaimie: "They basically just went to Starbucks nationwide in their Kias to find these people."
Whitney does, however, differentiate herself from her previous competitors when it comes to her name, in that it is not like the Pips and Jonathuses and Charlotte Sometimes and Duckies we have seen. Whitney performs Alicia Keys' "No One" and we are fans. She sounds great and she's quite the bubbly performer.
Chelsey: "Pro-Whitney. She's happy. And the world needs a new Whitney. (Too soon? RIP gurl)."
The ever-so-dreamy Mr. Levine is the first to turn around and face Whitney, followed by Cee Lo, and then Blake. Whitney has won over the boys! But Christina still isn't sure, which she makes clear to viewers with the classic Aguilera button-pressing fake out. WILL SHE OR WON'T SHE!? The suspense is killer.
Chelsey: "Christina LOVES the fake-out."
Jaimie: "All things fake. Tits, tans, etc."
So now, Whitney has a decision to make. Adam compares her to Mary J. Blige and tells Whitney that he will help her win. Cee Lo mumbles some stuff. Christina goes with her "I'm so talented!" pitch. Blake tells Whitney that he is a fan of hers. How will she choose! Whitney goes with Adam because he seemed the most genuine out of the four, which we both agree with. Good choice, Whitney.
Orlando Napier
Orlando Napier (looks like we're back to crazy names) is a jazz musician who spent his younger years as a renegade, eventually landing in prison for a couple of months following a bar fight.
Jaimie: "What's his name?"
Chelsey: "Orlando. As in Disney World."
Jaimie: "Napier. As in fancy nap."
Orlando has cleaned up his act now and is a new man. He plays music with his dad, a saxophonist who wears a scarf, so you know he's a good musician. Orlando lives in LA, which obviously means his invitation will be hand delivered by Carson Daly himself!
Chelsey: "Why does Carson make it seem like he travels all over to deliver these invitations? We've only seen him in LA."
Jaimie: "He can only drive the Kia so far."
Chelsey: "I hate that dumb smile on his face when he hands the invitations. Like he has single-handedly just made their dreams come true."
Orlando plays the piano and sings "Waiting on the World to Change" by John Mayer. Adam is looking like he's having a rough go of it with his head on his desk, but he presses his button almost instantly.
Chelsey: "Whoa. Adam. Struggle bus USA."
Jaimie: "Adam can't support his own weight."
Orlando sounds good, however Adam is the only one to turn around. The two seem like a good match. And with that, Team Levine is CLOSED FOR BUSINESS.
Sera Hill
After all of the boys fill their teams, Lady X-Tina is the only one with a spot left. Carson gives us a quick montage of some people that Christina passed on before we are introduced to Georgia-native Sera Hill. She sings Mary J. Blige's "I'm Going Down" and she is incredibly talented. At this point, as there is one spot open left and there are less than 10 minutes left in the show, the blind auditions have officially lost their mystery.
Chelsey: "I WONDER IF XTEENS WILL PICK HER!!!???"
Jaimie: "Definitely not."
Chelsey: "She is really good."
Jaimie: "Her sideburns are upsetting, but I like her nonetheless."
Chelsey: "Yes. Would like to shave those guys."
Christina (SURPRISE) spins her chair around and Sera officially completes Team Genie in a Bottle, which one must rub the right way, honey. But Diva Aguilera takes things to a whole new level by whipping out a red shiny microphone and asking Sera if she could have the honor of singing with her.
Chelsey: "Oh let me just grab a microphone and steal your thunder."
Jaimie: "Ohkay here's the thing about X-Teens. As much as I loathe her, her voice gives me chills. She's f---ing amazing."
Chelsey. "Yeah, I mean, it's ridiculous. Remember when you used to not let me download her songs on Napster? Out of respect for Britney?"
Jaimie (a die-hard Britney fan from the first time she heard "Baby One More Time"): "Yes. I am a loyalist. But as a grown woman, I can say, she is immensely talented. But I love Britney."
And with that, we are led to a promo of the battle rounds, which "The Voice" viewers are definitely ready for at this point. But the question is: Would we rather look at Christina's chains hanging in her cleavage or the horrendous hat (if one could call it that) that she is wearing in the promos for next week? Talk about Sophie's Choice. (Congrats, Meryl!)
As for the rest of 'em ...
David Dunn
All the men in 27-year-old David Dunn's family work for his father except for the self-proclaimed black sheep of the family. (#whiteboyproblems)
Song: "The Man Who Can't Be Moved" by The Script
Team: None
Jaimie: "OH MY GOD DAVID BOREANAZ AND MICHAEL SHOWALTER HAD A BABY"
Chelsey: "so. true. he's nothing spectacular. i'm also not the biggest fan of this song"
The Shields Brothers
Rory and Tristan -- whose dad looks like the Dunkin' Donuts man -- think that are the only rock band to ever come from Rixeyville, VA. Plus, "If we won 'The Voice,' we would no longer have to live on the farm with our parents," the blond, Flock of Seagulls-y one says as they practice in their "studiage" or "garagio."
Song: "Dancing With Myself" by Billy Idol
Team: Cee Lo
Jaimie: "oh no. he did not just hit the button"
Chelsey: "they're cee-lo's tori and taylor of 2012"
Jaimie: "adam looks as confused as anyone watching this"
Chelsey: "i know...that might win for most confusing performance of the blind auditions"
Jaimie: "now smashmouth is playing in the background. sit on that"
Chelsey: "they are the new smashmouth"
Cheesa
This 21-year-old overall-sporting singer moved from Honolulu to L.A. in the hopes of pursuing a singing career. In order to afford their home, her mother turned it into an elderly care center and the family lives in the garage.
Song: "If I Were A Boy" by Beyonce
Team: Cee Lo
Jaimie: "she has leopard on her eyes"
Chelsey: "i think the leopard on her face is making her tired. she can't open her eyes"
Jaimie: "is that makeup or a tat"
Chelsey: "i THINK make-up, but there's really no telling"
Jaimie: "i think she could be good with coaching actually, but i'd never want to work with her. and i think she just did the 'suck it' sign"
Chelsey: "overalls??"
Jaimie: "oh my god. side midriff-bearing overalls"
Chelsey: "i don't understand anything"
Jaimie: "her mom is speaking in tongues"
Chelsey: "yup that just happened"
Jaimie: "i'm glad purrrfect was there to get cee lo through this"
Chelsey: "i think even cee-lo is afraid of her"
Jaimie: "and rightfully so"
Preston Shannon
This 64-year-old rules Blues. The King of Beale Street in Memphis thinks he still has a lot to learn and hopes "The Voice" will help him.
Song: "In the Midnight Hour" by Wilson Pickett
Team: None
Chelsey: "get the old people out of here...i hope they don't pick him"
Jaimie: "i don't think they will"
Chelsey: "and i don't even feel bad saying that"
Jaimie: "they know he's old"
Chelsey: "THEY DIDN'T! HAHA"
Lex Land
Texan Lex Land is a very nervous 24-year-old music camp counselor, who still has us scratching our heads since all three male judges spun around for her (yet Christina ended up talking first) and Blake offered some stuttered breathiness.
Song: "I Can't Make You Love Me" by Bonnie Raitt
Team: Blake
Chelsey: "WHAT IS HAPPENING"
Jaimie: "no seriously"
Chelsey: "i could sing like this. smoke a couple packs, get drunk and go to a karaoke bar"
Jaimie: "so could purrrfect"
Chelsey: "no purrfect has the voice of an angel"
Jaimie: "was that an orgasm noise from blake?"
Chelsey: "apparently? aaaand adam made a premature joke. confirmation"
Cameron Novak
The self-proclaimed "Jack of All Generes" has a huge figurative head, but a small real one with huge features. At 28, he says, "I would consider myself a triple threat if that's as high as you can go." He is about the cockiest person ever to take the stage.
Song: "You Oughta Know" by Alanis Morisette
Team: Non (though Cee Lo nearly broke rules to try to get him on his team when the song was over)
Jaimie: "OH MY GOD this guy IS THE WORST"
Chelsey: "first of all, he's a giant. second of all, i want to punch him. HE SUCKS. he's doing like straight up HSM rituals and he looks like Puck from 'Real World.'"
Lee Koch
This 27-year-old Californian is a baker who pursues music, but he'd like to be a musician who bakes. Also, he plays the harmonica.
Song: "Like A Rolling Stone" by Bob Dylan
Team: Christina
Chelsey: "they really love to show people in their natural habitats this season...he looks like he belongs on Splash Mountain"
Jaimie: "brer lee koch"
Chelsey: "i wonder why so many of them fuck around with their instruments during blind auditions.
1. it's called THE VOICE
2. the judges can't see you playing guitar. focus on the singing."
Jaimie: "very good point"
Wade Brown
Arriving with his godmother/aunt and grandmother on his arms, this 18-year-old from Alabama is clad in purple and tricked Adam into thinking it was two people due to the high and low notes he was able to hit.
Song: "Rehab" by Amy Winehouse
Team: Cee Lo
Chelsey: "they're really overdoing it on the recaps tonight: before commercial, after commercial. WE'RE NOT DORY FROM FINDING NEMO. we remember what happened three minutes ago"
Jaimie: "i think he's blind? why is he holding on to the ladies"
Chelsey: "he SAID before the commercial that hes scared that he wont SEE anyone turn their chair. god you are dory"
Adley Stump
This 22-year-old Southern sorority girl only realized she could sing 10 months ago, but we're more concerned with how long she's been wearing her hair like that.
Song: "Before He Cheats" by Carrie Underwood
Team: Blake
Chelsey: "i was literally just typing 'i feel like there have been way fewer country singers this season' then in walked adley stump. ridiculous name, check."
Jaimie: "the hair. i don't even know."
Chelsey: "i literally can't express my feelings on it in words"
Jaimie: "and the boots"
Chelsey: "i don't have anything to say. i feel like christina when cheesa took the stage"
Jaimie: "its like the 'Let's Get Physical' video ... she's not great"
Chelsey: "no. nor are her silver moon boots"
"The Voice" airs on Mondays at 8 p.m. EST on NBC.
REAL LIFE. REAL NEWS. REAL VOICES.
Help us tell more of the stories that matter from voices that too often remain unheard.