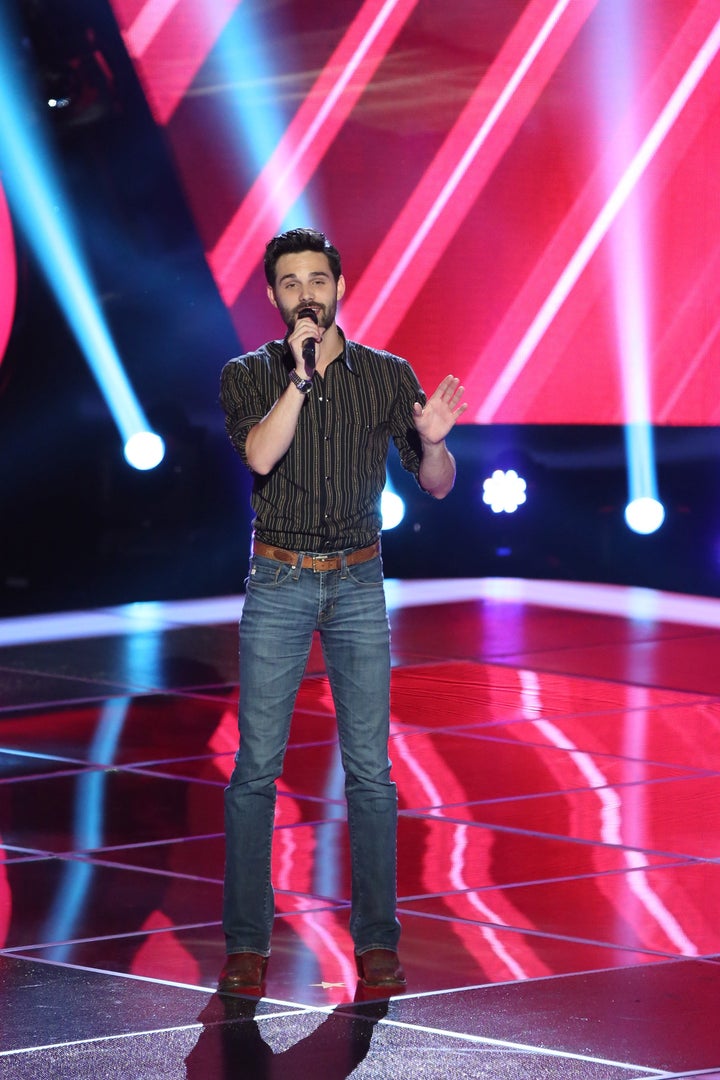 We never thought we'd get here, but it is the final night of Season 3 blind auditions on "The Voice." (You can celebrate by listening to this.) Coadges Christina Aguilera, Adam Levine, Cee Lo Green and Blake Shelton each had two more spots open on their respective teams to get to 16 and they all plenty of options.
Jaimie: "How magical -- each team has two spots to fill!"
Chelsey: "It's so wild how that works out."
There was another former boybander, another back-up singer and many pretty young things for Cee Lo to drool over -- except really, Christina is the one that seems to have her eye on them. Plus, we meet perhaps the cutest singer ever to grace "The Voice."
Next week, we'll see the first of 1,794 battle round episodes and be introduced to "The Steal," which Carson Daly managed to not explain, rendering himself even more useless than he was with his, "Look who I found" re-introductions. Below, see who rounded out the four teams and then, count down till next week when the boxing ring will be back and, most exciting, the coadges will be wearing new clothing.
[Note: Tomorrow night's episode of "The Voice," airing October 2, is a best of the blind auditions episode and since we've watched 12 hours of blind auditions in the past few weeks, we will not be recapping the episode for the sake of both our sanity and yours.]
Natalie Hernandez
"White Horse," Taylor Swift
Fifteen-year-old Natalie started singing at a young age in her home state of Florida, performing in recitals and soon enough, local competitions and pageants. She feels like people can really connect with her. Natalie also did a local "Teen Idol" competition and won.
She missed her prom and her brother's graduation to audition for "The Voice," but she's cool with it because, as she says, this is the "biggest opportunity I've ever had."
Chelsey: "Oh God -- another 'missed my prom for this.' Helloooo Casey Weston."
Jaimie: "Aww Casey."
Casey: "I know. I miss her. I hope she's happy."
Jaimie: "Me too."
Back to ... Natalie -- wearing a floral peplum dress -- barely gets through the first line of Taylor Swift's "White Horse" when Blake and Christina press their buttons at almost the same exact time. Just before Natalie gets to the second chorus, Adam spins his chair around.
Natale's song choice aside, we're not exactly hearing what the coadges are:
Chelsey: "WOW ... that was really quick"
Jaimie: "I'm pretty surprised"

By the end of the Swift song, a pretty personality-less Natalie is smiling from ear to ear.
Cee Lo makes no sense by A) Being the first to talk and B) Saying that, "To turn around, it's like a pleasant surprise because you look as young and innocent and genuine as that song sounded."Then, Blake adds that Natalie has a "unique ability to make people believe what [she's] singing" and that impresses him. Adam notes Natalie has what a lot of people don't have: the ability to connect. And Christina echos their thoughts saying she felt a connection between herself and Natalie. Apparently, the high schooler felt it too because goes with ...
Caitlin Michele
"Cosmic Love," Florence and the Machine
With the face of a porcelain doll and the dye job of Demi Lovato, this 20-year-old Bostonian is ready to make music her life after discovering she could sing at five. She suffers from extreme panic disorder, which makes her literally feel like she's going to die at times. Instead of turning to drugs or alcohol, Caitlin turned to music and says it really saved her. Being on stage was "the only time [she] felt OK." Her dad is adorable, proud and getting choked up before Caitlin takes the stage for "the performance of a lifetime," as she refers it.
In her floral, flow-y kimono, ginger locks and a very powerful voice, Caitlin is serving up some serious Florence realness.
Chelsey: "She WOULD sing Florence."
Jaimie: "Yes she would. Gingees stick together."
Chelsey: "Who dress in ethereal apparel."
Just as she starts singing about the stars and the moon in the first chorus, Blake pushes his button and not long after, Adam follows suit, leading Blake to curse at him.
Blake can't believe how "powerful" Caitlin's performance was and Adam admits to being "resistant" about spinning around for her because there were some "pitch things." Though Adam says that would usually hold him back from pressing his button, her power was "epic" and changed his mind. Blake drives home the point that he was impressed by her early on, but it doesn't exactly work.
Cee Lo and Christina chime in and seem to start persuading Caitlin to go Team Adam. He says she's "different" and as soon as X-Teens points out that Blake is "normal," Caitlin's decision is made.
Nicole Johnson
"Mr. Know It All," Kelly Clarkson
This 18-year-old country girl from Louisiana started singing at just three or four years old. Her mom said they noticed her talent and got toddler Nicole a guitar and by the time she was seven, she had written her first song.
Chelsey: "I'm either going to love or hate this girl. There is no in between, a la Danielle Staub. I'm leaning towards love."
Nicole's mom took her to Nashville for shows and to write, but after multiple treks, the Johnsons decided to move there full-time. Nicole was home-schooled her sophomore year of high school and though it was a struggle to pursue her career at the same time, she said she needed to follow her heart and follow her dream.
"I want this for my parents because they've done so much for me," a very sweet Nicole says before doing some vocal exercises and taking the stage to perform a more recent Kelly Clarkson favorite.
Chelsey: "Aw, OK. love. She wants it for her parents."
Jaimie: "Too cute."
Chelsey: "Was she just doing 'High School Musical' warmups?"
Jaimie: "HAHA! Yes. Yes, she was."
Chelsey: "OK, love."
When Nicole got to the top of the first chorus, Cee Lo excitedly hit his button, as opposed to his usual casual button push. And, we see some happy feet! Nicole's family could not be more adorable and/or thrilled and by the time the chorus ended, Blake turned around too.
When the song was over, Nicole was smiling dimple to dimple and her family members were glowing behind the scenes. It really could not have been cuter.
Cee Lo tells Nicole he wants the best people on his team and she sounded like one of the best, but Blake, once again, turns on his country camaraderie. "You had me at 'thang,'" he tells Nicole. He's 200 percent a believer in her and he would be "honored, honored" (not once, but twice) to be her "country coach." And with that, Nicole's decided and "Honeybee" starts playing. It's over.
Chevonne
"Brass in Pocket (I'm Speical)," The Pretenders
As Jersey girls, who are typically not ones to point that out, we were thrilled to see Little Falls' own Chevonne on "The Voice" stage, especially considering our mom worked in the town's school system.
The 26-year-old flame-haired singer did back-up for Lady Gaga and she learned a lot. "I would watch her and just be in awe of the way she moved and how powerful she was," Chevonne said. "I want to be able to tell stories and be fearless like her ... I think every background singer has it in them to one day be their own star and I think I'm finally at a place in my life where I have the strength to take that on."
Jaimie: "'A background singer?' WHAT? HUH? THAT NEVER HAPPENS!"
Chelsey: "Suchhhh a novel concept"
Before her blind audition starts, Chevonne says it would "mean the world" to her if someone turned around and with that, she steps on the stage in her Gaga-height platforms.
It's stressful watching Chevonne near the end of The Pretenders single -- she's moving around and belting out notes, but no chairs are pointing in her direction. Carson screams, "Come on, Cee Lo," with his hands on his knees.
Finally, in the last few seconds, Cee Lo and Blake look at each other and press their buttons, much to Chevonne's thrill and that of her mom and friends.
Chelsey: "SUCHHH passion."
Blake notes he's had "pretty good luck with background singers," before Cee Lo notes her perfect vocal, pitch and control. He also noticed something painful in her voice, leading to Chevonne opening up about her eating disorders and previous struggles. "But I've grown up and I've made a lot of progress and I want to tell the story now that I've lived it," she says.
Cee Lo says he can relate to coming from a painful place and Blake says he wants to help her understand that she has a voice and she has something to say as an artist. But apparently, the pain runs deep.
Kayla Nevarez
"American Boy," Estelle
Seventeen-year-old California girl Kayla is young, and a female, so we're automatically thinking that she's going to end up on Team X-Tina. Kayla tells us about her father suffering from liver disease and how her family of seven has now been forced to move into a two bedroom apartment. Kayla stops her tears though and says that she knows that a lot of people are way worse off than she is. Keeping it positive.
She hits the stage singing everyone's favorite Estelle song (or is it the only Estelle song?) and we can tell from the first note that she's really good. And her nieces, or whoever those kids are with her family, are really adorable. Soon enough, Adam pushes his button and Christina and Cee Lo soon follow suit.
Jaimie: "Haha Cee Lo. Casual push."
Chelsey: "The Cee Lo casual push is my favorite addition to this season."
Christina tells Kayla that they were meant to be together and the crowd goes wild in agreement. X-Teens then makes her second incoherent comment of the night about emailing her team members when she tells Kayla that they should "lock emails."
Jaimie: "Everyone agrees ... Christina and Kayla. Meant to be."
Chelsey: "Match made in heaven. Also, did Christina just say 'lock emails?'"
Jaimie: "Yes. What is with her?"
Chelsey: "Based on this episode, I'm pretty sure Christina has never sent an email."
Cee Lo makes a half-assed attempt at convincing Kayla to join his team, but he kind of seems to have surrendered to the fact that this is a Adam-Christina battle. Adam pulls both the "I turned around first" AND the "I won once before" cards -- he must really want this one. Ultimately, Kayla disappoints us all by abandoning her former idol X-Tina. Alas, not many 17-year-old girls are able to resist Mr. Levine's charm. And with that, Team Adam is complete.
Celica Westbrook
"A Thousand Years," Christina Perri
Sixteen-year-old Celica Westbrook does not make a good impression on us when she opens her video package talking about how she is a third generation singer and had a record deal and almost toured with Bieber and other obnoxious things like that. The fact that all of this is revealed in a voiceover while she checks herself out in the mirror definitely doesn't help matters. Also, it is VERY difficult to believe that she is younger than Kayla.
Celica takes the stage to singing this Christina Perri hit, and X-Tina almost immediately turns her chair around, because what can she say, you guys? She loves teenage girls.
Chelsey: "Of course, Christina."
Jaimie: "If X-Tina was male, she'd be arrested."
Cee Lo and Blake turn around as well, and the battle is on! Blake connects with Celica on their Southern roots, as per usual.
Christina retorts by saying that Celica needs to expand her horizons, and then she tells Celica that she needs to be on the radio right now, which we think sounds offensive (too ugly to be on stage?) but I guess it works for Celica, because she becomes the 16th and final member of Team X-Tina.
Jaimie: "Nicely done, Teeny."
Chelsey: "You are VERY pro X-Tina tonight."
Jaimie: "I think she's being logical. Christina really knows what she wants. Her team makes sense."
Chelsey: "Yeah. So many chicks."
Name: Rudy Parris
Song: "Every Breath You Take," The Police
Rudy is 46-years-old and gave up his singing career to take care of his daughter 22 years ago. He is a BAMF and tells us that he is inspired by KISS, which is not in any way surprising. Anyway, now that his daughter is grown with a child of her own, he's ready to get back in the game.
Jaimie: "Awww this is really cute."
Chelsey: "But wait. I thought that was his wife, not his daughter. Creepy."
Jaimie: "Me too. But now I think it's cute. Moving on."
Onto the important things, Rudy's hair and jewelry. His hair is pin straight and he has seriously awesome jewelry.
Jaimie: "I like his necklace. Legitimately. Actually, all of his turquoise."
Chelsey: "He definitely gets Japanese straightening."
As Rudy walks on stage, Christina thinks that her spidey senses are tingling as she tells Blake that this guy is definitely country. Then she looks incredibly proud of herself when she is kind of right as Rudy sings a country-ish version of The Police (and Puff Daddy) classic.
Chelsey: "Not really country?"
Jaimie: "She thinks 'not pop' is country."
Meanwhile, Carson is busy backstage being the worst, and after Cee Lo and Blake both turn their chairs, Carson yells out, "NOT TOO SHABBY!" Ugh. When Rudy's song ends, Cee Lo is obviously obsessed and clearly really wants him on his team. He tells him, "Damn! You look cool man! I want your hair." Join the club, Cee.
Jaimie: "A bromance is brewing."
Chelsey: "They're going to get massages together."
Jaimie: "And jewelry shop."
Blake, shockingly, appeals to Rudy's country roots, which ultimately wins him over. We're happy for Blake, but Cee Lo seems truly upset, and it's sad. Cee Lo even shows his eyeballs! A true sign of Mr. Green's distress. And with that, Team Blake is full.
Cody Belew
"Hard to Handle," The Black Crowes/Otis Redding
We never thought Cee Lo would be the last man standing, but 27-year-old rodeo performer Cody Belew doesn't mind because he is determined to make it on Team Cee Lo. Cody is absolutely adorable and energetic and awesome, and his dad looks like Colonel Sanders, which is also awesome. Cody wins for our favorite quote of Season 3 so far when he tells us, "I do believe in a past life, I was an elderly black woman." Cody, stop it. You're perfect. Never change.
Jaimie: "He wins. Done. It's over."
Chelsey: "Cody, you are my new BFF."
To be perfectly honest, we loved Cody so much after his video package that we probably would have been cheering for him regardless, but his voice, while not the strongest, was still great and we're very happy. Cody gives a very energetic performance, and turns his back at the end in disappointment when he thinks that no one has pressed their button. But wait! Cee Lo did at the last second -- and Cody doesn't realize! And then he realizes! And freaks out! And hugs Cee Lo! And keeps swearing and getting bleeped! AND IT'S THE BEST.
Jaimie: "CODY. I AM JUST IN LOVE WITH YOU."
Chelsey: "Ohhhhh my god. Obsessed. Obsessed. I am ecstatic. Best ever."
And just when we thought it couldn't get better, Cody tells Cee Lo how he likes to entertain the crowd with a little "bam bam" as he shakes his hips. THIS GUY. It's too much. And Team Cee Lo is now complete in the best way possible.
Jaimie: "All is right in the world now."
And of course, some contestants failed to impress the coadges enough to turn a chair around as we got down to the wire:
Rod Michael
"Please Don't Go," Mike Posner
Thirty-one-year-old (questionable) Rod Michael is our second former boy bander to get rejected this season, except Rod was big in Europe, and then came back to America and no one knew who he was. He was in some band called B3, and the pictures that they show are absurdly awesome.
Jaimie: "I was thinking Boyzone."
Chelsey: "He looks old. And his hairstyle is clearly an attempt to hide that he's balding. And it's not working."
Jaimie: "He should just go back to the bandana look."
Rod hits the stage wearing a glove on one hand (MJ obviously did it better) and he looks like he's duplicating an old performance from 1995, spin move and all. None of the coadges turn around, and they tell Rod that the song choice didn't allow for a big moment. Don't worry, Rod. Maybe Christina will grope you backstage.
Kameron Corvet
"Crazy," Seal
Kameron is a middle school French teacher, and he must have the coolest name of any middle school teacher ever. But he's also wearing a scarf, and Jaimie uses this opportunity to address a pressing issue.
Jaimie: "I'm going to make a blanketed 'Voice' statement. The man scarf is just trying too damn hard. Whether I like you or hate you, just don't."
Chelsey: "Agreed. I never support the marf. This isn't Europe. There are rules."
Jaimie: "Precisely."
Back to Kameron, he decides to sing a Seal song.
Jaimie: "Aw, this makes me miss Seal and Heidi."
Chelsey: "He's singing Seal, and it's not 'Kiss From a Rose.' Speaking of, why has no one sang 'Kiss From a Rose?'"
Jaimie: "No one can do Seal justice."
Unfortunately, the coadges agree, and no one turns their chair around for Kameron, though he does have a very nice voice. Christina asks Kameron to speak French for her. X-Tina, you don't remember how to speak French from your "Moulin Rouge" hit Lady Marmalade? Come on. Then Blake makes his Dad joke of the night as he exclaims, "I can't believe you called her that!" to Christina after Kameron charmingly utters some French phrases.
Kameron is very gracious and leaves the stage. We'll miss you, Kameron (and your power, your pleasure, your pain).
Jessica Cayne
"Good Girl," Carrie Underwood
Jessica is a bubbly blonde who faced bullying issues and eating disorder issues when she was younger. Jessica, who looks like Jenna Marbles, as aptly noticed by Jaimie, tells us of her weight struggles as pictures of her in her chubbier days flash across the screen, natch. Pics or it didn't happen, right?
Jessica gives us a very country performance of this Carrie Underwood song, and her mom stresses us out as she desperately pleads for someone to press their button. At the end of the performance, Jessica takes off her shoes (we THINK that had something to do with the lyrics?), and no one has turned their chair around. Her dad utters a simple "nope" and her mom looks heartbroken and it's sad.
Jessica keeps up her pleasant demeanor as she chats with the coadges for way longer than necessary.
Jaimie: "This is nice, but forced."
Chelsey: "You can tell she's trying really hard not to cry."
She tells the coadges about her bullying days, and then leaves the stage and we feel uncomfortable about the whole thing. But then the producers, who totally get us, put Lady on the screen (on Cee Lo's HEAD to be exact) and everything's fine again.
Popular in the Community