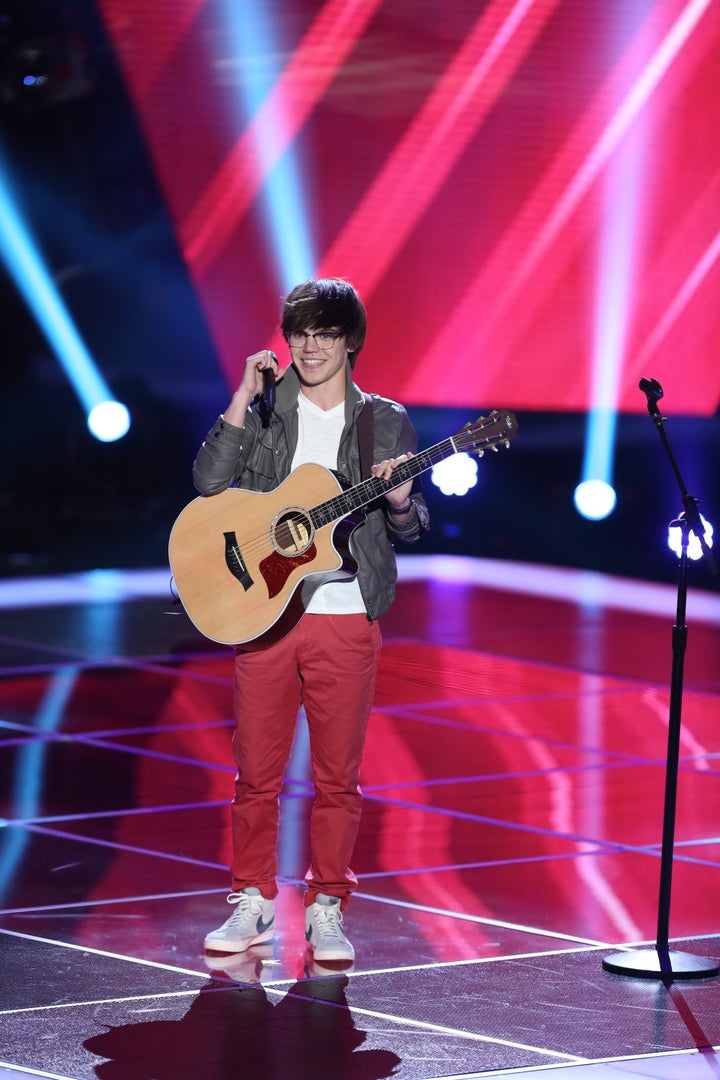 In between shots of Starbucks cups and tears, "The Voice" was back to its old tricks in the second episode of Season 3. There was classic Christina-Adam flirting/bickering, five-year-old-style; there were perverted remarks from not one, but two coadges; and Blake reminded the other coadges and the audience that he won Season 2 about every two to three minutes.
Also, a thought: Are the blind auditions really taking place on one marathon day or do producers ask the coadges to wear the same thing every day of the blind auditions to avoid editing inconsistencies? We assume the latter,
Chelsey: "I honestly think they make them wear the same clothes."
Jaimie: "I think so too, which is dirty, filthy, nasty."
Still, there were some impressive voices in this our-long episode -- and one that didn't make the cut.
Adriana Louise
"Domino," Jessie J
First up is the 22-year-old Brooklynite who opens the show with a sob story, but there's no denying the fact that it sounds horrific. When she was 9, Adriana's father was held up by a kidnapping ring and the criminals wound up at her family's house, holding Adriana and her mother up at gunpoint as well. Carson tries to empathize, which is essentially his only job during the blind auditions.
Chelsey: "How do you think Carson starts those convos? Like, "OK. What's the worst thing that's ever happened to you?'"
Adriana says that after the incident, she realized that the only thing that made her happy was music.
Though the sexy-, free- and glitter- filled lyrics don't exactly fit Adriana's backstory, she has the voice and the stage presence to get Cee Lo and Adam to turn their chairs around almost instantly. Mid-chorus, Christina presses her button and before the chorus is over, Blake's turned around too.
Chelsey: "Even though the judges have annoyed me less this season, I feel like we haven't been on the same page at all."
Jaimie: "I completely agree -- this one and Peter Pan, especially. At least Adriana also said, 'What?!' when she saw the four judges turned around. So at least we're not alone."
Chelsey: "She is also confused."
Christina tries to tell Adriana that they're "just a match made in heaven" in terms of pop music, but Cee Lo takes it one step further. "We look like we just got married," he says of their matching all-white ensembles. "We're at a reception."
Jaimie: "I love that Cee Lo is talking about receptions ... after the ceremony ... under the chuppah."
Chelsey: "Aw. Imagine Cee Lo in a yarmulke?"
Christina makes one last plea, by accurately and soon-to-be hypocritically (see: Aquile) calling Cee Lo a pervert. Adriana makes her choice -- based on the first CD she bought with her own money at the magical age of 9 --and Cee Lo rethinks his earlier statement. "I'm getting that marriage annulled."
Casey Musicman Muessigmann
"Sweet Home Alabama," Lynyrd Skynyrd
Casey Muessigmann, whose last name is pronounced "Music Man," if you can believe it, is your classic case of wrestler by day, country singer by night. He injured his knee while wrestling for his college team, so he has turned his focus primarily to music. To be honest, the main thing we take out of Casey's backstory is the fact that he is only 22 years old. WHAT?!
Chelsey: "Oh my god he's 22???"
Jaimie: "I'M SHOCKED."
Chelsey: "He is younger than me. He looks like he could be my father."
Jaimie: "That is a scary thought. You'd be wearing shirts tucked into jeans."
Casey chooses to sing Lynyrd Skynyrd's quintessential country jam, but we weren't too floored.
Chelsey: "He seems like kind of an average country singer to me."
Jaimie: "I agree. Like a good karaoke singer. The one who you want to GTFO."
Chelsey: "Yeah. The one who takes it WAY too seriously when you just want to drunkenly sing 'Tiny Dancer.'"
Despite our expert observations, Blake soon spins his chair around, as to be expected. But the Music Man catches the ear of another coadge ... Cee Lo!?
Jaimie: "Oh Cee Lo. You make no sense. And I love it."
Chelsey: "There is no pattern to his choices. It's amazing."
After some back and forth between Cee Lo and Blake and way more ass slapping than we ever wanted to see, Casey makes his decision ... and in a HUGE twist, he chooses ... exactly who we all expected.
Aquile
"Your Song," Elton John
Aquile is a bi-racial 24 year old who plays music full-time in San Diego, But he's originally from Wyoming and grew up in a small white community where he was always viewed as an outsider. When Carson asks Aquile if he plays any instruments, Aquile reveals that he learned to play the guitar when his jaw was wired shut (WHATTUP, KANYE) after he was punched during a fight.
"Was that a big set back for ya?" Carson asks.
Isn't it wild how he always knows just the right question to ask!?
Chelsey: "Of course Carson asks the magic question of 'Do you play any instruments?' "
Jaimie: "I would have loved if they filmed him saying 'No' ... then crickets."
When Aquile hits the stage, it only takes a couple of notes for us to start swooning. Christina and Adam both turn around almost immediately, and we both think that he'll choose Adam. Cee Lo casually presses his button at the last minute, and it is so sly that Adam doesn't even notice as he calls both Cee Lo and Blake "dumb dumbs" for not turning around. #Maturity #WeWantLollipops
Christina then makes things inappropriate once again when she tells Aquile that she'd love a private concert from him.
Jaimie: "Dirty. Filthy. Nasty."
Chelsey: "The dirrrrrtiest."
Jaimie: "The asslesschapsiest."
Aquile takes the sexual harassment like a champ, and now has a decision to make. Will the silky smooth singer go Adam, Cee Lo, or X-Tina? Well, I guess he's into the grossness because he goes with ...
Ryan Fogarty
"Tomorrow," Chris Young
Ryan is to LeAnn Rimes as "The Voice's" Season 2 winner Jermaine Paul is to Alicia Keys. As Rimes' tour manager, Ryan is used to working behind the scenes. But after the legendary adulteress country singer heard Roadie Ryan sing at karaoke, she was blown away and knew he was destined for center stage. "He's perfect for 'The Voice,'" she says. "He's the cutest thing in the world so I love him to death."
Despite the boost of confidence from Rimes, unfortunately, the judges didn't agree and no one pressed their buttons for Ryan. But the smiley singer leaves the show with his head held high -- probably because he knows he has a job waiting for him.
MacKenzie Bourg
"Pumped Up Kicks," Foster the People
When viewers meet Justin Bieber: Hipster Edition, they learn a very sad story from the mere 19-year-old performer. He had a virus a year or two ago that shut down all of his organs called viral mitochondriosis. And based on what we remember from Bio -- you're welcome, Mrs. Adams/Donker -- the mitochondria is the powerhouse of the cell ... so that would make sense.
But throughout his physical and healthy struggles, MacKenzie said music helped him cope with everything. He woke up from a medically induced coma the night before the Super Bowl and decided to audition for "The Voice" with the encouragement his father.
As soon as he took the stage, closet hipster Blake was really stoked by MacKenzie's song choice. Though there was plenty of head-bobbing for the bespectacled MacKenzie, no one was pressing a button. We were echoing MacKenzie's father's, "Come on." Soon enough, Cee Lo put his mini dino arm down and spun around for MacKenzie. Though there were debates about whether MacKenzie looked more like Bieber or Harry Potter -- Mac preferred the latter -- the adorable singer proved to be himself and will advance to the Battle Rounds. "Harry Potter meets Justin Bieber -- a magical pop star," on-fire Adam joked.
Before MacKenzie stepped off the stage, he adorably told Cee Lo, "I'm not gonna let you down."
But before Carson lets MacKenzie see his family, he says, "Do you guys know this guy?"
Chelsey: "Carson keeps trying to come up with creative ways to bring them into the room ... Like we're all counting on him."
And after he adds, "Big Mac is back," it's clear Blake has been surpassed as the dad of "The Voice."
MacKenzie -- pull his finger!
Julio Cesar Castillo
"La Bamba," Ritchie Valens
Closing out the night is 21-year-old Julio Castillo. When his performance of the classic Mexican folk song is teased before the break as being the first song on this show to be sung "entirely in Spanish," we can't help but LOL.
Jaimie: "Omg. It's LA BAMBA. It has 10 words!"
Chelsey: "This is amazing. I am excited."
Jaimie: "Turn on your subtitles."
When we return from commercial break, we learn that Julio has been a mariachi singer since he was un chico pequeño. Un mariachi bebé! OK, we'll stop. But Julio's story about how he has helped to provide for his family is very heartwarming, and his parents are precious.
Jaimie: "He's very cute. And so are his 'rents."
Chelsey: "Preshy. The parents have really stepped up their game this season."
Jaimie: "Mr. Unga's abounding!"
Julio hits the stage and it takes barely one note of his Latin flavor-filled song for one of the coadges to turn around. And this coadge is ... surprisingly Blake. But we'll take it, because we love Julio.
Jaimie: "BLAKE?!?!?"
Chelsey: "Sure. Why not."
Jaimie: "I'm cracking up. This is the best."
Christina continues to dance in her chair, but does not press her button, which is surprising because we totally remember her on the cover of a weekly magazine we used to read in Spanish class in junior high called Que Tal where she talked all about her Latin pride.
Jaimie: "Christina is dancing."
Chelsey: "She's having a blast!"
Jaimie: "It's like the Spanish vers of 'Come On Over, Baby.'"
Cee Lo soon turns his chair around, with his feet a-kickin', and Blake is MAD. He wanted Julio all to himself, which we are still confused by.
Chelsey: "What if he goes Team Blake? What will they talk about?"
Jaimie: "Hats. Cowboy/Mariachi."
Chelsey: "Perfect. They can talk about hats over dinner at a Tex Mex restaurant."
After some praise from Adam and Christina and some bickering between Cee Lo and Blake, Julio makes his decision ...
Calling all HuffPost superfans!
Sign up for membership to become a founding member and help shape HuffPost's next chapter