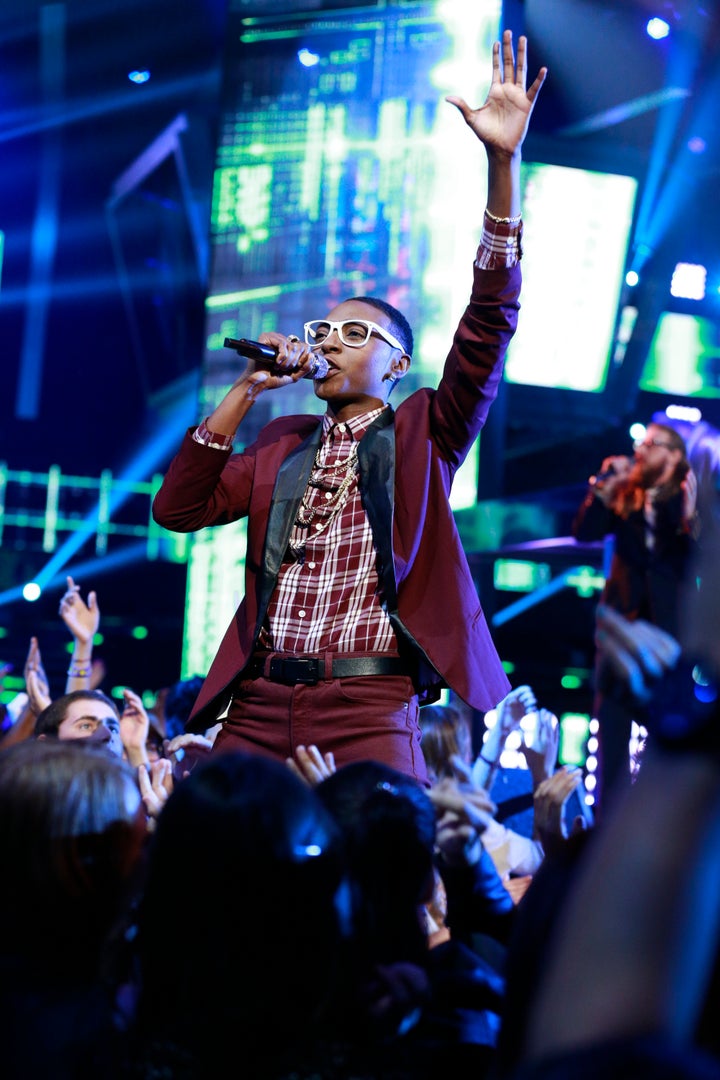 If you made it through last night's election coverage, what's five hours of "The Voice" in one week? Just kidding -- it's definitely way too fucking much Carson and Sprint Skybox.
But, we're quickly cutting down the competition. Now it's Team Christina and Team Cee Lo's time to take the stage live for the first time and Thursday, each team of five will be whittled down to three -- two chosen by America and another saved by their coadge.
There seemed to be more energy with Cee Lo and Teen's teams, which is probably fitting for the coadges they represent. Plus, Purrfect made her return, we learned "The Voice's" wardrobe team has a Twitter account and Nicholas David shaved -- or maybe that's just wishful thinking.
First, the ever observant Carson compliments XTeens on her patriotic outfit -- well, really, hair. "I guess I didn't think about that, but OK," she replies. Aaaaaand BitchTina is back!
Chelsey: "She didn't think about being patriotic? How? You're wearing red and blue and STAR ON YOUR HEAD."
Jaimie: "Because she doesn't think about her hair being a color, you know? Because it's so natural."
When Carson asks her a very clearly staged question about giving her team pep talks, she said (grab your "Voice"-sick bags), "We actually got to spend some amazing special quality time last night. I had the whole team over to my house for a private listening session of my new album." There were no cameras and it was "real talk" and "real time."
Jaimie: "I wish she'd stop talking."
Chelsey: "We get it: They went to your house. It was probably actually her second assistant's apartment, but whatever."
Jaimie: "It was amazing special unique individual quality time, sister. Don't mock."  
Moving on to Cee Lo, who is truly dressed in patriotic fashion with a crocheted poncho and beanie. Real talk. "There's never a doubt with you and the outfits," Carson tells me. "My goodness! Look at you."
But really, you shouldn't.
And now, on to the group performance. Team Christina and Team Cee Lo's performance of My Chemical Romance's "Sing" was pretty painful in terms of the "group" factor, particularly among the guys. The girls sounded decent together and De'Borah had a very impressive solo.
Jaimie: "Christina's face says they sound like shit. I think Cee Lo is sleeping."
Chelsey: "The other two sounded so much better together, but I think I like more people in this group, not in terms of talent but personality and not Sylvia though."
Jaimie: "Speaking of whom, her hair! Ad her shirt looks vaginal."
Chelsey: "How does one even create that? Ew. Ew. Ew."
Don't worry though ... it gets better.
TEAM CHRISTINA

Adriana Louise
"Firework," Katy Perry
The 22-year-old New York waitress is the first contestant of the night to take on Ms. Perry and Christina notes the song is challenged because "it's a lot of notes that have to be accurate" ... as opposed to most songs that have few notes that should be inaccurate?
Nevertheless, Adriana is excited. "This is definitely the biggest moment in my life," she says. "I'm going to 'ignite the light and let is shine.'" Oh yes, she did.
Chelsey: "It surprises me how much Adriana doesn't annoy me."
Jaimie: "I have no reason to hate her, but I do a little because of '90210.'"
Chelsey: "HA"
Jaimie: "And Teresa Jewdeechay."
Chelsey: "Fair. But she did just quote the song in confessional. Minus a couple points."
When Adriana takes the stage, she sounds great, but the one guy in the pit, who is clad in plaid and is clapping out of sync with the rhythm and getting picked up by the microphone, does not.
We've noticed Adriana jumps a lot in heels during her performances, which is quite impressive.
Cee Lo first compliments on having a "very beautiful voice" and being a "very beautiful person." "I like to say that Team Cee Lo does consider you worthy competition, " he says. After mocking Cee Lo's feedback, Adam frankly tells Adriana, "You're so great and it's a total bitch to sing that song." Slightly creepy Blake, on the other hand, tells her, "I never had a waitress like you." Then he explains that "it's a big deal every time [Adriana] perform[s]." Christina predictably and shamelessly mentions their "time together" and then calls Adriana "sweet and genuine." "You're amazing," XTeens concludes. "You're a total star."
De'Borah
"Who Knew," P!nk
After a very -- and we mean, very -- awkward and staged interview with "Chicago Fire" star, Lady Gaga's boyfriend and "The Vampire Diaries" alum Taylor Kinney, we're rewarded with Chicago contestant De'Borah.
The 25-year-old formerly "boxed-in" church singer couldn't be happier about her journey. Now, she says, "I feel lose. I feel free."
Christina loves De'Borah (hopefully) almost as much as we do and says she's a "such a unique, interesting spirit." Adorable De'Borah seems to take Christina's notes well and says, "I cannot believe Grammy-award-winning Christina Aguilera is helping De'Borah, regular De'Borah from Chicago Heights."
Coadge X-Teens thinks De'Borah has the confidence to be great, but she needs to relax and not be such a perfectionist, which is clear when De'Bo says, "I cannot let Christina down."
And based on her performance, that seems impossible. No one brings quite as much energy and movement -- literally, the girl must have stepped on every square inch of the stage -- to the stage as De'Borah. But by the end of "Who Knew," it's clear she used everything in her.
Jaimie: "I love her stage presence. She looks like she's climbing all over."
Chelsey: "I honestly like everything she does because she's so fun to watch."
Jaimie: "I agree. She's someone you root for."
Chelsey: "Yeah, definitely."
Jaimie: "I think she has pranced over every inch of the stage."
Chelsey: "Completely covered it. It is now hers. She owns the entire stage."
Jaimie: "Correct. I wish she ended with more of a bang."
Cee Lo says he "loves the way [De'Bo] moves" and he can feel both her confidence and also her pain. "It's just very compelling and I love you," he says. Adam assures her there's nothing "regular" about De'Borah and adds, "A voice is only good as the soul that's pushing the voice and you have all of that." He loves her too. Blake tells De'Bo her "singing is unbelievable" and so is her movement. "If that would have been me, I would have hyperextended something and for you to that and sing?" Christina says, "De'Bo, you have a piece of my heart." She thinks she's one-of-a-kind too. "You're just so real and so raw ... I love the passion and the heart that you put in to what you do." De'Bo looks thrilled and touched -- so are we -- and Christina looks ...
Jaimie: "Christina's eye make-up looks like a drag queen's."
Chelsey: "Yeah, but a trashy one."
Jaimie: "OOOH SNAP! Throwing shade!"
Chelsey: "SAID IT DON'T REGRET IT"
Devyn DeLoera
"Bleeding Love," Leona Lewis
Devyn is pretty. She has a pretty and powerful voice. But it really ends there. There's nothing special or unique about what she does, unlike De'Bo, Nicholas, Cody or Mackenzie and we wouldn't be surprised if this is her last performance -- nor would we be upset.
The 20-year-old aspiring pop singer from Texas says she was "shy and introverted" before "The Voice," but now, she's "coming out of [her] shell and it's really incredible thing."
Jaimie: "What's happening with her hair?"
Chelsey: "Yeah, no comprendo. Team Christina's hair is wild tonight."
Jaimie: "Agree."
Chelsey: "Taking after their coadge."
The song is definitely different for the powerhouse singer and she wants to show the softer side of Devyn. "it's a more vulnerable-feeling song. I just think she has to dig deep to make the listener believe," Christina says. She cautions Devyn to really look at the lyrics and she knows she has to find that connection.
Though Devyn does start off quiet and soft at first, she ends up regressing to her powerhouse loud runs by the end and it seems maybe she hasn't grown as much as she says.
Cee Lo tells Devyn she did a "great job," but knows that it "wasn't her best performance" and he knows that she's "a much better singer than this performance would suggest." Devyn seems to shut down before Blake gives his feedback, which is that he wishes the performance remained "softer all the way around." Christina says she "knows her" and that she's "a total powerhouse singer," but "this was definitely showcasing a softer side of you."
Sylvia Yacoub
"The One That Got Away," Katy Perry
Katy Perry Team Christina singer No. 2 went with her song because, she says, "[Christina's] seen that I can hit the big notes, but I want her to see that I can pull of the other end of the spectrum." Devyn's fellow powerhouse singer -- who's donning a leather vest -- wants to show her "emotional side."
Chelsey: "I think she's my least favorite on Team XTina."
Jaimie: "I agree, but admittedly, I like her outfit."
She wants to play the piano as she sings and X-Teens seems initially concerned, but is pleasantly surprised once Sylvia starts to the tickle the ivories.
"She definitely did showcase and open up a softer side to herself," Christina says. "This song makes me realize how multi-dimentional she is."
Sylvia knows this isn't exactly in her wheelhouse, but tells the camera, "I would regret if i didn't take this risk" before she sits down at her baby grand.
Sylvia's performance a far more successful effort than Devyn's, but we're still not really feeling the 19-year-old Egyptian-born pop singer. Dia she is not.
Jaimie: She sounds good, but looks ridiculous."
Chelesy: "Yep."
Then, when she gets up from the piano, we see she's wearing a halter-top, mesh jumpsuit.
Chelsey: "I believe she is wearing some sort of mesh jumpsuit, which are two things that I don't really support on their own so put them together and it's over."
Anyway, Cee Lo says it was "probably [his] favorite performance of the night." He liked her multi-tasking and Adam did also. "You definitely deserve to move forward. You have an extraordinarily powerful voice," he tells her. Christina tells Sylvia, "I get you" because she's Christina Aguilera and she's a genie in a bottle, baby just that relatable. As XTeens praises Sylvia's ability to surprise people and prove she's not a "one trick pony" and Sylvia starts to tear up. "You really showcased that you are a true artist tonight," she adds before urging America to vote for Sylvia. Sorry, but no.
Chelsey: "I feel like she might be Christina's save because she doesn't have as much appeal to the public."
Dez Deron
"Wanted," Hunter Hayes
Dez is both adorable and very grateful to be a part of the competition. "It's been a dream come true," he says. "I can't believe I'm here in the live playoffs." We can't either really, but that could change since Christina's presumed desire to do Dez is the only reason we're still looking at his puppy dog face.
Chelsey: "if he wasn't so attractive, he would not still be in the competition."
Jaimie: "Yes. I'm very over Dez. He's not even close to as good as everyone else.'
Cheley: "Yeah, not the same caliber at all"
"I'm not a country singer," Dez says about his challenging song, "but I'm going to go out there and give it the Dez twist."
Christina compliments Dez on how he executes his runs and then says she likes the flavor he's adding. "The girls will eat it up, I think," she says.
"I think it's important to, as the competition progresses, to keep on showing different and new sides of yourself," XTeens explains before Dez goes country.
When it comes to the live performance, Dez sounds good, but he is clearly not on par with the likes of Trevin and even some former contestants who went home.
Adam notes that "girls really love" Dez, but, he says, "That's not what we're talking about." Adam basically says he's good-looking, has nice clothes and ladies love him, i.e. Christina gives him a standing ovation.
Jaimie: "Really, Christina?"
Chelsey: "She's so f-ing complimentary of her team."
Jaimie: "She wants to do him."
Chelsey: "So bad. ' America, please keep him around so I can finally convince him to bone me!!!"
Jaimie: "Sad, but possibly true."
"You nailed it," X-Tina says. "For me, you did everything spot on ... You are entirely the full package. You have it all ... America, how could you not love this guy?"
Oh, Christina -- it's possible.
Cody Belew
"One More Try," George Michael
Cody is so thankful to be a part of Team Cee Lo, but wants to prove to everyone that he can be serious too. He says he doesn't want America to just think of him as the "funny dude" who "smacked Domo's ass." Oh sweet Cody. You are so much more than that already.
Jaimie: "He is just the cutest. EVER."
Chelsey: "Adorable."
Also, note to America, it has come to our attention that Cody Belew fans are known as "Belewers" and "bambam2012" is the appropriate hashtag to use when tweeting about Cody. The more you know.
Another important revelation that came to light during Cody's rehearsal: PURRFECT THE CAT IS BACK!
Chelsey: "My baby's back!!!!!"
Jaimie: "I can't believe Purrfect is back without any explanation."
Chelsey: "Definitely thought she died."
Cody takes the stage looking sharp (and possibly sporting a new hairstyle?) in a very dapper suit.
Chelsey: "He looks so suave."
Jaimie: "That he does. Love the lapel."
Codys performance of the song is a little slower than we would have liked, but he throws in plenty of Cody-isms to keep us happy.
Jaimie: "I feel like he should have done an uptempo."
Chelsey: "I agree. Though I understand his reasoning."
Jaimie: "I mean, I LOVE Jolene. But I feel like after you change it up, you need to go back to what people associate with you."
Our conversation is sidetracked when Cody absolutely KILLS the last note of his performance.
Chelsey: "OMG THAT LAST NOTE!! Codyyyyyyyy"
Jaimie: "SO GOOD. DAYUM."
Chelsey: "He's just so lovable."
Jaimie: "The most lovable."
Adam commends Cee Lo for the "brilliant" song choice, and tells Cody that he is now a believer. Um, excuse me, Adam...don't you mean a Belewer? Blake tells Cody that he has become one of his favorites, and he is also one of his wife's favorite contestants on the show, to which Cody obviously replies with a "Woo! Miranda!" Christina also tells Cody that he is one of her favorites on the whole shows. Rave reviews for Belew!
Jaimie: "Everyone loves Cody."
Chelsey: "It's impossible not to."
Cody calls Cee Lo "Papa Bear" and we melt a little bit. His patriotic coadge then tells him what a seasoned professional he is and how amazed he is by his abilities. Bet he's real glad he pressed that button last minute during the blind auditions now.
Diego Vale
"Bailamos," Enrique Iglesias
Marf enthusiast Diego Val decides to take on this bar mitzvah classic in his native tongue even though he considers himself to be a "rock and roll guy."
Chelsey: "Cee Lo just asked him what "Bailamos" means. Was he joking?"
Jaimie: "Well, Chelsey, he's not Latino. Why would he know what it means?"
As Cee Lo continues to stroke Purrfect, he tells us that he is excited about this song for Diego because he seems more comfortable with it, presumably solely based on the fact that it has a couple of Spanish words thrown in there.
Chelsey: "I think Purrfect might be dead. He might be holding a dead cat right now."
Jaimie: "Maybe he taxidermed her! Also, that's what she always looked like."
Chelsey: "She looks more limp than usual."
Diego informs us that he is not as comfortable with the song as Cee Lo thinks. And the plot thickens.
Diego appears on stage wearing some confusing pants and not sounding his best.
Jaimie: "The length of his pants."
Chelsey: "They're an unhappy medium between capris and pants."
Diego seems altogether bored while performing the song, and that definitely affects the quality of the performance. On the bright side, he does whisper "Te Quiero," so we'll always have that.
Chelsey: "Esto no es bueno."
Jaimie: "I do like the rasp in his voice."
Chelsey: "Me too, but not enough."
Jaimie: "I agree. Underwhelmed. Not just whelmed."
After Carson regrettably refers to Diego as the "Peruvian Magic Mike," Adam tells him that he didn't seem fully engaged in the song and seemed pretty bored throughout the performance. But good job. Blake goes into 100% redneck dad mode and makes some jokes to soften Adam's blows by saying, "I didn't know what you were sayin' anyways!" Haha, Spanish. He also tells him that he's still cool even when he's not wearing socks, so all in all that was some A+ feedback from Entertainer of the Year Blake Shelton.
Christina agrees with Adam in saying that he didn't seem very into the song choice, and asks Diego what song he feels most comfortable singing. Diego says he feels most comfortable singing his own songs, and it is silently decided that he is not right for this competition.
Coadge Cee Lo starts spewing out some random compliments, telling Diego that he's "naturally cool" and "fluent in the language of love." He tells him it wasn't his best, but "not terrible at all." Then he basically tells him it's up to America now. Ouch.
Jaimie: "Byyyyye Diego."
Chelsey: "Yeah wow he just fully went there. Pretty much said 'if America doesn't pick you, I will not be saving you.'"
Jaimie: "Yep."
MacKenzie Bourg
"What Makes You Beautiful," One Direction
When asked if his life has changed since being on the show, MacKenzie tells us that he went to a high school football game and got mobbed by a bunch of girls. BOUT TIME. Snatch this one up, high school ladies. He's a keeper.
For his song choice, Cee Lo says that he doesn't want everyone to think of MacKenzie as a one trick pony, so he gives him a One Direction song. So, we're going from two weeks in a row of Carly Rae Jepson to One Direction. Doesn't quite sound like changing things up to us, but it's One Direction, so we'll take it.
(Also, sidenote: Purrfect moved. She's alive, guys. Don't freak out.)
MacKenzie's performance begins with him in the pit playing his guitar, but this time accompanied by a band. Then he gets rid of the guitar and is singing sans-instrument. WHOA!
Jaimie: "I wish there was no band. Just Mac and his guitar."
Chelsey: "Agreed. Oh, he's getting rid of the guitar now??"
Jaimie: "Some guy just stole it."
He handles his lack of guitar situation like a champ, and sounds great throughout the song. We would imagine that singing a song that's originally sung by five people is a difficult task, so brava, Mac.
Chelsey: "He is so precious. His smile. I love it."
Jaimie: "I loved it. But not as much as Call Me Maybe."
Chelsey: "Agreed."
Adam gets weird and tells MacKenzie that he's "friggin adorable" and makes him feel like it's the 50s. Then he tells him that he's "not the winner of 'The Voice' but he's an idol."
Chelsey: "Wow, Adam. A bit harsh."
Jaimie: "Really. I'm seeing Season 2 Adam. And I don't like it."
Blake, who Carson has now reduced to "Entertainer of the Month," tries to explain what he thinks Adam was trying to say by telling MacKenzie that he is a fan favorite in the competition and he should use that to his advantage. Christina addresses him like a 7-year-old ("Hiiiiiii!") and tells him that his is adorable but she wants to see him step out of the box.
Cee Lo tells MacKenzie that he wants to see more energy from him, and he wants to move forward with him if America agrees. So, guess that means Cee Lo won't be using his save on MacKenzie :(
Nicholas David
"You're My First, You're My Last, You're My Everything," Barry White
Oh, Nicholas David. You look like you haven't bathed in weeks but you have the voice of an angel. How DO you do it?! Sporting cataracts sunglasses while sounding as smooth as Barry White? Impressive.
Chelsey: "He looks like a not sane grandpa in Boca Raton right now."
Well, I guess that's the look he was going for, because after Cee Lo tries to get him to sing with more attitude, Nicholas says he doesn't understand "swagger" because he's "like a grandparent." And then he references a VCR, because he is not of this century.
Despite his hesitations, Cee Lo remains very confident with Nicholas's abilities, and rightfully so because the performance is amazing.
Jaimie: "Oh my god. I love this."
Chelsey: "It's awesome."
Jaimie: "Do you think the hair people told him to put his hair in a half pony? Or do you think he'd heard of/worn a half pony before?"
Chelsey: "I feel like it's a revelation. His voice sounds so good though."
Jaimie: "It really does."
After Nicholas's performance, the crowd goes absolutely wild, and it's nice to see Nicholas getting the recognition he deserves. He may not have the best stage presence, but THIS IS THE VOICE!
Adam goes on some offensive diatribe explaining to all us musically uneducated folk who Barry White is, and then tells Nicholas that he now wants to make a baby. Blake tells Nicholas that he is his "favorite singer on Team Cee Lo" and that his appearance and voice don't match up, so thank god for "The Voice!"
Cee Lo is absolutely beaming and you can tell how much pride he has in Nicholas, even more so than his other team members. He tells him that he "can do no wrong" and that he wants to go all the way with him. So, if we're keeping score here, it looks like if Nicholas David is not voted into the Top 12 by America, he will likely be Cee Lo's save. And he has certainly earned it.
Trevin Hunte
"How Am I Supposed to Live Without You," Michael Bolton
Saving the best for last, perhaps? Cee Lo assigns this song to Trevin as the final performance of the night hoping to strip the song down so that it will just be Trevin and a piano. Also, seeing Trevin and Cee Lo hug looks like two teddy bears hugging and I want to be a part of it.
Jaimie: "He's singing a Michael Bolton song. Too good."
Chelsey: "A Michael Bolton song that was covered by The Zack Attack on Saved By the Bell. Even better. http://www.dailymotion.com/video/x5cr3x_saved-by-the-bell-breakup_shortfilms"
There's just not even much to say about Trevin at this point. He's abnormally talented. And though this isn't necessarily our favorite performance from him, that's still not saying much.
Jaimie: "I think this might be my least favorite Trevin song."
Chelsey: "But it's obviously still amazing."
Jaimie: "So true. It's clearly not that he doesn't sound good."
Chelsey: "I really feel like he's just on another level entirely."
The crowd goes absolutely apesh*t over this performance, and of course they do, because he is out of this world. He blows it out of the park every performance, and not in a way that gets boring or annoying like Jesse Campbell last season. We always want more Trevin.
General Carson cracks that whip and shuts the crowd up so that the coadges can speak. Blake tells him that he has "everything it takes to win The Voice." Christina seconds Blake's sentiments and says that they haven't even tapped into what he's truly capable of doing yet.
Coadge Cee Lo tells him that he's speechless, which is kind of how the rest of us feel. This one is going places.

"The Voice" airs this Thursday, Nov. 9 at 8 p.m. ET and then returns to its normal timeslots. On onday and Tuesday, things will be back to normal.
Calling all HuffPost superfans!
Sign up for membership to become a founding member and help shape HuffPost's next chapter