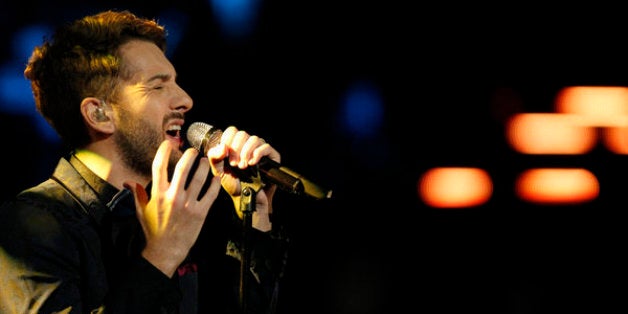 Note: Do not read on if you have not seen Season 5, Episode 19-20 of NBC's "The Voice," titled "The Final 10 Compete"
Don't matter where your alliances lie, your heart had to skip a beat when you saw those final three standing on stage during this week's "The Voice" elimination round.
For at least five minutes, the bottom three hug each other, praying they'll win America's 21st century version of a popularity contest. One singer spared by the amount of Tweets counted containing their names. Are you good enough? Are you loved? Is anybody listening? Here are the answers, tallied in real time. It's brutal.
Talent-wise, I think this is one of the strongest stable of contestants "The Voice" or any American singing show has ever produced. They are stylistically diverse, devoutly professional (check out my post on "The Voice" singers before they were famous) and altogether lovable. I'd like to see every one of these eight singers make an album. They just seem genuine in a way I didn't always feel with contestants from previous seasons.
Nonetheless, we continue to whittle down our talented teams. From first to last, here are "The Voice" top 5:
Will Champlin This performance, and the confidence he showed singing this standard, blew me away. Even Christina got jealous (notice how she pointed out how well she knows/loves the song during her comment). Will sang the hell out of "At Last" while still preserving the sweetness of this lover's lullaby. Etta James famously sniped at Beyonce for stealing her signature tune, but I think she'd appreciate this tribute.
Cole Vosbury is making guys with Yeti bears look better than anyone since the Boston Red Sox (just kidding, those guys were terrifying!). While his voice is distinctive because of that straining, crackling tone, he also sings with so much innocence. Maybe because he's 22 and single? Those two aspects of Cole's voice couldn't have been wielded more flawlessly than they were this week. It's like Blake was flat-out trying to break hearts when he picked Vince Gill's "I Still Believe In You." Stirring violins. A dark stage. Lyrics about love standing so strong and true. No surprise Cole is still standing so strong and true in the top 6.
I just keep repeating, "She's 16. She's 16. SHE'S ONLY 16 YEARS OLD." In terms of stage presence, song choice and interpretation, little Jacquie matched Will Champlin for this week's finest performance -- Smokey Robinson's "Who's Lovin' You." Speaking of Motown Records, I think Jacquie has a future leading this generation's version of The Supremes. Given her disastrous performance last week, her mastery over this song was all the more inspiring.
I wanted Tessanne to break out of the "power ballad woman" typecasting that's been her thing this fall. While this reggae-soaked No Doubt single wasn't exactly a new genre for Tessanne, she totally surprised the crowd and broke out of her VH1 Divas mold -- taking on the song's Lady Saw reggae rap! Reminded me of goofy Nic Hawk's "Hit 'Em Up Style!" Get it, girl.
Dozens of white guys wearing glasses and tuxes! Whoever staged this performance knew how to get a laugh from the crowd. Competing with that choir, not to mention staying on pitch in a song that jumps around so wildly, is commendable to the extreme. Did James nail it? Did he ever. I think Freddie Mercury actually exited his body during that falsetto moment.
That left Ray Boudreaux, Matthew Schuler and Caroline Pennell in the bottom 3.
Regardless of who you vote for, seeing Matthew left so vulnerable was a shock! The judges felt it too. Ray's charisma has only grown as he advanced on the show, and Caroline's precocious personality lit up the stage -- but America wasn't ready to see a powerhouse like Matthew Schuler go down.
Caroline Pennell sang Florence and the Machine's "Dog Days Are Over." It was hard to understand the words -- did you find her kind of unintelligible? Or was it the background singers singing almost the exact same melody that threw me off? Always been a fan of hers, but I thought it was a rather rote and flat performance.
Three weeks ago, this would have been a command performance. As one commenter put it on You Tube -- Ray sang great, too bad there are seven better singers on this show. Or do kids just not know The Spencer Davis Group? Maybe it was the comparison to Robert Palmer that did him in. I think Ray Boudreaux did well. There just isn't enough drama or magic that grabs me.
Did Imagine Dragons and One Republic sign a binding contract with "The Voice?" I didn't even know Imagine Dragons HAD this many singles to choose from, yet they all seem to be getting a turn this season. Poor Matthew Schuler was tasked with singing yet another banal Imagine Dragons tune. Who picked it? Matthew or Christina or the producers? Give this kid a Jimi Hendrix song, The Beatles, James Brown ... hell, even another "Cosmic Love." Judging by the comments, this was universally regarded as Matthew Schuler's worst performance.
Seeing Matthew Schuler so vulnerable and Caroline going home means one thing -- ANYBODY can win this contest. Talk about a horse race.
Who has your vote? Who should have gone home? Tell me why I'm wrong in the comments. Watch "The Voice" next Monday at 8 p.m. EST on NBC.
Calling all HuffPost superfans!
Sign up for membership to become a founding member and help shape HuffPost's next chapter
BEFORE YOU GO