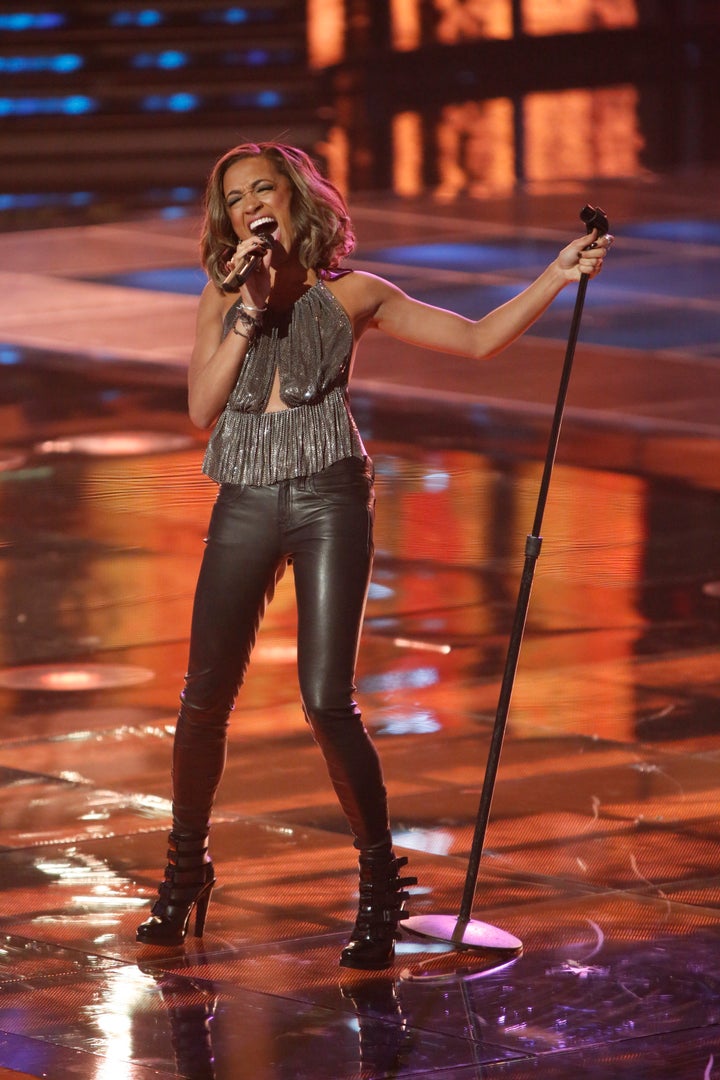 For the first night of live performances, Adam Levine says the judges are "looking to be blown away," as always, and we'll see his Top 5 and Blake Shelton's Top 5 perform before the audience takes control. Two artists will move on from each team, thanks to audience votes, and the coadges will each save one more contestant on Thursday night's results show.
Cee Lo is dressed for the occasion, donning a Seinfeld-dreaded puffy shirt and A.C. Slater's overgrown jheri curl hair.
Chelsey: "OMG OMG OMG Cee Lo."
Jaimie: "Yes. He's going for Prince. XTeens looks oh so Limited Too. Annnnnnnd Blake looks exactly the same."
First up is a group performance with both Team Blake and Team Adam taking on Boston's "Peace of Mind," clad in black and gold.
Jaimie: "I think the group performances are actually helpful."
Chelsey: "I agree."
Jaimie: "Because you hear the voices right next to each other. Oh, Liz Davis, stop wearing hot pants."
Chelsey: "She's totally a whore. Oh, Loren Allred, we will be saying goodbye to you soon."
Jaimie: "Loren's hair looks like they tried to use the crimper and then they ware like, 'No, straighten it.'"
Now, it's onto the individuals. The crowd is hyped and "TRL" Woo Whisperer Carson says, "Alright. Settle down." Apparently, this is a tennis match, which is appropriate because apparently, they're the "playoffs."
Joselyn Rivera
"Give Your Heart A Break," Demi Lovato
As one of the surviving budding teen pop stars on Season 3 of "The Voice," Joselyn has proven that she has the ambition and talent to continue on in the competition.
She's chosen Demi Lovato because she also beat up her back-up dancer it "gives you a chance to show your range," she explains. Though Joselyn's worried about moving around on stage and singing at the same time, Adam tells her to let the cameras do the work and focus on the crowd. "I always make sure that whatever I'm doing, I'm connecting with who I'm singing to," he says.
Before she pops "The Voice's" Season 3 live performance cherry, Joselyn says she's scared about her future being in America's hands -- but you can barely tell when she takes the stage.
It's hard to believe Joselyn was once a shy young girl, because the now 17-year-old singer commands the spotlight rather impressively -- or maybe it's just because we're blinded by her head-to-toe hot pink ensemble. Though nothing's particularly bad about Joselyn's performance -- except maybe those high notes -- it pales to "Love On Top" during the Knockout Rounds.
But what do the coadges think? Carson throws it to Blake Shelton (full name, people), who he congratulates on his "CMT" win. Um, it's CMA, brah. Anyway, Blake's showing Joselyn some love. "You always deliver," he tells her. "You just look good on a big stage like this. You look like a star." Joselyn's former coadge Christina, gives her another awkward ex-girlfriend wave.
Chelsey: "Why does she do that?"
Jaimie: "Imagine what she's like with her ex-husband."
Chelsey: "Hahahaha. Oof."
XTeena tells Joselyn, "Your smile lights up the whole room," but she does want her former team member to change it up and sing a ballad next. Cee Lo then says he likes Joselyn's attitude and commends her for "a great, solid performance."
He also is displeased with the laughing fit Adam's having in response to his ensemble.
Jaimie: "I like how Cee Lo said, 'Stop it, man' ... like Adam is the distraction, not the guy who looks like he ate Prince 3x. (We miss you, Avery.)"
Chelsey: "Hahahaha. So true."
Joselyn's Coadge No. 2 Adam is bursting with pride for the teen singer, who, he says, "did an incredible job." As the first live performer, he tells her, "You really thrived in this environment, which is a huge part of showing the world what you can do."
Unfortunately for Joselyn, she's also the first to head to the social media correspondent Christina Milian's "new digs," the Sprint Skybox. After XTeens No. 2 asks her what she's learned from Christina and Adam, Joselyn gives at heartfelt answer, to which XTeens No. 2 says, "Gurl, you learned a lot. I like that."
She then proceeds to say things like "cool stuff on Instagram," "pics" and "hashtag" before throwing it back down to Carson, who also thinks it's "a nice spot [she's] got."
Melanie Martinez
"Hit the Road Jack," Ray Charles
For the first time, Melanie is going to sing something that's not from the 21st century. She goes way back and the choice seemed to initially concern Adam, though he more than warmed up to her rendition by the end of rehearsals. "I think that people are going to freak out," he says.
Jaimie: "Melanie has sported many a hairstyle, but the bow is a constant."
Chelsey: Yeah, it's impressive."
"This song if very sassy so I'm hoping to somehow find the sassiness in me," says Melanie before it's time for her live performance, leading Carson to announce her with: "Alright. Let's look for the sassy."
Chelsey: "Oh my god."
Jaimie: "Oh no. Carson. No."
Chelsey: "NO NO NO."
Melanie does do plenty of finger wagging, shoulder shrugging, hip swaying and shimmying so there seems to be no lack of sass.
Jaimie: "I think she found the sassy. (I'm sorry.)"
Chelsey: "STOP!"
Mel's moving around the stage and bringing way more performance factor than she usually does. But it's clear by her giant sigh at the end of the Ray Charles cover that she was nervous.
Jaimie: "That made me feel like I was in a lounge."
Chelsey: "Yeah, it needs to be smokier in there."
Jaimie: "Haha. I did like it."
Chelsey: "Yeah, that was good. I really like her. I just feel like I'll get bored of her."
Jaimie: "I can see that. She'll really need to do more "Toxic"-y stuff to just completely surprise people."
Blake says he's a big Melanie fan. He likes that she's "not that interested in fitting in," which is why he thinks she'll be popular this season. Christina admits she's married to the original rendition and has little to say, but "uh," "um," and "you know." So glad she spoke instead of Cee Lo.
Adam says he was worried about the song choice, but he wound up not comparing Melanie's version to the original. He says he was mesmerized by her performance and wasn't worrying about the little technical things. "All I was thinking was I was so amazed by your performance and so proud of you," he says.
Bryan Keith
"Iris," Goo Goo Dolls
Bryan doesn't want the world to see him without his fedora on, because he doesn't think they'll understand. But really, he doesn't want to achieve anything because of his famous dad -- he wants to do it on his own.
Jaimie: "Goo Goo!"
Chelsey:  "MY WEAKNESS"
Jaimie: "Yep. You're done ... I wan to belt this song right now."
Chelsey:  "Of course. It's the goo."
Bryan says he sings raw and with his heart, which Adam sees as his biggest strength ... as well as his upper register.
"His ability to tell a story is unbelievable," Adam says, while Bryan is focused on the crowd. "I want America to keep me alive," he says.
Once he's in the spotlight, Bryan sounds great, but we're pretty bored ... kind of like Jaimie was when she saw "City of Angels," the movie "Iris" is featured in, which led her to walk out.
Blake apparently was captivated enough. "i've never noticed before, but you sound a little bit like Neil Diamond in your lower register," he says. But before Carson moves on to Teens, he says he should "watch those dips." Christina says, "As the song built ... you really owned it. I could really feel that you were loving it and that's so important." She loves his passion, as does Coadge Adam.
"You have a really comforting way about you," he tells Bryan, noting that the "spirit and soulfulness" overrode any "dips" they may have heard.
Loren Allred
"All Around The World," Lisa Stransfield
Adam saying Loren is the "biggest surprise of the competition" is an understatement considering she literally first appeared in the Knockout Rounds. How she missed the Blinds and the Battles, we do not know, but moving on.
Loren's excited to sing this song because A) It brings back good memories and B) It has "sass" -- which is the word of the night, apparently -- and she's "kind of stayed under the radar" (i.e., just joined the competition, but whatever).
Chelsey: "This is the song she was saying she used to listen to in the car as a child? Ooook"
She tells the camera that she "was going to school for music." But, Loren adds, "I dropped out because I knew I wanted to do my own music." So she doesn't play well with others. We get it. "I can't be sent home because I need to make dropping out of school worth it," Loren explains. Hear that, children of America?
Coadge Adam cautions Loren not to play it safe and says she should use her "sultry, confident vibe." The tight minidress aficionado sounds good, but it's nothing special.
Jaimie: "I'm underwhelmed."
Chelsey: "Agreed. It sounds like a wedding performance, like the band and everything. Or a restaurant band."
Jaime: "Totally, which is fitting. She also has Renee Zellwegger eyes."
Chelsey: "YES!"
Cee Lo says Loren has "been one of [his] favorites from very early on" and he thinks her rendition was "jazzy, sexy, smooth." (New TLC album title, anyone?) Adam loves her choice and says it was "incredible." But says he wants to hear more of her upper register. We'd like to see more of her eyes, but we don't all get what we want, Adam.
Amanda Brown
"Dream On," Aerosmith
Going with the theme of Team Adam's retro round of debut live performances, Amanda -- an original member of Team Cee Lo -- wants to show off her rock n' roll style.
"Amanda is a powerful singer, a powerful person," Adam says. "She's like me." He likes the unexpected factor of Amanda's song choice and thinks she's up for the challenge.
"I think it's going to go a long way," he tells Amanda later in the rehearsal, "especially if you're so easy to look at."
"Oh stop it. Keep it coming," Amanda replies with a laugh, while we reply with a gag.
Anyway, on the stage, Amanda does a good job of building up to the song's dramatic chorus and for once, she's not wearing wide-leg pants. Points for growth. Honestly, she sounds amazing. But double honestly, she's become increasingly unlikeable to watch as the show has gone on. Jaimie was really rooting for her in the Blind Auditions, but this time, she can't wait for "Dream On" to end -- even though the note Amanda hits to close the song was objectively freaking incredible.
Jaimie: "I like her less and less each performance."
Chelsey:  "I agree with that completely ... Oh DAMN."
Jaimie: "Yes, that note is impressive, but still ..."
"The crowd is as loud as it's been all night," Carson says before the coadges share their thoughts on Amanda's Aerosmith performance.
Christina offers a "Get it, girl" and a "Hats off to you," before Adam revels in his steal. To twist the knife, he tells Cee Lo, "You look like the love child of Rick James and Prince."
"I think if it wasn't already evident that this, by far, was the actual best performance of the night," Adam says, a not-so-subtle jab at 14-year-old Michaela Paige. Keep it classy, Levine. "You were an actual rockstar," he continues, gushing over Amanda. "I don't like to use the term 'rockstar' because it just sounds so painfully lame, but you were so I have to say it." So basically, Ms. Brown, you're lame. Nicely critiqued, Adam.
Terry McDermott
"Don't Stop Believin," Journey
Blake explains his thought process for choosing this rock and roll classic and talks about it like it was a novel idea. Yes, Blake. Super original. You and thousands of drunk karaoke singers alike.
Anyway, Terry talks about the tough task he has taken on of singing this Journey hit, but it seems right up his alley, so we're not too worried.
Chelsey: "Terry's hair frustrates me so much."
Jaimie: "He's British."
Chelsey: "Scottish*"
Jaimie: "Shh."
Terry explains how much is on the line for him with this competition- his family, his success, his pride, etc.
Jaimie: "Aw poor Terry."
Chelsey: "Oh Terry...dramatic."
Jaimie: "Therein lies the difference between us."
Chelsey: "Yeah I'm the compassionate one."
Terry sounds great on the song as we knew he would. He's one of the more consistent singers in the competition.
Chelsey: "Terry has really grown on me."
Jaimie: "He cannot perform without a marf. How do you feel about that?"
Chelsey: "Everyone has their baby blanket. But this does sound a little karaoke to me. But I guess that's more Blake's fault than Terry's."
Jaimie: "I couldn't tell if it was all up to Blake or not in the song choice."
Chelsey: "Yeah me neither. It's unclear. Like most things on this show."
Jaimie: "SHOCKING."
Christina actually says some legitimately nice things to Terry, calling the performance "effortless." Cee Lo says that he is a true rocker (or at least we think that's what he was trying to say) and Blake is beaming with pride over Terry's rocker capabilities.
Liz Davis
"Independence Day," Martina McBride
Liz Davis is the only country singer left in the competition, and she nor Coadge Blake will let you forget it ya'll! Up to this point, Liz has exclusively and creepily been singing song's by Blakey's wife Miranda Lambert. Finally, she has moved on.
Chelsey: "Oh I'm glad she's really changing things up big time. Miranda Lambert to Martina McBride. Such versatility."
Jaimie: "Just switching some letters. This is so forced. There appears to be some tension between her and Blake."
Chelsey: "Maybe it's that restraining order his wife had to get against her."
Liz's performance begins with her in the pit among the crowd, and this sh*t is straight up 'Merica.
Chelsey: "Oh my God everything about this song choice and her outfit and her life. We GET it you're country."
Jaimie: "She's probably been watching Nashville weekly and getting inspired."
Chelsey: "She's trying to be Hayden."
Jaimie: "Where her drunk mama?"
Chelsey: "She seems a little old to be competing with Hayden. #ConnieBrittonProblems."
Jaimie: "Ooooooooh harsh!"
Chelsey: "Love ya Mrs. Coach!"
Liz's voice is pretty solid, despite her overdoing the whole country thang a bit. But we're not the biggest country fans, so what do we know. Cee Lo and Christina both comment on the perfect timing of the song choice. Because, you know, America.
Chelsey: "Did Christina mean timing appropriate because of election day? Because Independence Day is in July..."
Jaimie: "Haha I know. I had to do a double take."
(NOTE: Upon further investigation, this song is neither about Election Day nor July 4th, but actually about a women gaining her freedom from her abusive husband. So, timing appropriate indeed?)
Anyway, Blake tells Liz that this performance made him confident that he brought the right country singer to the live rounds. Hooray for Liz Davis.
Jaimie: "I'm bored by her. Also, for some reason, I could see her as a fat person."
Cassadee Pope
"My Happy Ending," Avril Lavigne
As big Cassadee fans, we were slightly disappointed with this song choice. We know she has that Avril punk-pop thing going, but UGH. Avril?
Jaimie: "I feel about this song choice the way I felt about Evanescence."
Chelsey: "I AGREE. I am sad about the song."
Jaimie: "Also ... LOLZ"
Chelsey: "STOP. STOPPPPP."
As Cassadee practices the song, she seems to start second guessing the song choice as well, but she sticks with it. She toys with the idea of changing the melody, but Blake seems to advise against it.
She does change up the melody a bit during her performance, but not enough to let us forget about the fact that she's singing Avril. The performance gets better as it goes on, and Cassadee definitely sounds great despite the song choice.
The coadges are not as complimentary of Cassadee as we would expect, with X-Tina telling her she missed a couple notes and Adam saying that he is having trouble figuring out who she is.
Blake fights back by telling Adam that he'll have "plenty of time" to find out who she is because she is going to make it very far in this competition. Zing!
Jaimie: "Oh Blake and his retorts."
Chelsey: "He loves how they get the crowd going."
Michaela Paige
"Everybody Talks," Neon Trees
Last week feels like the first week that we were formally introduced to Michaela, and we're kind of sad it took so long.
Jaimie: "Michaela is so great."
Chelsey: "She really is. So sassy."
Blake is so encouraging towards Michaela, and it's so adorable. It's like if Miley and Billy Ray weren't creepy. And Miley was more punk less ho.
Michaela begins her performance with the musicians.
Jaimie: "Oh! She's up with the band."
Chelsey: "Ohhhh yeah she is. She can hang. Jesus, her hair is SO HIGH."
Jaimie: "Yes. Blake should have two hands atop his head to demonstrate its height to scale ."
Michaela hits all the notes, but it's definitely not our favorite performance from her.
Jaimie: "She sounds great, but I think she sounds better singing female artists' songs."
Cee Lo tells Michaela that it was the best performance of the night. He also keeps looking over at Adam while he speaks, and it's confusing.
Jaimie: "I think Cee Lo thinks she is on Team Adam. #confusion"
Chelsey: "Of course he did. #mess"
Adam also tells Michaela how impressed he is with her, and Papa Bear Blake is ecstatic. So proud of his baby girl. Adorbz.
Julio Cesar Castillo
"El Rey," Jose Alfredo Jimenez
Bebe Julio is the last of the night for Team Blake, and also notably the only contestant shorter than Milian to grace the new super cool Sprint platform with his presence.
Julio decides to go traditional this week, and take it back to his mariachi roots. Blake tells him that he has to feel the passion of the song so that he can connect with the audience. Since they'll have no idea what he's singing. Because it will be in Spanish.
So, the obvious solution is for Blake to tell Julio to think about "the saddest thing that's ever happened to him." He literally says that. Poor Julio. His coadge is tryna make him cry in front of America!
Julio's performance of the mariachi classic is kinda dull to us, but it makes us think of one thing and one thing only:
Chelsey: "Selenas let's do the washing machineeeeee"
Jaimie: "YESSSSS. I'm bored. I want to fast forward."
Julio es muy precioso and all, but the crowd goes absolutely wild over this performance, and we're kind of confused. It feels like an inside moment for all the Spanish speakers. Include us, Juli!
Christina is all about it, and says that he made the Latinos go wild. Well, that's for sure.
Jaimie: "Oh, X-Teens. Don't say 'Latino' like that."
Chelsey: "But it's her heritage!"
The audience chants Julio's name and is all about the performance, so if that's any indication, it looks like Juli lives to see another round.
"The Voice" will return with more live performances and results on Wednesday and Thursday at 8 p.m. ET on NBC. For now, worry about voting for America's next president."

Calling all HuffPost superfans!
Sign up for membership to become a founding member and help shape HuffPost's next chapter