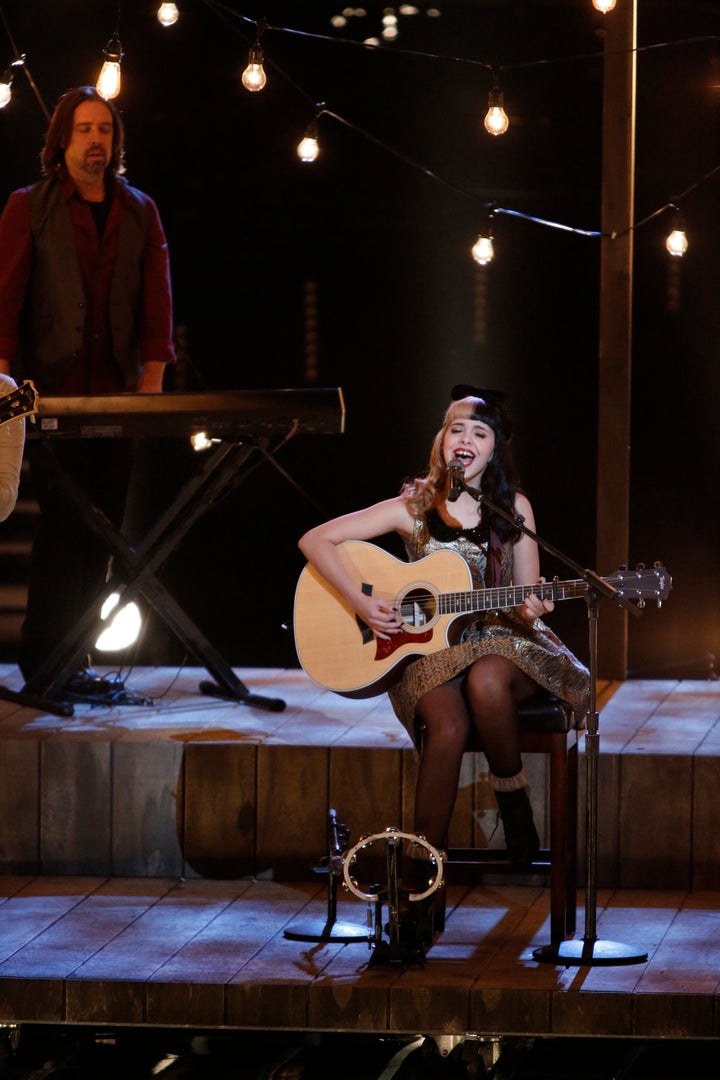 This week the Top 8 took the stage on "The Voice": Team Christina's one contestant, Dez Duron; Cassadee Pope and Terry McDermott of Team Blake; Team Cee Lo's three contestants, Cody Belew, Nicholas David and Trevin Hunte, still hanging in; and Melanie Martinez and Amanda Brown keeping Team Adam going.
After a performance from coadge Adam Levine and 50 Cent of their new song "My Life" with Eminem, there was some Adele, pigtail braids, foot tambourines, some piano climbing, fog machines, some Justin Bieber and one of the most absurd things we've ever heard on "The Voice." Thanks, Christina Milian.
Now, onto the performances.
Amanda Brown
"Someone Like You," Adele
Team Adam
During rehearsals, Amanda Brown informs us that until recently, she has always lived with her parents or significant others.  She has moved into an apartment by herself and is finally supporting herself financially all by herself for the first time in her life. We find this confusing.
Chelsey: "How old is she that this is her first time living alone?"
Jaimie: "I was also thinking that. The answer is 'too old.'"
Adam decides to change things up on this Adele song so that it fits Amanda's "rocker persona" that everyone seems to be so obsessed with.  Having one fairly awesome performance of an Aerosmith song does not quite make her a "rocker" in our opinions, but sure.
During her performance, Amanda sounds good but we are not fans of the arrangement.  We much prefer OG Adele than the rocker version.
Chelsey: "Why does everyone in this competition continue to f*ck with Adele? She is royalty. STOP."
Jaimie: "Adam looks like he is in a trance. His top button is choking him. Also, she has negative boobs."
Chelsey: "Concave."
Blake tells Amanda that he really enjoyed the performance and appreciated how she turned an Adele song into an Amanda Brown song. "You are a rocker," he tells her.  Christina appreciates Amanda's "powerful vocal" but she says that she's still waiting for her to tap into the magic she had while singing 'Dream On.'  She tells her that she's still trying to understand who Amanda Brown is "as an artist" but she did a "killer job."
Jaimie: "Christina often uses "I don't understand you as an artist" as a way of knocking someone talented down."
Chelsey: "Truth. It's like she NEEDS to be negative, and that's the best she can come up with."
Cee Lo briefly goes all Wall Street on our asses and tells Amanda that "reward is in the risk you take."  He commends her for taking such a risk this late in the competition.
Coadge Adam loves that Brown's take didn't resemble the original in any way.  He says that she turned the song into the "massively huge power ballad [he] always wanted this song to be."
Chelsey: "Excuse me, Adam.  Are you saying this song WASN'T a huge power ballad before? It is THE massively huge power ballad!"
Jaimie: "Seriously."
Chelsey: "Shut your pretty scruffy face."
Adam goes on to tell Amanda that she "knocked it out of the park."
Cody Belew
"Somebody To Love," Queen
Team Cee Lo
The idea of Arkansas-born Cody Belew channeling Zanzibar-born Freddie Mercury, a legendary rocker known for his flamboyant stage antics, tight pants, and wide-ranging powerful vocals, seemed only natural. And no, we're not being sarcastic.
"I believe the torch can be passed from Freddy Mercury to Cody," Cee Lo explains in rehearsals. And Cody seems to agree. "Thanks, Cee Lo for picking this one out. It's a zingaaaa."
As much as we love Cody, it was hard for us not to compare him to one particular standout moment from the now-defunct "Sing Off" on NBC, when Michael Odokara-Okigbo ofSeason 3's Darmouth Aires sang "Somebody To Love" in a Queen medley [http://www.youtube.com/watch?v=RJasmvWmaSA].
Before taking the stage, Cody talks about his attempts to make it in Nashville. "I was having a hard time shining brighter," he confides in Cee Lo. "When you're told no so much, it does weaken you."
But Cody, as expected, was shining brightest in a turquoise suit atop a two-sided staircase when he took the stage, flanked by a choir.
Chelsey: "I feel like Cody is meant to sing with a choir. This just feels right."
Vocally, he didn't sound amazing (i.e., it was no "Jolene"), but as always, the performance quality was top notch. Cody worked the stage and even stood up on a piano to close out the Queen classic.
"How'd that feel? Fun? Standing on our piano like that," Carson asks Cody afterwards. Unfortunately, Cody did not punch him in the face, but we're sure he did mentally. Moving on.
"You did a fantastic job," Adam tells Cody. "We always just enjoy everything that you do up there."
Blake loved the magic Cee Lo and Cody make together. "It's so awesome when you see the right connection being made," he says. Christina straight-girl-gay-guy flirts with Cody and then tells him, "You are definitely a risk taker through and through. You're not afraid to keep changing it up."
Cee Lo basically tells Cody he just wants to be his friend, says "man" a lot, and tells Cody, "What a wonderful job."
Chelsey: "I feel like he like legitimately just wants to be friends with his team."
Jaimie: "I agree. He's very warm and genuine."
Chelsey: "What if Cee Lo calls his team nonstop and is always trying to hang out with them? 'Hey! Hey Cody! It's me Cee Lo! Wanna go see "Wreck-It Ralph"?'"
Group Performance
"Move Along," All-American Rejects
Dez Duron, Melanie Martinez, Terry McDermott, Cassadee Pope

Up in the Skybox from my nightmares, Milian chats it up with her "besties" and asks Amanda Brown and Cody Belew how they "first [made] their friendship up?" Because that's a legitimate question. Then, we go to our first group performance from the contestants tonight.
How do they select these groups? It's not like any of them sound good together, so that sure can't be it. Do they pick out of a hat? Probably. But at least this performance has drums and stuff, right?
Chelsey: "This doesn't make sense. Also, what is this Blue Man Group drum situation?"
Jaimie: "It's like Blue Man Group meets Psy. Let's move this along. GET IT!?"
Chelsey: "ZINGAAAAAAA. Get it?"
Terry McDermott
"Over," Blake Shelton
Team Blake

Terry is both excited and nervous to be singing a song by his coadge Blake Shelton.  Blake tells Terry that he hopes that his version outshines the original.
Jaimie: "Oh, Blake. So selfless."
Chelsey: "All he does is give."
Terry says that Blake has set a high standard with this song, but he needs to "take a gamble to stay in the game."  He comments on how difficult it's been being away from his wife and son, but notes that he needs to bring home the gold for Blake and success for his family.
Terry is surrounded by smoke throughout the performance, and he does his usual "jamming with the band" thing.  The song definitely doesn't sound as country as it does when Blake sings it, but it's not the usual rocker Terry that we've grown to know and love.
Jaimie: "This is definitely not my favorite Terry performance."
Chelsey: "Not at all. It's boring. I hope it doesn't hurt him."
Jaimie: "Me too :("
Chelsey: "He has the face of an 8 yr old.  Especially when he does his no teeth smile."
Jaimie: "Yes! Precious."
Christina tells Terry that he's always "such a solid vocalist" and this performance was unexpected but still a "solid performance." So, it was solid, I guess. Cee Lo...where do we start with this. He says things about Christina singing in cursive and then talks about Dio but he says that he's a "big fan" of Terry's voice. #confused
Adam, who has clearly been super excited about the zinger that he's come up with while waiting his turn, blurts out "So that's what that song's supposed to sound like. BURN!  He goes on to commend Terry for his "amazing precision."  "The precision with which you hit those high notes is inspiring to me," he tells Terry as a fellow high-voiced male vocalists.
Coadge Blake, who looks quite dapper tonight, tells Terry that he performed his song the way he's always wished he could.  He tells Terry, "You did all the things that vocally I can't do."  Blake thinks that this performance proved that Terry is "the real deal."
Jaimie: "Terry has the cutest face."
Chelsey: "Adorable."
Melanie Martinez
"Too Close," Alex Clare
Team Adam
Seventeen-year-old Melanie has recently gone through a break-up, and is using this performance to express her emotions. Ah, high school. Amirite?  But don't worry gang, Adam tells Melanie that he'll be her big brother and "will kick someone's ass" for her.
Chelsey: "Adam is soooo cool, offering to beat up some high school bros for her..."
Jaimie: "Totally chivalrous. And inappropriate. Also, I think they didn't have time to touch up Melly's roots today."
Melanie's performance is intro'd by Carson as he announces her as a member of "Team Big Brother." Carson. Enough is enough.
Chelsey: "What if Carson's shadily really funny? And just constantly mocking everyone?"
Jaimie: "How DARE you give him credit like that."
Chelsey: "I'm sorry. I'm just looking for something that explains his existence."
When Melanie's performance begins, she has one of the coolest stage designs we've seen yet, full of lights and Mumford & Sons-like band members.  Melanie definitely "Melanizes" the song as Adam said she always does, and it definitely works.  It's a great rendition of the song. And, she brought back the foot tambourine!
Chelsey: "This is such a great performance."
Jaimie: "I think Melanie's voice has gotten better each week."
Chelsey: "I totally agree."
Jaimie: She seems so much more comfortable."
As the performance ends, Carson, mature as ever, tells Melanie, "I hope your ex-boyfriend was watching that." Melanie's face says otherwise.  Something along the lines of, "I do not hope that, Carson, you classless son of a bitch."
Blake tells Melanie that he's happy to see the tambourine again because "it's cool!" Then he gets stressed out and passes the baton. Christina says that "the set was dope" and compliments "whoever's idea that was backstage at 'The Voice.'" Right. Then she tells Melanie that this was her "favorite performance from [her] thus far."
Cee Lo commends Adam for his new arrangements and says that Melanie is a favorite of his because she is "so cool and so unique."  "It was a success," he tells her.  
Adam tells Melanie that he loves her and that she did a good job of making the person she's having "this trouble with" feel dumb with this rendition of the song. Melanie, however, is seemingly displeased with this comment.
Chelsey: "She will not smile. She is still in <3"
Jaimie: ":("
He finally gets off this uncomfortable subject by telling Melanie, "I love what you do so much." Such a proud big bro.
Chelsey: "What if...Melanie didn't have a collar?"
Jaimie: "The world would end."
Well, then ... let's hope that day never comes.
Dez Duron
"U Smile," Justin Bieber
Team Christina
Dez is still talking about dropping out of Yale and quitting football to pursue his music career and though he did have a couple successful weeks, we're with Daddy Duron: We don't really think this was the best decision.
Christina -- looking like a sluttier version of Vivianne (Julia Roberts) at the beginning of "Pretty Woman," which is apparently possible -- says she went with this Bieber song because, "Everyone should know that he's not a one trick pony." That makes sense?
Before taking the stage, Dez says, "I want my performances to reflect what an amazing coach [Christina] is," while XTeens complains, "If Dez doesn't deliver, then we're out of the competition."
Apparently, Dez's impressive streak could only last so long -- he's back to the awkward runs and uncomfortable stage grinding.
Jaimie: "Ugh, Dez. Don't grind on the stairs."
Chelsey: "Bieber would probably grind on the stairs."
Jaimie: "Well, I think in this day and age, we shouldn't use that as a marker for acceptable behavior."
If girls really do love Dez, maybe he'll make it to the Top 6. Otherwise, he should be packing up his knives and going. Oops, wrong show.
After "U Smile" finally ends, Cee Lo tells "Double D," " I don't think this was your best performance tonight."
Chelsey: "Nicknames make me miss DeBo. Cee Lo says everyone is one of his favorite."
Jaimie: "Yes."
Chelsey: "He calls all of them to hang out and go caftan shopping."
Adam wants to "applaud" Dez for leaving Yale and "not looking back." Three cheers for dropouts! Christina says Dez "killed it, killed it, killed it, killed it." She's a woman of few, but repetitive words. She also forgot MacKenzie Boug's name but compared Dez to him because he "revamped certain pop songs and did such a good job with it."
Jaimie: "You can't turn someone into this season's Tony, when he's not even HERE."
Chelsey: "He almost DIED."
Jaimie: "BIIIIIIIITCH!"
me: "HE. ALMOST. DIED."
X-Tina also tells Dez that the other contestants "can't do what you do on stage." Suck and move on to the next level of the competition? Correct.
Trevin Hunte
"The Greatest Love Of All," Whitney Houston
Team Cee Lo
After a week of grooving to Usher on stage, Trevin is going back to the basics with this classic Whitney Houston ballad. "This song really allows him to have his big moments ... and to show off what he does best," Cee Lo explains.
Trevin explains his interpretation of the song and relates it to how he's become more confident over the past few weeks. "Once you can learn to love yourself, it's truly the greatest love of all," he adorably says.
Cee Lo and Trevin have a heart-to-heart about being "different" and Trevin says that no matter what, music has always come first in his life.
Clad in a sparkly black blazer, Trevin takes the stage with fog at his feet and a large teen choir behind him. But Cee Lo's signature theatricals aside, Trevin hits all the high notes and connects to the ballad because "The Greatest Love Of All" fits perfectly into his wheelhouse.
Adam says he was digging the tranquility ... and the fog. "I don't think there's any song that you can't get up there and just completely blow us away with," he tells Trevin. Blake compliments the 18-year-old contestant on two fronts. "You're an amazing singer and from what I gather, you're just a really good dude, too," he says. XTeens tells Trevin, "You are one of those vocalists who can truly do it all ... Your vocal ability is a monster beast that is a gift from God."
Cee Lo talks about how proud he is of Trevin and in way too many words, commends him for his sense of humility, even though his talent could come with some cockiness.
Group Performance
"Any Way You Want It," Journey
Amanda Brown, Cody Belew, Nicholas David and Trevin Hunte
Before the second group performance of the night, we're back in the torture chamber formerly known as the Sprint Skybox where Christina Milian claims to be "getting her giggle on." Things take a positive turn when Terry McDermott is surprised by his wife and son! Yay! Scottish family fun! The fun is cut short though when Carson makes a comment about watching Terry and his wife make out. HOW DOES HE GET HIRED FOR THINGS.
Anyway, Amanda Brown joins the bad boys of Team Cee Lo for this group performance.  As the performance begins, Cody is hanging on some set decorations going full Stephanie Zinone in Grease 2.
Jaimie: "Cody is literally doing Cool Rider right now."
Chelsey: "He's a c-o-o-l. R-i-d-e-r!
Jaimie: "That is correct."
The performance is fun, but no one sounds all that great. Shocking, right? At least we have Nicholas David's braids to stare at.
Chelsey: "I think Amanda Brown just tried to pelvic  thrust on Trevin."
Jaimie: "Statutory!"
Chelsey: "STABLER WHERE YOU AT"
Soon enough, it's over. And we can move on.
Nicholas David
"What's Going On," Marvin Gaye
Team Cee Lo

We learned earlier in the show from Christina Milian that Nicholas' wife is pregnant with their third child. They don't know the sex of the baby, but Nick says they'll be thrilled either way. And then, Milian says one of the most ridiculous things we've ever heard on "The Voice": "But girls are amazing. Princesses are so cute."
If she's back next season, it's proof she's sleeping with someone.
Anyway, in Nicholas' first rehearsal, there's a surprise guest: Bill Withers, the singer and writer of "Lean on Me," which Nick sang last week.
In his signature Nick way, he can only say, "Holy buckets" when Withers walks in the studio.
After some feedback from Bill and Cee Lo, Nicholas is ready to take the stage."I'm gonna pour everything I have into this performance," he says.
There is a whole lot going on in Nick's performance. A) As per usual, cataract sunglasses. B) A saxophonist in the audience, C) Three back-up singers doing some very elaborate choreography that leads them to switch microphones, D) A bongo player and E) Nick's plaid pants ... to name a few.
Jaimie: "He's killing it on those ivories."
Chelsey: "Oh yeah. Tickling those bad boys real nice."
Jaimie: "Ew."
Chelsey: "Sorry. That was weird."
"Man, I just love this element that you give the show," Adam says after Nick's impressive performance. "I'm just gonna be a fan of yours forever." Blake adds, "Thank you for letting 'The Voice' be the stage that introduces you to the world." Coach Cee Lo can only reach say, "Nick, man, I love you so much." But really, that's how we feel.
Cassadee Pope
"Are You Happy Now?," Michelle Branch
Team Blake
Cassadee held the No. 1 spot on the iTunes charts nearly all week after her performance of "Over You" last week, so of course they wanted her to end the show tonight.
During an awkwardly staged conversation between Pope and her coadge, Blake says that she made him excited about music again.  They discuss her father, and how she still hasn't heard from him since being on the show.  Cassadee says that now she sees Blake as her "crazy uncle that's always looking out for [her]."
Chelsey: "By crazy uncle, she means drunk uncle."
Jaimie: "Yes. Where is Bobby Moyni when you need him?"
Cass Money chooses a Michelle Branch song this week, and we have different views.
Jaimie: "Oh I do not like this song."
Chelsey: "I don't hate it. I think it suits her."
Jaimie: "I do. It's like bad Alanis."
During the performance, we both agree Cassadee sounds solid despite Jaimie's  negative feelings toward the song.  It does, however, seem like a fairly easy performance, especially compared to some of the risks that other contestants took throughout tonight's episode.
Cee Lo, master of using song lyrics in his commentary, tells Cassadee that the answer to her question is NO! He is not happy now because, as he tells her, "you could win this thing and I'm not happy about it." Awww.
Adam goes on some rant about the Roxy when he opened for Michelle Branch and it is revealed that Mr. Levine is seemingly out to bring the Roxy down. It's weird. The coadges really seem like they need a rest or cookie or something tonight.  Finally, we get to the point, and he tells Cassadee, "You really did a great job this week."  
Blake tells us that today is Cassadee's mom's birthday, and she gave her the best present in the world with this performance.  He tells her that she dominated again tonight.  "You just sang the crap out of this song," he tells her.
When voting closed early Tuesday morning, these were the iTunes standings.
Cassadee Pope
Melanie Martinez
Nicholas David
Amanda Brown
Terry McDermott
Trevin Hunte
Cody Belew
Dez Duron
Could Dez and Cody be going home? Who do you hope goes home?
Tune in to "The Voice" on Mondays and Tuesdays at 8 p.m. ET on NBC.
Calling all HuffPost superfans!
Sign up for membership to become a founding member and help shape HuffPost's next chapter