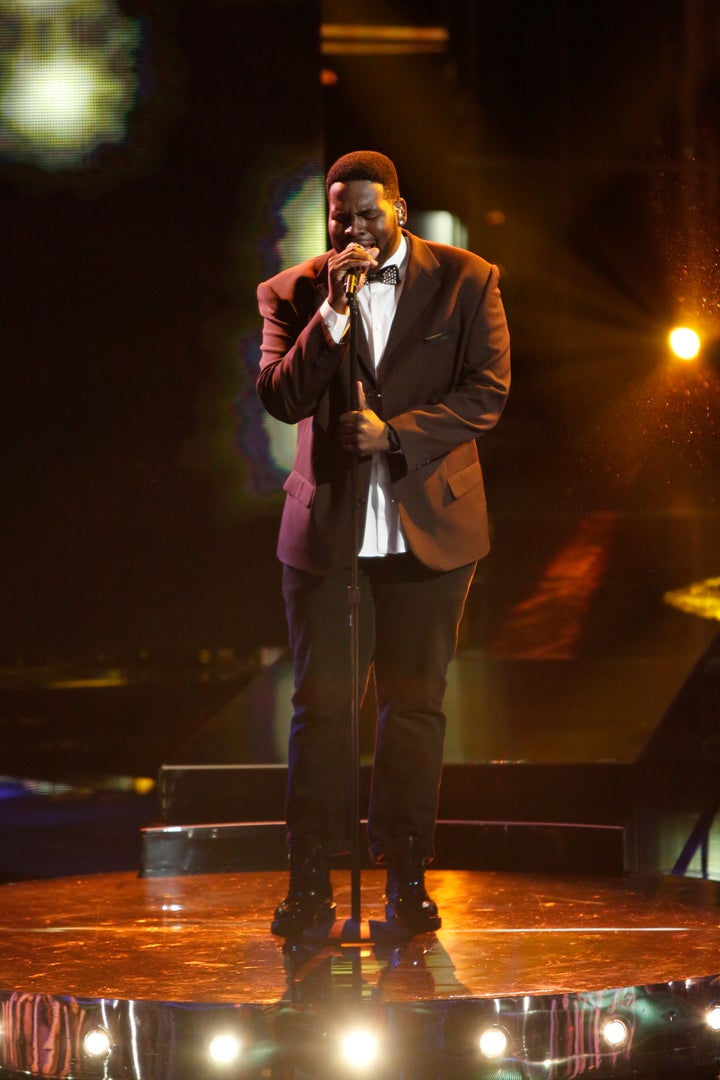 Before the competition begins on "The Voice," Carson transforms into Olmec to let us know that, "The choices are yours and yours alone." Going forward, only America's votes matter --no more steals, no more saves. Each week, two contestants will be eliminated -- after this week, we'll have the Top 10, then the Top 8 and so on. Thank God people like Jamar Rogers won't be leaving early just because Cee Lo has a thing for Juliette Simms.
Since we didn't get to discuss it last week, we don't know what the $#%& happened to Team Christina, but we're devastated over the loss of De'Borah and hope XTeena's competitors go out first and fast. It was inevitable that Cody or MacKenzie would leave Team Cee Lo and we would have been happy for either of them. It's also nice to know America recognizes how amazingly talented Nicholas David is.
Anyway, on to this week. The first singer up is ...
Michael Paige
"Blow Me (One Last Kiss)"
Team Blake
Blake's pick last week says that having her coadge save her "was really the kick in the butt [she] need[s]." She wants to make sure her coadge knows that he made the right decision.
When she enters the rehearsal room wearing (gasp) a tutu, Blake tells her, "You look adorable. So ballerina." Michaela retorts, "You look adorable" and he asks if he looks "ballerina-ish," too. It's an adorable repartee --- and it's hard to remember Ms. Paige is only 14.
Before she performs, Blake notes how difficult the song is to sing -- as are most Pink songs. (we miss you, De'Bo.) When she takes the stage, Michaela is clearly changing up her look: No mohawk and only half a tutu.
Chelsey: "She's wearing half a tutu."
Jaimie: "I think that's a half-peplum tutu shirt"
Chelsey: "Because apparently, that's a thing."
Jaimie: "It's to even out the other half of her hair. which is evidence that the crimper isn't going away any time soon."
Chelsey: "Each side needs something special."
The first verse sounds shaky, but she kills the chorus and does an adorable "Shh" hand motion in replace of the lyric "shit day." In fact, she has amazing stage presence in general -- and seriously, she's 14.
At the end of her performance, Carson touches the adorned headband atop Michaela's non-mohwaked head and says, "Look at your little hat." An hour and 50 more minutes of this.
"I always enjoy you," Christina says, noting that Michaela's one of her favorites because she's fun to watch. "You're voice is very bright and bold and strong and full of energy."
Cee Lo also says Michaela is one of his favorites. Once again, he says he enjoys her "effortless performance," noting she "works the stage like a professional."
Adam thought it was bold the way Michaela walked down to the bottom of the stage near the coadges and says it was a "really elegant, wonderful performance."
Michaela's own coadge Blake says the performance leaves "absolutely no doubt" that he made the right decision in saving her. "I've never worked with an artist on this show that has the ability to take advice ... consider it and then translate it into what happens on that stage," he explains, before begging viewers to vote for Michaela.
Dez Duron
"Can't Take My Eyes Off of You," Lauryn Hill
Team Christina
We honestly can't believe Dez is still in this competition. Lesson to the kids at home: Pretty people always win!
Dez claims to be a "soulful pop artist" and that's why he chooses to sing the Lauryn Hill version of this song. Heath Ledger did it better, but fine. Christina basically tries to have sex with Dez via her words when she tells him in rehearsals, "I like everything you're doing, Dez" in a grossly seductive tone. Then she tells him to "work the ladies" and purses her lips together. Gag-inducing.
Jaimie: "I think by 'ladies,' she means her lady parts."
Chelsey: "Eye fucking."
When Dez takes the stage we're surprised to hear that this is most definitely his best performance to date. He sounds the best he's sounded so far, and this song really works for him. Christina proves to us that's she's heard this song a few times before by singing along.
Chelsey: "Oh Christina. Stop it. We get it, you know the song."
Jaimie: "EVERYONE knows the words."
The ladies in the audience, particularly in the front row, go completely wild for Dez, grabbing for any part of him that they can. And he milks it.
Jaimie: "Someone just grabbed his shin."
Chelsey: "He is a piece of meat."
The coadges are all pretty impressed with Dez. Cee Lo tells him that the performance was "impeccable" and then tries to scream over the screaming girls in the audience.
Chelsey: "Sometimes when Cee Lo yells, he sounds like Tyler Perry as Madea."
Adam tells Dez that he found his avenue. Blake apparently was busy drunk tweeting during Dez's video package because he tells him how he likes his spin on Frankie Vallie's original version of the song, a.k.a he has no idea that a Lauryn Hill version of the song exists. Then he does something creepy where he imitates Dez's female fans. So, to summarize, he LOVED it!
Coadge Christina talks about how she knows Dez on a "personal level" and tells the audience that they don't realize that he has a heart of gold as well. What is WITH Christina and talking about knowing her team members on a personal level? OF COURSE YOU DO. STOP IT. ENOUGH IS ENOUGH. We're half expecting her to also tell us the Dez is a gentle lover in her fantasies. Also, she liked the performance.
Adriana Louise
"Good Girl," Carrie Underwood
Team Christina
After another riveting session in the Sprint Skybox, we catch up with Adriana, who was saved by Christina last week because Christina doesn't think America has fully seen what she can do yet. She's changing things up a bit with this Carrie Underwood song.
Jaimie: "Christina has a different color hair in the rehearsals than she does tonight."
Chelsey: "Super fresh dye job."
Adriana performs the song well, but nothing about her is too exciting to us. She also goes full-Xtina with the performance with the yelling and way too many runs.
Jaimie: "She has a good voice, I just feel no charisma."
Chelsey: "I agree. There's no denying that she sounds great, but I'm still bored."
Our neutral feelings of the performance turn to negative feelings when she gets two centimeters away from Adam's lips at the end of her performance.
Jaimie: "Oh gross. Minus 20."
Chelsey: "Oh ew."
Carson asks Adriana if it was planned and she says it was "just a little sporadical thing."
Jaimie: "She just said 'sporadical.' 'Yeah, I hope it's not sporadica!'"
Chelsey: "RIP Brit Murph."
Cee Lo tells Adriana that she "continue[s] to improve and that she 'always seems convicted.'" Adam tells Adriana that having her that close to his face was "awesome" and then tells her that some of her "high spots were tough." Then, he thanks her for coming over, to which Carson calls out, "You said that before!" Carson is always listening, you guys. We have no time for redundancy.
Blake says he can't believe America didn't vote her in. Coadge XTina tells Adriana that the "best is yet to come." Then she gives us dummies at home a lecture about how tough Adriana's song choices are. Even the band has been surprised! Another insider tip! Then, she pleads for America to vote Adriana into the Top 10 because she won't disappoint them.
Jaimie: "I want to stuff her face with that fan."
Cody Belew
"The Best," Tina Turner
Team Cee Lo
Cody tells us that he had a stutter as a child which caused him to be a bit of a recluse -- it's hard to imagine the man who coined the hashtag #bambam2012 ever being shy -- but music helped him come out of his shell. He says that God didn't give him the voice of speech, but he gave him the voice of song instead, and he couldn't be happier.
Cody chooses to sing Tina Turner, and it's both bold and awesome.
Jaimie: "Oh he sounds goooood."
Chelsey: "Yeah he does. Thank goodness."
Cody is also sporting a low cut shirt and a blazer with a sequin lapel. Awesome.
Jaimie: "Also, +10 super gay outfit. Sequined lapel. Loafers with no socks. He's so skinny! I love his shoulder shake."
Chelsey: "Oh me too. Bam bam."
Jaimie: "I just noticed the necklaces. SO GOOD."
Adam tells Cody that he is one of the "best natural performers." Blake tells Cody that he "owned the stage." Christina enjoyed it, but she wants more uptempo from Cody because she wants to see some more boppin, and Cody is NOT having it.
Jaimie: "He's giving her bitch glare. SERVE IT, CODY."
Cee Lo tells Cody that he enjoys him as a "person, personality, friend, and comrade." Awww. He also commends him for not allowing the competition to make him "cold and callous."
Chelsey: "Cee Lo is big on the alliteration tonight."
Jaimie: "He's poetic."
Amanda Brown
"Spectrum," Florence and the Machine
Team Adam
After two pre-commercial teases of Amanda's barely-there ensemble (which elicited a "Is Amanda Brown naked?" and a "Nakey" from Chelsey), it's finally her time.
Carson introduces her as saying Amanda is "always full of surprises" ... like wearing no clothing, por ejemplo.
In rehearsals -- where we can't see side boob, stomach and leg -- Adam notes that Amanda has an "unbelievable voice" and "she needs to scale back a little bit on the rock and roll" so he and viewers can hear "more than the attitude."
Amanda hopes the ambitious song choice is worth it. "I have so much more to give. I hope that I can continue," she explains.
When she takes the stage, nakedly, Amanda is standing on a platform in a very Florence-like fashion. She doesn't sound as good as we've heard her before, but obviously, there's nothing awful about the vocals or the performance.
Chelsey: "She sounds screamy."
Jaimie: "Indeed. The eyeshadow this season is also out of control."
Chelsey: "It really is."
"I was still freaking out over your performance last week. It was so good," Blake tells Amanda. He likes that there are so many facets to her voice and that she exposed her leg. Gross, Dad.
Christina tells Amanda that she's "an undeniable singer." "You can do so much with your voice," she explains. But, "I'm still waiting to sort of connect with who you are as an artist."
"Amanda, you know I consider you my favorite mistake," Cee Lo tells her, but he thinks the outfit and platform were a bit constricting in this performance.
But what did coadge Adam think? "The thing is that it wasn't perfect ... but no one's perfect. I don't care about perfection," he says. "You epitomize everything that this show is about." And he thinks she can "win this entire thing."
Bryan Keith
"Back to Black," Amy Winehouse
Team Adam
"Because of people's faith in me, I can make it to the top," delusional Bryan says in rehearsals. He wants to bring back an older feel to rock music and thus does a "Sinatra-y" take on an beloved Amy Winehouse track.
When it comes down the live performance, Bryan sounds great, but we're bored. At least on this end, he failed to reach his goal of "connecting with the audience."
Jaimie: "I'm bored. This is boring."
Chelsey: "MMMHMM. I think he sounds kinda good though."
Jaimie: "For sure. I just want to go to sleep, like with Adriana."
Chelsey: "Definitely."
Blake didn't think he'd be saying this, but he tells Bryan, "I think you just took the lead for Team Adam." Christina agrees and says she likes that "Sinatra-y" factor he brought to the song.
Coadge Adam tells Bryan that this was his "breakout moment," like Amanda's last week.
Cassadee Pope
"Behind These Hazel Eyes," Kelly Clarkson
Team Blake
Cassadee's grateful that America put their faith in her. "I just want to keep getting better with each performance," she explains.
This week, she's taking on a Kelly Clarkson favorite. "It is about a relationship gone sour, but it reminds me of that relationship with my dad," she says.
Jaimie: "Oh Cassadee. You just made it creepy."
Chelsey: "Very."
Jaimie: "I like Cassadee. I do. She just picks such predictable songs."
Chelsey: "I agree. She always sounds good, but I would love something different."
Her parents divorced when she was 11. A part of her hoped that her father would reach out to her after the show started airing, but no luck.
When she takes the stage, Cassadee is clearly upping Christina on the hair-color changes. She's rocking the purple today and a leopard guitar. Jaimie loves it. For the majority of the song, Cassadee seems to focus on hitting the difficult notes Kelly does on the track. But towards the end, she loosens up and works the crowd like only she can.
Jaimie: "Gurl can work a crowd."
Chelsey: "That's for sure. She's got practice."
At the end of the heartfelt performance, Cassadee is in tears and the coadges appreciate what she brought to the stage tonight. Blake gives her a standing O.
"Cassadee, that was actually my favorite performance from you," Christina tells her. "What I really loved about your performance is that I got to feel your heart," she adds, saying she can commiserate on those daddy issues.
After Cee Lo shallowly says, "Hot chicks with guitars. Life is good," he gets down to what was great about Cassadee's performance: "You sing like someone who really wants to win this competition."
Adam wants to thank her for fighting back from the feedback he gave her last week and says it really paid off.
Coadge Blake clearly loves Cassadee like much of America does. "There is something that's undefined about you," he says. "And that means there's no limits and no boundaries to what Cassadee can do."
When Carson is giving the audience the number to vote for Cassadee, she's wiping her tears, but trying to keep it light by making funny faces at the camera. She is just adorable and "so fun!!!" as Chelsey notes.
Trevin Hunte
"When A Man Loves A Woman," Percy Sledge
Team Cee Lo
Trevin tells us that Hurricane Sandy destroyed his mom's house in Queens, so he wants to win the competition to buy back everything she lost.
Jaimie: "Oh no! SANDY."
Chelsey: "God dammit, NBC -- take care of that poor woman."
Trevin's song choice definitely seems to be in the vein of his past performances, but all of his past performances have been so god damn amazing that we won't complain. He takes the stage looking fabulous in an awesome studded bow tie.
Chelsey: "Do you know what I want to do? Touch Trevin's hair."
Jaimie: "I want to steal his bow tie and wear it in my hair."
Chelsey: "Okay, Melanie Martinez."
Trevin sounds unreal. It's actually ridiculous. He is from another planet entirely, and there's not even much more we can say. He last notes are insane.
Jaimie: "HOLY SHIT"
Chelsey: OH MY GOD. WHAT."
Jaimie: "DONE. DEAD. DIED. OVER."
Chelsey: "It's all over. That's it."
Jaimie: "Everyone go home. Pack it up."
Chelsey: "The rest of the competition has been rendered insignificant."
Trevin is adorably happy after his absolutely amazing performance, and Papa Cee Lo is so proud. He stands on his feet clapping his baby arms for so long, he probably got out of breath from the work out.
Chelsey: "Cee Lo is like dad when he really likes something and claps for an unnecessarily long time. That's how he was for the entire Celine Dion concert."
Adam tells Trevin that he has a "gift from god" and that he's "never heard anything like it." Blake says it was "amazing" and that this was the first time he gave his fans what they wanted because he "didn't hold anything back." Christina thanks Trevin for the performance and tells him that he "brought it home."
Cee Lo tells Trevin that he is an "angel of some sort" because he "encourages people." He tells Trevin that he encourages him and makes him want to do more. Coadge Cee Lo adds that Trevin is a "natural born champion."
All in all, it's some of the nicest and most genuine feedback we'd ever heard. Let's all make sure that Trevin doesn't become a casualty of the show because people feel like they don't need to vote for him because he's such a frontrunner. Keep Trevin alive!
Melanie Martinez
"Cough Syrup," Young the Giant
Team Adam
We'll ignore the awkward moment before Melanie's performance when Nicholas David picked her up and she scrunched her entire face up before the commercial break. Or at least, Jaimie will because she loves Melanie.
Adam saved her last week because she's "so incredibly unique" and she is so grateful that she's still here. She sees herself as an outcast and that's why she's chosen the dark lyrics of "Cough Syup."
Melanie also explains that before the show, she was a brunette ... until she got inspired by Cruella de Vil, she says with a laugh.
And with that, we notice, Melanie kind of looks like a Disney princess.
Jaimie: "When her hair's up. She looks like Snow White."
Chelsey: "YES!"
Jaimie: "She has Disney Princess face. I couldn't pay someone a nicer compliment."
Chelsey: "But then she opens her mouth ... "
Jaimie" So true."
"My mom flipped out, but it's kind of become my signature," she says.
Adam tells her to get emotional singing the Young the Giant song and Melanie admits, "I'm very scared that it's all in America's hands."
She starts off sitting Indian style on the stage and it feels very fitting. Her outfit is once again adorable.
Chelsey: "Her closet must look like Doug Funny's except there are slightly different colors/patterns."
Melanie seems to truly feel this song more than she's performing it and that's just what Adam wanted. She ends the performance kneeling on the ground.
"I've never heard you project as much as you did on that one," Blake tells her. "You have probably the most unique sound in this competition."
"That was probably, what I thought, was your most emotional performance," Christina explains and likes that she connected with people.
Coadge Adam gives her almost a backhanded compliment by saying a lot of people in this competition can hit amazing notes, but not Melanie. "You have something that's all your own," he explains. "There's one Melanie in this competition."
After all, what would they do with all those collared necklaces if she went home?
Sylvia Yacoub
"My Heart Will Go On," Celine Dion
Team Christina
Sylvia takes this opportunity to tell us that she dealt with vocal nodules a few years ago, and she thought she would never sing again, and that's why she's extra-grateful for this experience.
Chelsey (a two-time nodule survivor): "These people are such pussies about their nodules."
Sylvia has got some BALLS to sing this song. But she's up to the challenge. Her recent track record is Christina Aguilera, Katy Perry, and now Celine. Who's next? Whitney? Aretha? We shudder at the thought.
Sylvia takes the stage and the production for her performance is obviously dramatic.
Jaimie: "Oh god. A choir of violinists."
Chelsey: "To be fair, it's how Celine would want it. Her eye makeup and outfit are too goth for this song though. I need it to be more angelic."
Jaimie: "Yes, but I LOVE her dress."
Sylvia sounds good, but she's no Celine. And herein lines the danger of choosing a song such as this.
Carson tells us that this is one of the "Top 5 hardest songs to sing ever." Cee Lo says he thought it was great. Adam commends her for choosing such a difficult song and says "considering the circumstances you did a great job."
Coadge Christina tells Sylvia that she is "tried and true fearless" and "extremely ambitious." She also tells Sylvia that she made it her own, but we felt more like she just changed the notes that would have been too difficult for her to reach and added some runs. Does that count as making it your own?
Terry McDermott
"More Than A Feelin'," Boston
Team Blake
"It's extremely surreal to know that America has voted for a Scottish guy," Terry says adorably about last week's results.
Blake is so happy that Terry is winning people over. "He deserves this," he adds.
Terry says his parents have both been supportive of him since he said he wanted to be a rock star at age 14. The hardest thing he has had to deal with is his mother's passing.
"this song is the single biggest challenge that I have faced on 'The Voice,'" he explains
Terry closes the night with an energetic performance, hitting some incredibly impressive high notes and working the mic stand so wonderfully that we're even willing to ignore his marf.
Chelsey: "Whoa! DAMN Terry. Good for you. I think this is my favorite performance of his."
Jaimie: "I'd agree. I'm a convert."
"That was damn good, bro," Cee Lo says. "The only thing I like more than your voice is your haircut."
"I don't even know if you guys realize how good Terry is," Adam tells the audience before he's at a loss for words.
Blake congratulates Terry on the way that he represents classic rock and stays true to who he is. "Ladies and gentleman, please say hi to a gift to rock music," he tells the audience.
By the end of the night, we learn that if any artist is in the Top 10 on iTunes by midnight PST, their iTunes votes get multiplied by 10. Chelsey -- a stalwart reporter -- notes that Michaela and Adriana are the only two not in the Top 200 by that time.
So how do we hope the eliminations turn out? There are five we could easily part with: Dez, Adriana, Sylvia, Bryan and Amanda.
"The Voice" airs Mondays and Tuesdays at 8 p.m. ET on NBC.
Calling all HuffPost superfans!
Sign up for membership to become a founding member and help shape HuffPost's next chapter