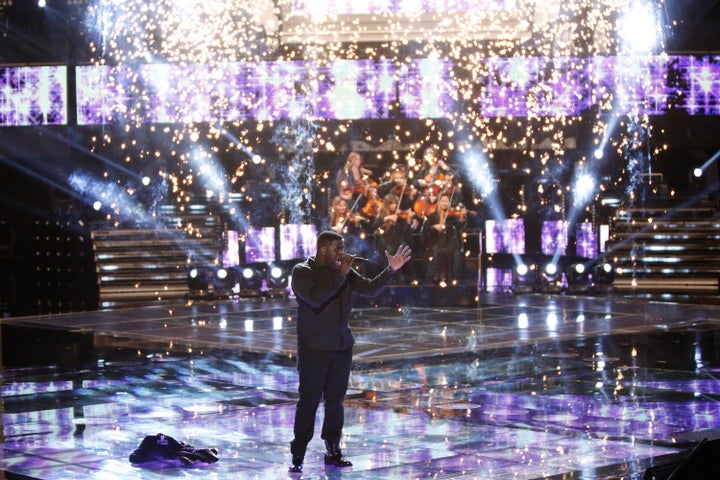 "The Voice's" Top 6 took the stage on Monday night with a song choice of their own and one their coadge picked, while Christina Aguilera -- whose contestants have all gone home -- sat back looking what we're sure she thought was pretty.
Sadly, she didn't. Thus, it wasn't exactly the most thrilling evening all around, but it's become clear that Trevin Hunte should sing a track from "Dreamgirls" every week.
At the time this post was published, here's where the artists stood on iTunes:
1. Terry McDermott, "I Want To Know What Love Is"
2. Nicholas David, "Somewhere Over the Rainbow"
3. Cassadee Pope, "Stand"
4. Cassadee Pope, "I'm With You"
5. Trevin Hunte, "And I Am Telling You I'm Not Going"
6. Melanie Martinez, "Crazy"
7. Melanie Martinez, "The Show"
8. Amanda Brown, "(You Make Me Feel Like) A Natural Woman"
9. Terry McDermott, "Stay With Me"
10. Amanda Brown, "Here I Go Again"
11. Nicholas David, "September"
12. Trevin Hunte, "Walking On Sunshine"
Averaging the where each artists' two songs landed amongst "The Voice" Top 6, here are the iTunes-based standings going into the results show:
1. Cassadee Pope
2. Terry McDermott
3. Nicholas David
4. Melanie Martinez
5. Trevin Hunte
6. Amanda Brown
Get the breakdown of all 12 performances from "The Voice's" Top 6 below:
Nicholas David
Team Cee Lo
Coach's Pick: "September," Earth, Wind & Fire
Because Cee Lo was under the weather this week, Pat Monahan, the lead singer of "Train," who has a penchant for painted on pants, is guiding Trevin Hunte and Nicholas David, Cee Lo's last contestants standing.
"I'm a fan of Nicholas in a time when a lot of pop music sounds like this, he's got a whole [other] thing," Pat says. He and Nicholas are both happy about the song Cee Lo has chosen, but Pat wants St. Nick to shake things up a bit. "I just want you to do something that isn't comfortable," Pat tells him. "This is the time to really try beyond what you think you're capable of."
Jaimie: "I love this song"
Chelsey: "It makes me think of bat mitzvahs. IN A GOOD WAY."
Jaimie: "SUCH a good point. This would be when the parents get up and head to the dance floor."
Chelsey: "Yup! Generations collide."
"Pat is pushing me to take some risks and to use other parts of my voice than my go-to spots," Nicholas explains.
But when he hits the stage, Nick seems to be sitting pretty in his comfort zone. He sounds great, as usual, and the performance is very energetic, but it kind of engulfs Nick. There are about two dozen musicians and back-up singers, not to mention 20 more dancers doing their very own Soul Train-style moves on the platform above everyone else. If Nicholas wasn't standing six feet in front of the massive group, we probably wouldn't have been able to spot him.
Jaimie: "Are those dancers really necessary?
Chelsey: "There are so many people on this stage."
"One thing that was missing for me -- I gotta be honest -- was some of that chorus, I wanted to hear you sing," Nick's No. 1 fan Adam says. "I was a little disappointed with that, but I'm never disappointed in your performance."
Blake says he feels dumb that Cee Lo is the only person who turned around for Nicholas in the Blind Auditions and Christina waits until the camera is on her to put down her pen so that we all know of her copious performance note-taking. She says she likes seeing Nicholas gain confidence each week, but, she adds, "I'd still like to see you get a little bit more adventurous."
Nick's coadge Cee Lo agrees with his coadges because he's probably still sick and doesn't mean to be paying much attention.
Nicholas' Pick: "Somewhere Over the Rainbow," Judy Garland
"This is my mom's favorite tune and she's always been my biggest fan," Nicholas explains, while Pat is excited for him to "reach for his highest level range wise."
St. Nick is trying to find a balance between his personality and this "Wizard of Oz" classic. "I want to do my own take on this song, but it's such a classic and I want to keep that magic alive," he says before taking the stage where he sits behind "The Voice's" massive red piano.
It is instant magic. There are rainbow lights behind him and some string instruments and a harmonica far behind him, unlike the overcrowded "September" performance earlier in the evening.
Jaimie: "I would listen to this to put me to sleep. And I mean that in a good way."
Chelsey: "Yeah. Nicholas's kids are so lucky."
It's definitely a fresh approach to the more than 70-year-old song, but in creating that, Nicholas didn't lose the feel of the original.
"That was magic and that was beautiful," Blake tells St. Nick. "And I think only you could do what you just did up there."
Before Cee Lo praises Nicholas, he wishes "Mr. Bings" a happy birthday.
Chelsey: "Cee Lo. WHAT?"
Jaimie: "He was saying happy birthday to Chandler. Duh!"
Chelsey: "Lololol."
Cee Lo then tells Nick, "I think you did a wonderful job today."
Coach's Pick: "Stand," Rascal Flatts
Blake basically liked seeing Cassadee perform with Rascal Flatts so much that he gave her one of their songs to sing, which neither of us has heard before.
"I feel like Blake giving me a country song -- after 'Over You' had such a huge impact -- is perfect because country music tells such an amazing story and people can relate," Cassadee explains.
She seems to stumble through her rehearsal and Blake sympathized, telling her, "This is a tough one." Before taking the stage, Mama Cass explained, "The difficulty with 'Stand' is finding the moments for my vocals to really soar."
In the first three quarters of the performance, it's hard to understand what's so special about "Stand" -- and to hear any "soaring" (though there are some very shiny gold pants involved).
Jaimie: "This sounds like a Disney artist's song. #sorryrascals"
Chelsey: "This does not sound country at all to me. It sounds like something Lifehouse would sing."
At least there are glow sticks!
Jaimie: "Everyone brought the same glow stick!"
Chelsey: "SUCH a coincidence!"
But then Cassadee starts hitting some amazing notes and by the end, both Blake and impartial X-Teens give her a standing ovation. "It's amazing how everybody happened to have glow sticks in their pocket tonight. That was nice," Carson said before handing it over to the coadges.
Jaimie: "Oh my god. Carson and I made the same joke. KILL ME."
Chelsey: "HAHAHAHAHAHAHAHA"
Jaimie: "KILL ME IN THE FACE"
Chelsey: "I AM SO EMBARRASSED FOR YOU."
Let's move on. "I just don't mind being your co-coach supporter at this point," bandwagoner Christina says, adding a bit of awkward laughter on the side. "I love how you represent yourself ... You're the all-around true star of the show."
Adam explains about his emotional journey with Cassadee (bathroom break, anyone?) and then adds that he "wants to see something a little more adventurous, different and bizarre" from Ms. Pope.
Blake disagrees. "She made it her own and it was amazing," he says.
Cassadee's Pick: "I'm With You," Avril Lavigne
Avril lover Cassadee has gone with another song from the pop punk artist and she's working on making it her own in rehearsals. "I'm trying to do it like Avril and I just have to figure out my way to do it," she tells Blake.
Jaimie: "#thingasanepersonwouldntsay"
Chelsey: "Hahahaha. Truth."
"This is one of her all time favorite songs," Blake says. "It definitely shows -- that's what's going to keep her in this competition."
Despite her copper dress with slits galore, the performance is pretty boring and to us, it sounds like a more talented Avril. Also, there is fake rain and there are stars in her hair -- literally.
Jaimie: "Wait a second. What are those stars? Are they spray painted onto her head?"
Chelsey: "I don't know. Are they clips from Claire's?"
Jaimie: "Tweet at @VoiceWardrobe!"
After leaving Avril on the stage, Cee Lo told Cassadee, "You've had an impeccable track record ... You never cease to amaze me." Adam said, "That was my favorite performance of yours" and said it was his favorite of the night.
Cassadee's coadge Blake was in awe of his star pupil. "You can't teach slash coach somebody how to have a connection with a lyric or a song," he explained. "Cassadee Pope is one of those rare individuals who has the ability to tell a story, but also she has the ability to sing really, really good."
Amanda's Pick: "(You Make Me Feel Like) A Natural Woman," Aretha Franklin
Amanda says that she chose this song because her singing career is rooted in the church. Confusing that the woman who has been all about proving herself as a rocker would choose such a classic and soulful choice, but we're not complaining.
Jaimie: "Amanda looks pretty. But I want her to go home."
Chelsey: "YUP."
Adam says that he is "so excited" for this because Amanda sings "effortlessly."
Jaimie: "Adam sounds better singing the song than Amanda."
Brown's performance is a total girl-power feminist party, with an all-female choir supporting her vocals.
Jaimie: "I mean, she has a good voice, but this just sounds like someone covering the song."
Chelsey: "But she has a lady choir!"
Jaimie: "Ugh. Worse."
At the end of Amanda's performance, her coadge Adam is on his feet. We know this thanks to Carson narrating the room by saying "Amanda Brown, representing the standing Adam Levine." Thanks again, Cars.
Chelsey: "He has literally nothing to say so he has resorted to just narrating what he sees."
The coadges are all fans of Brown's performance. Blake tells her, "the competitor in me really wants to find something to criticize about that but I can't." Cee Lo goes full creep and says that he "love[s], appreciate[s], and adore[s] all women." So actually, it's unclear if he's a fan of Brown's vocals, but he is most definitely a fan of the rest of his "favorite mistake."
Christina does not get to comment, but can be heard coughing up a lung throughout the other coadge's comments.
Jaimie: "What is Christina choking on?"
Chelsey: "She needs attention."
Coadge Adam tells Amanda that it is her best performance since "Dream On."
Coach's Pick: "Here I Go Again," Whitesnake
Adam hopes to re-create the magic of "Dream On" by choosing another rock song, and Amanda is down with it because everyone on Facebook has been asking her for another rock song too.
To be honest, we probably didn't even pay enough attention to this performance as we were still reeling from the magic that is Trevin Hunte. Also, we're too confused by her outfit to focus on the vocals.
Chelsey: "Is she wearing a red leather one piece? Is that something that's happening?"
Jaimie: "I don't know, but I'm irritated by that."
Then some gymnasts start doing tricks all over the place, because it's soooo rock n roll. Ugh, we're ready for her to go.
Christina tells Brown that she did a "great job" and that she "stuck to [her] rock roots." Coadge Adam says it was "definitely a risk" (was it?) but that she "kick[s] everybody's ass."
Terry McDermott
Team Blake
Terry's Pick: "I Wanna Know What Love Is," Foreigner
For Terry's song of choice, he chooses this Foreigner classic (also sung last season by Jamar) because it represents how he felt when his mother died and how his wife helped him deal.
Rather than be supported by a full band, he and Blake decide to strip the performance down to just Terry and a piano (plus a surprise cello). Terry is excited for the performance but also nervous because there is "nowhere to hide."
Terry sounds amazing during his performance, and he has a surprise back-up vocal! It's everyone's favorite pianist: Fat Dave Grohl a.k.a. Paul Mirkovich!
Chelsey: "Wait. I THINK Fat Dave Grohl is singing."
Jaimie: "Yesssss. Time to shine, Dave."
Chelsey: "Only took three seasons."
Terry totally kills the song. This was his time, and it might be what gets him to the final four.
After Terry's performance, Christina says that there is "no doubt" that Blake has the "strongest team." Then she goes on an absurd rant about how she's not sure if anyone listens to her feedback.
Jaimie: "Christina is like, 'LISTEN TO ME'"
Chelsey: "Christina, it's NOT ABOUT YOU. YOU DON'T EVEN HAVE A TEAM."
Jaimie: "Chelsey, she can't hear you. Her fake hair is covering her ears."
Chelsey: "Her headband thing is like a belt for her wig."
Cee Lo gets all sappy and tells Terry that he loves him. Adam says that it was an incredibly tough song but "you slayed it. You did an amazing job."
After a quick dad joke where Blake refers to a "cello" as a "Cee Lo" (classic), he tells Terry that "we did the right thing." He calls the performance "unbelievable."
Coach's Pick: "Stay With Me," Rod Stewart
Blake chooses this song for everyone's favorite Scot because he thinks it's a good opportunity for him to "connect with the people."
And that he does, because he begins his song in the stands with the crowds.
Chelsey: "Oh, Terry is with the fans."
Jaimie: "Obviously. I like this."
Chelsey: "Me too. I think Terry might make it to the 4 after tonight."
Cee Lo tells Terry that he is "the real thing." Adam calls Terry the "most consistent singer" of the entire competition. Coadge Blake says that Terry combines his "laser pitch" with "passion" and that he keeps "pushin' it to the next level."
Coach's Pick: "Walking on Sunshine," Katrina and the Waves
I think everyone was a little confused upon hearing Cee Lo's choice for power ballad extraordinaire Trevin, but we're on board. We've come to really trust Cee Lo's decisions. I mean, did you guys SEE him perform in a sleigh with the Muppets at the tree lighting last week? Perfection.
Jaimie: "Trevin is getting more Granadian by the second."
Chelsey: "Granadian?"
Jaimie: "He's from Granada."
Chelsey: "Ah, yes. He has Melanie Amaro syndrome."
Replacement coach and everyone's least favorite soul sista Patrick Monahan is aware that the song is "not [Trevin's] style" but thinks that the 18-year-old will make it "more current." Trevin is excited to sing the song because it's about "being carefree and lettin' loose."
A few bars into Trevin's performance, I can't imagine any skeptics not being on board. It's surprisingly awesome.
Jaimie: "He sounds great."
Chelsey: "Yeah, I'm actually really into this."
The performance is exponentially better than the last time Trevin did an upbeat song (Usher's "Scream"). He totally works the stage and even does some choreographed dancing with the band! It's awesome. He kills it. And he's so happy. And Cee Lo is ecstatic.
Chelsey: "Cee Lo just went full Madea."
Adam says that the performance "is the genius of Cee Lo Green." Amen, Adam. The man just KNOWS. Blake commends Trevin's long notes and tells him "gosh dangit it's good."
Coadge Cee Lo, still feeling a bit under the weather, tells Trevin that it made him "feel so much better to see you happy and moving and connecting with everyone." After all, all he needs is love (do doooo do do do).
Trevin's Pick: "And I Am Telling You That I'm Not Going," Jennifer Hudson
Trevin chooses another Dreamgirls song (we all remember when he did "Listen" during the blind auditions) and we couldn't be happier about it. He takes the title of the song quite literally when he says he chose it because he wants to "show American that I'm not going anywhere." OH, we get it now.
Anyway, what can we say about this performance other than HOLY SH*T, TREVIN. HOLY SH*T. Amazing, perfection, etc. If he doesn't win, nothing makes sense.
Adam tells Trevin that he has an "incredible, God-given voice." Blake says that it was a "full two minute moment" and he "didn't hold back." It was "full on Trevin."
Christina says that she is "so happy to be here and to enjoy the beginning of [Trevin's] career." Then she steps on Cee Lo's mini-sausage toes by offering to take Trevin on tour with her and take him "under [her] wing, personally." Oh, Christina. Steals happened during the battle rounds. You don't get one now. Maybe next season when they change the entire structure of the show again.
Coadge Cee Lo is beaming, and rightfully so. He asks for "a moment of silence to mourn the loss of the entire competition." He says that it was "so remarkable." "Thank you so much for blessing me today," he tells the 18-year-old prodigy.
Melanie Martinez
Team Adam
Melanie's Pick: "Crazy," Gnarls Barkley
The now half turquoise-haired, half black-haired high schooler has made the daring decision to pick a coadge's song.
"I thought it would be really cool to change it the way I did with 'Toxic,'" she explains to Adam, which is promising because quite honestly, Melanie hasn't done anything that refreshing since turning the Britney Spears favorite on its ass during the Blind Auditions.
For one, she's singing, "Does that make me crazy?" instead of "Does that make me crazay?" during rehearsals. Another promising factor.
"It's risky doing one of the coaches' songs," Melanie explains. "Every time someone does it, you're kind of like, 'Oh no! Is it gonna be good?' And I really hope Cee Lo isn't too hard on me."
Melanie seems to feel the pressure, noting she's the youngest in the competition and no one her age has made it into the Final Four in "The Voice's" three seasons.
Despite the positive signs, when Melanie takes the stage, we're seeing something just plain weird. Ms. Martinez is sitting atop a white platform, playing a tiny children's pink piano and there are four mannequins sandwiching her, sporting guitars and Melanie's other live performance dresses.
Jaimie: "This is creeping me out."
Chelsey: "It's a baby piano. I don't like it."
Jaimie: "I'm scared ... and I think those are all her old dresses from earlier in the live rounds."
Chelsey: "This is so weird. They even have bows."
Jaimie: "This is so creepy."
Chelsey: "It's like 'Pretty Little Liars.'"
Jaimie: "Maybe she's a fan?"

While it's clear Melanie has certainly established an image for herself -- the bows, the peter pan collars, the boots with ruffled socks and, of course, the two-tone hair -- it seems both boastful and bizarre to create this homage to her, during her own performance.
Even major Melanie (and fellow bow) fan Jaimie just can't get behind it. "So she sounded good, but I want to pretend like that didn't happen," she says.
But what did the coadges think?
"You had a cool lullaby affect ... you made a great effort at it," Mel's non-fan X-Teena says bitchily.
"Wow, Melanie! You and Adam have such good taste in music," Cee Lo jokes. "I think you did a great job," he adds, saying they're "cut from the same cloth, honey."
Adam recognizes the pitch issues, but really doesn't care too much about them. "It's so fun to watch everything that you do," he says. "This kind of transcended the technicality for me because I'm a huge fan of yours."
He then notes a friend of his texted him saying her daughter wanted a "Melanie dress." Is that the reasoning for the mannequins? Still not acceptable.
Jaimie: "I want to buy a 'Melanie dress.'"
Chelsey: "You bought one. For New Year's."
Jaimie: "You're right. I did. Melanie would love it."
Coach's Pick: "The Show," Lenka
"Your last performances have been very somber and I think it's important to show a little bit of range," Adam tells Melanie. "It just seems like the perfect thing for you to do at this moment."
We're trepidatious because it's not really a song that shows off one's vocal range, but Adam seems insistent that Melanie show her "lighter side."
"It's okay to be 17 once in a while," he tells her.
Melanie admits, "This song does relate to me because I am the youngest in the competition and it's scary."
The performance really played up that "young" factor as Melanie walked through the stage as stop signs, cars, clouds and much more were brought out in a Crayola-like parade fashion. It was uncomfortable in a very different way than her "Crazy" performance, but it's clear this wasn't Melanie's night.
Jaimie: "ADAM. What the fuck did you do to her?"
Chelsey: "This is like a children's performance."
Jaimie: "She looks so uncomfortable. It's making me sad."
Chelsey: "I feel like I'm watching The Wiggles."
Jaimie: "Fair."
Chelsey: "DOLPHIN!"
"It was definitely different for you, Melanie, because you've been more of a darker type of artist," Blake tactfully explains. "But the important thing is you sang it really good ... I'm just left questioning the connection with the song."
After giving her some attitude, Christina tells Melanie, "I kind of want to see you to a little more Fiona Apple" and then proceeded to sing two whole songs.
Jaimie: "We get it: You know Fiona Apple."
Chelsey: "Melanie wants to slap her in the face, as do I."
Jaimie: "I agree. Melanie's face is making me sad."
Chelsey: "I know."
Cee Lo says he "enjoyed it." He tells her, "That's probably one of the most colorful, inventive stage sets that we've had on 'The Voice.'"
After that compliment, Adam is quick to correct X-Tina and to let Cee Lo know that the set was his and Melanie's idea. He doesn't speak much to the other coadges' relatively negative feedback. "I'm just happy that you're here," he tells Melanie. "And I'm a fan and I love you."
"The Voice" airs Mondays and Tuesdays at 8 p.m. EST on NBC.
Calling all HuffPost superfans!
Sign up for membership to become a founding member and help shape HuffPost's next chapter