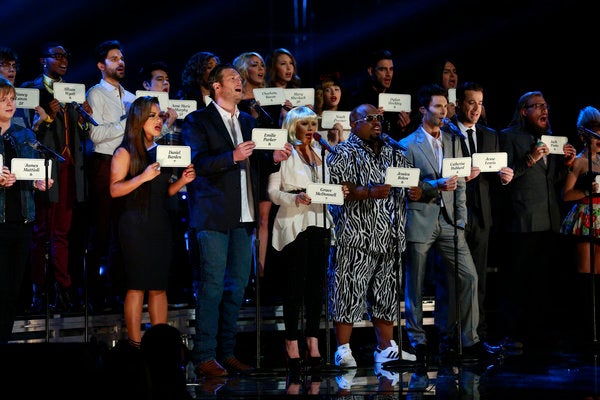 "The Voice" kicked off part one of the finale with a touching tribute to the victims of the Newtown shooting at Sandy Hook Elementary School. With candles lining the stage, each of the four coaches, the Top 3, host Carson Daly and some of the former "Voice" contestants from Season 3 held a sign with the name and age of one of the victims as they did a Jeff Buckley-inspired rendition "Hallelujah."
It was a moving beginning -- reminiscent of the children's choir that sang "Silent Night" at the start of this past week's "Saturday Night Live" -- and the screen went silent before regularly scheduled programming commenced.
For the final performance night of "The Voice," each of the Top 3 -- Cassadee Pope and Terry McDermott of Team Blake and Nicholas David of Team Cee Lo -- is taking the stage three times: singing a new song, their breakout song from earlier the season and doing a duet with their coaches.
Nicholas David
Team Cee Lo
Song Of Choice:
Mashup Of Jerry Lee Lewis' "Great Balls Of Fire" & Jimi Hendricks' "Fire"
It's hard to believe Cee Lo was the only coadge to turn around for Nick -- and here he is in the Top 3. "My plan was, every week, to keep singing songs with a message about love, about hope," Nicholas says retrospectively of his goals. He often brought Cee Lo -- and presumably many viewers -- to tears. Though he dedicated his performance last week to his "gal," who's always stuck by him, this week, St. Nick is doing this for his family at large.
Jaimie: "'Gal' is Nick's favorite word. Other than 'ay nah.'"
"My family is the most important thing in the world," he says before taking the stage as tears fill up in his eyes. "There's nothing else that I'd rather do than do this for them."
Nick is the only contestant to take on a mashup not just for the finale, but over the entire third season. The set designer certainly took is theme literally and the stage was either ablaze or covered with flaming imagery. While Nick is playing a piano that is quite literally on fire, he's sandwiched by six fringe-clad go-go dancers. Once he gets up to work the stage, we see there are also images of fires on the screens behind and on the floor below him and then, he starts to kick. It's no surprise he's sweating ... a lot.
Jaimie: "FIRE? In the piano?"
Chelsey: "HOW DO THE KEYS WORK WHEN THEYRE ON FIYAH?"
Jaimie: "I don't know, but this is a mean thing to do to an already sweaty man."
Chelsey: "That is one shiny blazer. I could use something like that for my New Year's outfit."
After a series of "ay nah's," "yeah boy's" and "yeah baby's," Nick whips out a rag to start dabbing his sweaty face as the judges commend him. "Not only did we see a different side of you tonight -- a crazy kickin' side -- but we also sometimes forget that this is so entertaining and fun," Adam tells him. "I'm so happy that you decided to take this moment to just entertain this crowd." After a very dad-like joke about The Rockettes, Blake echoes Adam's sentiments, saying "Tonight is a celebration. You made it one."
Coadge Cee Lo is smiling from sunglass arm to sunglass arm. "Your honesty is always appreciated. Your ability is always heartwarming," he says. "But your fire tonight burned this house down ... I loved it. I'm forever a fan of yours, Nick."
Then of course, Nick began bowing. Sadly, we saw no chicken dance.
Breakout Song Reprise:
"Lean On Me," Bill Withers
Nick goes with the performance from Week 3 of the live shows that brought Cee Lo to tears and compelled original singer Withers to pay St. Nick a vist on the following week of "The Voice." Nick sounds great, as always, but it's pretty ridiculous for these contestants to be singing a song they performed no more than a month and a half ago, considering there have been only six weeks of live performances.
Chelsey: "This might be one of the most unnecessary things ever. Next to Christina Milian."
Jaimie: "I agree. We just heard these songs. We don't need to hear them again."
Chelsey: "Why don't they make the show an hour and cut this out? WE GOT SHIT TO DO! QUIT WASTING MY TIME, CARSON!"
However, Nick did change it up a bit: This time, instead of having a robe-clad church choir singing behind him, Nick brought a chorus of regular clothes folks sitting on wooden crates while he played a wooden piano. It was a bit more laid-back and Adam was into it.
"Nick, I like this outfit, man. You look like a principal ... of the school of funky stuff," he said and immediately regretted. "You do justice to [that song] every time you sing it." Nick's coadge Cee Lo added, "You never cease to amaze me. I sit here in awe of your ability and your energy ... I believe in you. You make me believe. You move me, Nick ... I love you, man."
Coadge Duet:
"Play That Funky Music" Wild Cherry
During some pre-duet bonding time with Nick's parents, sons and "gal" in Cee Lo's above-ground lair, "gal" got emotional over the sacrifices they've made along the way and Nick's eldest son "Iceman" gave Cee Lo a cracker. "You licked all the salt off of it, dawg," he says with a laugh.
Jaimie: "Nick's parents are very cute. And normal."
Chelsey: "I know ... Oh wait. 'ICEMAN.' Their son goes by 'Iceman.'"
Jaimie: "And nevermind."
Then, it was time for the soulful mentor and mentee to take on the Wild Cherry classic in what was definitely the silliest performance of the night. Firstly, Cee Lo's wearing shorts.
Jaimie: "Oh, those are shorts."
Chelsey: "Uh oh. He has exposed his arms and legs this season. Thank goodness on separate occasions."
There were also sunglasses and sequins galore and of course, more go-go dancers both in cages and suspended from the ceiling. But the performance really got interesting when a mini Cee Lo took the stage and offered some funky dance moves. "You complete me," Cee Lo told him.
Chelsey: "OMG. He completes him. Celeb couple of the year. Late entry but they earned it."
Not even Nick's chicken dance could compete.
Breakout Song Reprise:
"Over You," Miranda Lambert
Cassadee's first performance of the night is a reprisal of her biggest hit of the season, "Over You." It is no surprise that Cassadee chose this song, seeing as it is most definitely the most purchased song by a Voice contestant on iTunes. We're not really feeling this whole "redoing songs" thing though.
Chelsey: "They're redoing songs? Is this for real? Like, c'mon."
Jaimie: "I agree. I'm tired of this."
Cassadee goes with her classic performance of singing ballads in a pretty dress, and we're starting to get bored with it. But the fans seem to love it, as do the coadges, so what do we know?
Christina tells Cassadee that she looks "drop dead gorgeous" and "stunning." "I'm so enamored by your whole presence tonight...sky's the limit for you," she tells her.
Chelsey: "I'm tired of Christina low key hitting on Cassadee."
Jaimie: "Meeee too. She's looking her up and down."
Chelsey: "Undressing her with her eyes."
JaimieL "That'd be a bitch to undress."
Adam tells Cassadee that she's developed her voice so much and that it's very "finely tuned." Coadge Blake calls it "perfect" and, in classic Blake form, tells her "Gosh dangit, Cassadee. You amaze me. You really do."
It feels like the coadge commentary is getting just as repetitive as the performances.
Coadge Duet:
"Steve McQueen," Sheryl Crow
Cassadee is chillin' at Coadge Blake's house, sippin' on some Starbucks, totally natural. She is joined by her mother, sister, and boyfriend. Cassadee explains that she only took singing lessons because of her sister, and her mom shares the story of when they made it to LA from Florida in only 48 hours.
Cassadee says that she's happy to connect Blake and her mom because "they have both done so much for [her]." Cassadee's mom says that Blake has given Cassadee the confidence that she needs. Blake says "God definitely broke the mold when he made Cassadee Pope."
For their duet, they choose this racecar themed country song. There are actual racecars on stage and Cassadee is sitting on a motorcycle, in case anyone wasn't clear on the theme.
Chelsey: "Vroom vroom."
Jaimie: "Bored."
Chelsey: "Yawn."
Maybe it's our lack of country music and racing knowledge, but we were quite unfamiliar with the song choice.
Jaimie: "Is this a song from Cars? Because wow."
Chelsey: "I don't see how it can't be. By Steve McQueen do they mean Lighning McQueen?"
Jaimie: "Oh maybe that was my confusion."
Chelsey (after receiving some help from the Interweb): "Apparently Steve McQueen is also a racecar driver in addition to Lightning McQueen. Though I guess Lightning McQueen is just an actual racecar."
Luckily this riveting conversation killed some time for us during this fairly blah performance. Though at one point, Cassadee did go full Sue Sylvester and break out a bullhorn, so that was fun.
Song of Choice:
"Cry," Faith Hill
Cassadee says that the live shows are when she "felt [herself] coming into [her] own." Blake naturally asks Cassadee if she's heard from her dad during rehearsals, and she says she has. This actually clears things up for us, because before a commercial break earlier in the show, we saw her mouth "Hi Mom! Hi Dad!" and we were like WHAAAA?! So now it makes sense. Anyway, apparently she and her dad are trying to make it work, so thanks Mark Burnett!
For this final performance of the night, Cassadee is doing what she does best these days, a country ballad! It's fall up in here, and the leaves are falling and Cassadee is dressed like an autumn queen. There's also a nice camera angle of Cassadee through the leaves.
Chelsey: "They're getting fancy with the camera angles tonight. Maybe there's a backstage cinematography competition, like the second tier model competition on Project Runway."
Jaimie: "I think there's also a hair accessory competition in that case."
Chelsey: "Cassadee is for sure winning that one. But Christina sure is giving it her all."
Cassadee definitely gives the performance her all, and it is quite powerful, especially as she hits the final note.
Jaimie: "Her mouth looked GINORMO."
Chelsey: "Like the Lincoln Tunnel with teeth (copyright Mr. Gettle)."
Adam tells Cassadee that he wanted her on his team so badly, and that's why he's been critical, but in the end "[she] accomplished everything that [he] was hoping [she] would accomplish on Blake's team." "I'm so happy that you're here in this moment," he tells her.
Coadge Blake tells Cassadee, "I don't know what more I can say...I've never heard you sing as good as you did tonight and that's saying a lot."
Terry McDermott
Team Blake
Coadge Duet:
"Dude Looks Like A Lady," Aerosmith
Terry is rockin' a new 'do (kind of) and just chillin' at Coadge Blake's house with his fam. "It's pretty big of a house!" his son Liam tells Blake. But then, who's that?! It's Terry McDermott Sr., here to surprise Terry Jr.!
Chelsey: "Terry's shocked face looked comical."
Jaimie: "He looked like the dramatic chipmunk."
Carson announces the performance and tells us that we will see a "familiar face" playing guitar. We are intrigued. Will it be someone famous?! Will it be Terry Sr. returning to the stage!?
Soon enough, a skinny shirtless man in a long ginger wig and bandana emerges on guitar.
Chelsey: "That is in fact not Terry's dad."
Jaimie: "Is that like a famous guitarist?"
Chelsey: "It looks like Adam in a funny wig. What the eff is happening."
Jaimie: "I hope they explain."
As the performance comes to a close, Carson reveals that it was Mr. Levine in a wig. Cool, guys. You got us.
On a more relevant and important note, this performance was great.
Song of Choice:
"Broken Wings," Mister Mister
Terry chooses this 80s classic because it is apparently his son's favorite song (natch). During rehearsals he and Blake decide to work on trying to "de-80s" the song.
Terry has a band supporting him for this performance, and there are a lot of close-ups on the tambourine player, who is unfortunately not Joe Jonas.
Chelsey: "Tambourine man sure is getting a lot of airtime."
Jaimie: "Indeed. And again, he is not Terry's dad. What's with the military ensembles?"
Chelsey: "Yeah, don't get it."
At the end of the performance, confetti falls from the ceiling, because...duh.
Chelsey: "Do I see glitter falling from the sky? Oh it's confetti. Still don't get it."
Jaimie: "It's broken wing particles, of course."
Adam tells Cee Lo that he realizes there was some sort of malfunction at the beginning of the performance (did we miss a nip slip!? JK it had to do with sound) and Terry recovered and "that's a big thing."
Coadge Blake goes back to their duet performance and says that Terry does it week after week. "Every time you get onstage something epic happens," he tells him. "You make these classic rock songs sound new again...no one's been able to do that except you."
Breakout Song Reprise:
"I Want to Know What Love Is," Foreigner
Earlier in the night, Terry referred to this performance as his "turning point" because it was the first time he performed "bare bones," so of course he chooses it for his (unnecessary) reprisal performance.
Chelsey: "This performance was like yesterday. THIS IS SO DUMB."
Jaimie: "So dumb."
This time around, Terry has some more going on with the performance, and he is not playing piano. There are, however, glowsticks, so HELLZZZZ YEAH!
Christina goes on some completely absurd rant about Terry's work ethic, because he's performed "so many" songs tonight and he's still "plowin' through" every single time.
Jaimie: "OH MY GOD, she is SO DUMB. They all sing the same amount of songs."
Coadge Blake tells Terry that he thinks "[he] sang that song better tonight than [he] did the first time around." "You absolutely drive me crazy because you blow me away...I am so honored to have been associated with you at some point in your career," Blake tells him.
"The pleasure is all mine," sweet baby angel cherub face Terry replies.
At 2 a.m. EST/ 11 p.m PST, here were the iTunes standings:
Cassadee Pope, "Cry"
Cassadee Pope, "Over You"
Terry McDermott, "Broken Wings"
Terry McDermott, "I Want To Know What Love Is"
Nicholas David, "Great Balls Of Fire/Fire"
Cassadee Pope, "Stupid Boy"
Terry McDermott & Blake Shelton, "Dude Looks Like A Lady"
Cassadee Pope & Blake Shelton, "Steve McQueen"
Nicholas David, "Lean On Me"
Nicholas David & Cee Lo Green, "Play That Funky Music"
Terry McDermott, "Let It Be"
Cassadee Pope, "Torn"
Nicholas David, "Somewhere Over The Rainbow"
Terry McDermott, "Maybe I'm Amazed"
Nicholas David, "You Are So Beautiful"
Cassadee Pope, "Stand"
Cassadee Pope, "I'm With You"
Cassadee Pope, "Not Over You"
Terry McDermott, "Don't Stop Believin'"
Cassadee Pope, "Are You Happy Now?"
With nearly every song Cassadee's sang on "The Voice" Season 3 in the Top 200 on iTunes -- and considering that's been the case for weeks -- it seems impossible for her not to win based on the iTunes votes themselves, which count 10 times the amount if they land in the Top 10. But who knows? Anything could happen when "The Voice" Season 3 comes to a close on Tuesday.
PHOTO GALLERY
Celebrity News & Photos
Calling all HuffPost superfans!
Sign up for membership to become a founding member and help shape HuffPost's next chapter