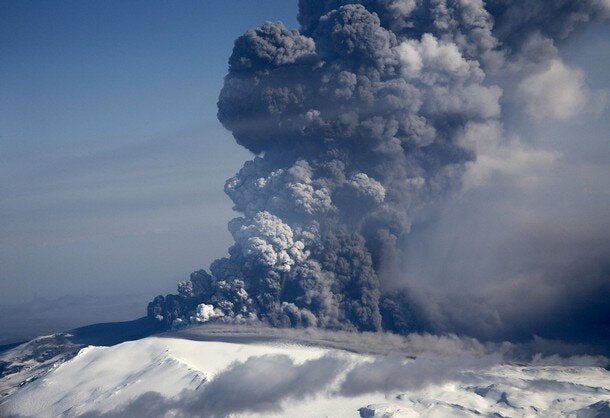 I don't know about you, but when I'm traveling abroad, as I am now writing from Cologne, Germany, I get in a time warp and become blissfully unaware of what's happening.
This is more often the case when I am staying with family in Paris or at the moment with my best friend, German TV star and director Andreas Stenschke .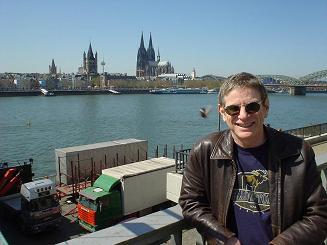 When I bunk down privately I'm more averse to the news, as opposed to when I'm at a hotel, alone and sometimes lonely, which forces me to watch more TV such as CNN, at which time I'm on top of current events.
So, it was a bit puzzling and also intriguing when I received an e-mail from my friend Dorothy Fontana, one of the original writers of the TV series Star Trek, who was concerned that I might not be able to fly because of the volcano. Not able to fly, I thought to myself? What volcano? The skies look very clear.
And then I started to pay more attention and saw the calamity that was affecting travelers all over the world, whether due to the fact that they were stuck in a foreign country or they couldn't get into one. I saw the continuing coverage, whether on the Internet or on local TV, most of the reports confusing as no one really knew when air travel would resume. Or the other reports referring to test flights and the fact that many airlines had taken advantage of certain windows that afforded them the opportunity to take off, fly and safely land somewhere without any ensuing havoc.
My emails from concerned friends continued, with some wondering what I was going to do? There were suggestions of different routes home, one of which was to go east around the world, through Dubai, then Tokyo and finally to my home base of Los Angeles. It was akin to following the route Marco Polo had traveled, though I wouldn't have time to pick up any silk to sell on the journey. Others asked if I needed food or money, the latter of which I always need and I was sorely tempted to take advantage. Initially, I wrote back with the headline, "HELP: Ashes are falling everywhere and we are forced to wear gas masks out in the streets." Then, my conscience got the better of me and I copped to the gag.
I also admitted that since my arrival in Paris on April 8 I was using ground transportation, such as the very fast and extremely economical Thalys train from Paris to Cologne, where I am staying for eleven days. During this time, I've had a bunch of meetings with German producers and watched Andreas direct a popular TV series (he's a triple threat in the business, as he acts, writes and directs), which included the surprise casting of me as an extra on Alles was zahlt. I was so good that the crew, which had previously respected me as a Hollywood professional, started spitting on me and I was denied access to the catering table, befitting my new lower than Untouchables status. I now empathize with my downtrodden colleagues in the American TV/Film industry.
I don't return to Paris for another three days, and then after three more I will finally fly again, to Casablanca next Sunday. I can't imagine it will not clear up for my Easy Jet to take off and I doubt if the dust will have meandered so far south to the skies above Morocco. Still, I am amazed that due to a quirk of fate I was not denied this trip, which would have been the case if I'd left a week or so later. On the other hand, even if the clouds of ash remain for the next week, there are worse things than being stranded in Paris, don't you think?
Related
Popular in the Community