A New Hampshire political legend who has fiercely protected the Granite State's first-in-the-nation presidential primary for more than four decades faces a fight for his political life on Wednesday.
Bill Gardner, New Hampshire's secretary of state, is nominally a member of the Democratic Party, and his work to keep New Hampshire primary at the front of the presidential nomination process has traditionally earned him bipartisan plaudits. But his participation in President Donald Trump's commission on election integrity ― based on the false premise Trump promoted about widespread voter fraud ― and support for making it harder for college students in New Hampshire to vote have infuriated liberals in the state.
Lawmakers appoint the secretary of state in New Hampshire, and since 1976 they've chosen Gardner, usually without much opposition. But in a non-binding caucus vote earlier this month by Democrats, who won control of both chambers of the legislature in November, overwhelmingly decided to back Colin Van Ostern for the post. He's a higher education official who was the Democratic Party's unsuccessful nominee for governor in 2016.
No one is willing to predict what will ultimately happen when New Hampshire's famously cantankerous and independent 424-member legislature is sworn in on Wednesday and votes on the issue. But even the possibility of Gardner's downfall shows how Democratic Party officials have become more aggressive in their willingness to stand up for voting rights during the Trump era. 
"I do think the increased awareness on voting rights in the state has definitely played into this," said one Democratic political operative in the state who spoke on the condition of anonymity. "I mean, the Trump voter fraud commission ―that's a pretty wonky thing all things considered, (but) that was big news in the state. (Gardner's) participation was a problem." 
State Sen. Lou D'Allesandro, another New Hampshire political legend who taught Gardner in high school, plans to nominate him on Wednesday for another term and said his former pupil has done a "wonderful job." But even D'Allesandro said it was a mistake for Gardner to have accepted a role on the Trump commission, which the president abruptly disbanded early this year.
"I personally think yes, he should have blown by it. Because in a way by joining it, he gave it a little bit of credibility," D'Allesandro said in an interview. "It fell apart obviously because it wasn't worthwhile, and there are those who say because he was there, that was the reason that maybe it did fall apart. Because he brought his wisdom to the process." 
The Gardner fight hasn't become a national cause celebre ― Democrats with presidential ambitions are unlikely to want to irritate the man who might oversee their primary. And there isn't much sex appeal in a parliamentary vote for secretary of state. Still, his struggle to retain his job is a sign of the rise of voting rights as a central issue in the Democratic Party.
Groups like Let America Vote and Priorities USA have raised millions of dollars to take on enemies of voting rights at the ballot box and in the courts. And Stacey Abrams became a national progressive hero thanks to her election battle with Republican Brian Kemp, the secretary of state who defeated Abrams for governor of Georgia even as he became infamous for his voter purges as the secretary of state.
While the roots of Gardner's political problems might be his participation in Trump's commission, a failure to modernize his office might be what does him in.
"People have had a lot of issues with his office for a very long time," said Shannon MacLeod, executive director of Free and Fair New Hampshire, which backs Van Ostern. "It just needs to be brought into the 21st century."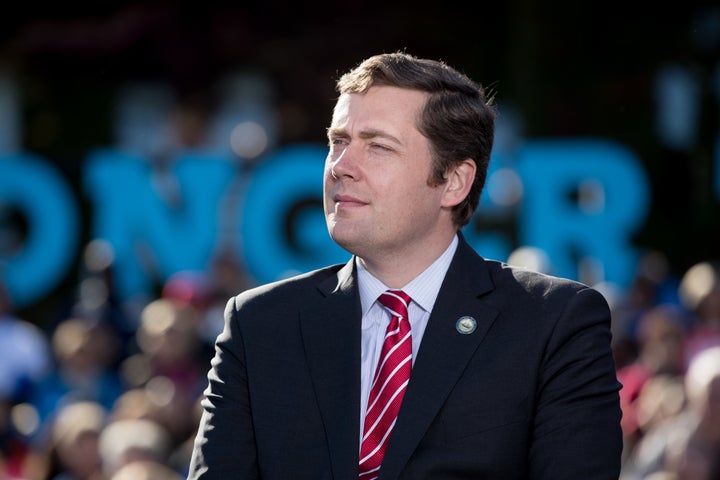 Paul Bergeron, an incoming Democratic state representative who has known Gardner for over 40 years, said he planned to vote for Van Ostern because it had become increasingly difficult to work with Gardner over the years.
"In the early years of his service, I thought he did a good job, a fair job, and he was very sensitive to the needs of those he was serving... I think that attitude changed over the last 10 to 12 years in my experience with working with him," Bergeron said in an interview. "I don't think it's the length of service that's the question here... It's the type of service."
Asked whether he believed Gardner, 70, had become too comfortable in his job, Bergeron said, "That would be a kind way of expressing it."
Republicans in the state have rallied behind Gardner. Gov. Chris Sununu ― whose father, then-Gov. John H. Sununu, tried and failed to topple Gardner in the 1980s ― is backing him. So are five other former Democratic and Republican governors.
State GOP officials have said Van Ostern, 39, would politicize the office and make it harder for New Hampshire to defend its prized presidential primary.
Van Ostern "represents a significant threat to our quickly approaching first-in-the-nation primary, as well as a radical approach to election processes and procedures," state GOP chair Wayne McDonald said last month.
Gardner has taken extreme measures to protect the primary in the past ― he once threatened to hold it in December, and battled then-California Democratic Party Chair Nancy Pelosi to fend off an attempt by the Golden State to skip to the front of the line. But Van Ostern supporters note that its state law that enables New Hampshire to keep its primary ahead of the pack, and they scoff at Republican chatter about the vote losing that status if Gardner is ousted as little more than a scare tactic.
Undercutting Gardner's support among Democrats was his backing of a law, overturned in court, that would have required college students to become permanent residents of New Hampshire to cast ballots in the state. Since New Hampshire has same-day voter registration, college students have become a key part of the Democratic path to victory there.
Gardner was one of four Democrats on Trump's voter fraud commission, but he was by far the most high profile. He hosted a panel meeting in New Hampshire in September 2017, and that landed him in some hot water.
Republican Kris Kobach, the controversial Kansas secretary of state who served as the commission's vice-chair, wrote a column for the right-wing Breitbart online site just before the meeting saying he had evidence that illegal voting could have been a significant factor in New Hampshire's 2016 elections. Kobach's column was based on a flimsy analysis, and during the meeting Gardner rebuked him for questioning the integrity of the state's vote. But Gardner ignored calls from New Hampshire U.S. Sens. Maggie Hassan and Jeanne Shaheen, both Democrats, to resign from the commission because of the flap.
Hassan and Shaheen have remained neutral in the secretary of state race.
D'Allesandro, while praising Gardner as "a person who's been recognized around the country as an outstanding secretary of state," acknowledged that his time in the job may have finally run its course. 
"When you do a good job, you ought to be rewarded," D'Allesandro said. "But this is the new world, the new world of politics where change is something people desire." 
REAL LIFE. REAL NEWS. REAL VOICES.
Help us tell more of the stories that matter from voices that too often remain unheard.