The Wailin' Jennys are a Canadian-based trio of wonderful women blessed with angelic voices whose three-part harmonies are unparalleled in today's folk-pop universe. But that doesn't prevent them from getting down with songs made famous by a rocker who was born a rebel, a Werewolf of London or the darling of Pigeon Forge whose humble beginnings made her work harder than any 9-to-5er.
The Jennys — Winnipeg's Ruth Moody and Nicky Mehta and New York's Heather Masse — pay exquisite tribute to those esteemed artists and more among the nine divine songs on Fifteen, their first full-length album in six years, to be released by Red House Records on Oct. 27.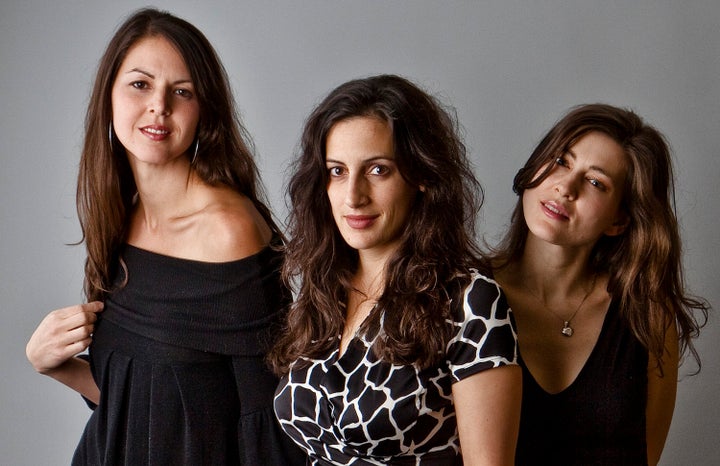 Though the front cover of Fifteen is filled with enough deep meaning and symbolism to either amaze or confuse, the thought process behind arranging and self-producing an album of songs originally written and/or made famous by some of music's most revered artists was simple.
The Wailin' Jennys loved them, from tantalizing cover to cover. And the late, great Tom Petty — his gentle "Wildflowers" perhaps the inspirational force that launched this album — might have topped them all.
"That was actually the first song that we knew we wanted to record on the record because fans have been asking for years for us to record that ever since we started playing it in our shows. … Maybe even sort of the impetus for the record," said Moody, the superb soprano who co-founded the band 15 years ago with Mehta.
"It's so strange when these artists that are — it feels like they're part of your life because their music has been with you for so long — are suddenly gone," she added during an Oct. 19 phone interview, still feeling the shock 17 days after Petty's Oct. 2 death. "I don't know. It's happening more and more as we get older, unfortunately."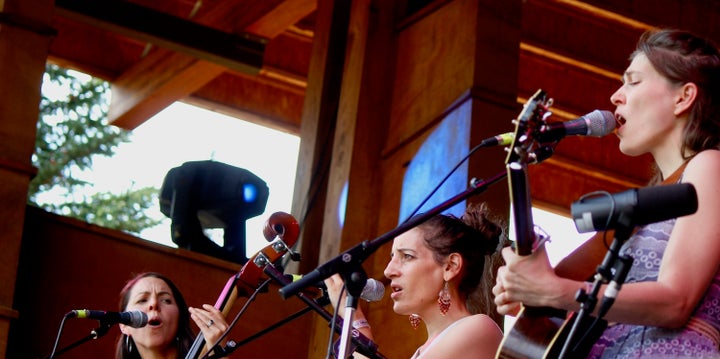 Plenty of other musicians have paid their respects by performing songs from the Petty songbook since he died from cardiac arrest at the age of 66. But the next time the Jennys play "Wildflowers" live — perhaps in Colorado Springs or Boulder when their tour resumes in November — there will be added significance to the lovely, tender cover that was a set list mainstay long before they finally recorded an acoustic version of it in Victoria, British Columbia, in February.
"I think … we all love him," said Moody, who couldn't decide which Jenny was the biggest Petty fan but shared that Masse began listening to him when she was a kid. "We all love him and have definitely been influenced by his songs," which she called "kind of down-to-earth, really relatable, feel-good."
"I used to love '(Mary Jane's Last Dance),' " Masse told the festival crowd that day. "That was like my favorite song of all time. It wasn't until much later that I found out who Mary Jane actually was."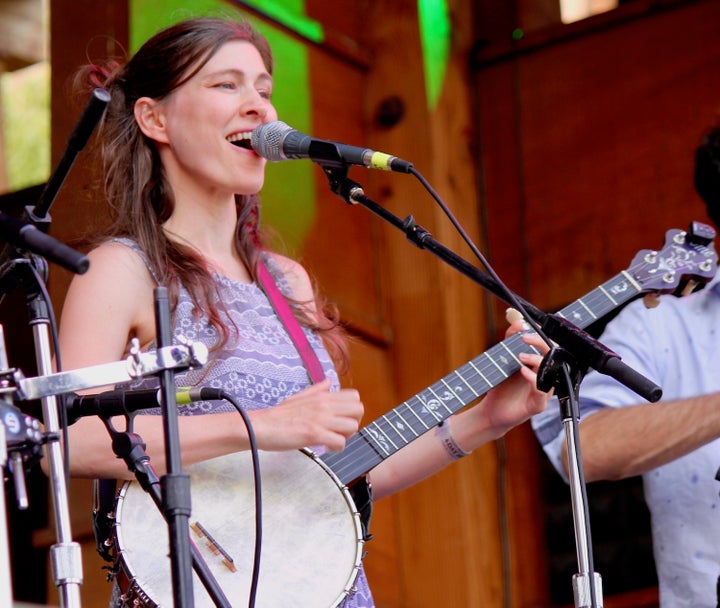 Moody remembered during the Jennys' early touring days — when car radios were the source of infotainment on the road before cellphones and Wi-Fi — that she and Mehta would analyze Petty songs like "Free Fallin'." They would marvel over "his chord progressions for the verses and choruses" that were so identifiable and unforgettable.
"By the end of the song, you'll never forget that song. That song is sort of imprinted," Moody added. "He'd change up the melody slightly to mark the chorus as different from the verse but he's just really kind of a genius for writing catchy songs but they were still deep, you know, at the same time."
Hello, Dolly, Hank and Paul
While the Jennys' version of Petty's song (above) is guaranteed to tug at your heartstrings, there are eight more reasons to get Fifteen, which signifies the number of years the band has been together. The origin story was discussed in detail in an August interview with Mehta, who remembered their first official show together (Jan. 18, 2002) at a Winnipeg guitar shop called Sled Dog Music.
The group's most significant change — and another milestone worth celebrating — might have been 10 years ago, when Masse was recruited to become the third member after Annabelle Chvostek left.
According to Moody, the upright bass player was invited to their show in Philadelphia to see if "she would want to join the band." They ducked into a restroom and tried out a few well-known songs, a cappella versions that included "Amazing Grace" and "Weary Blues From Waitin'."
They've been performing the latter, written by Hank Williams, a cappella ever since, with Masse's deep alto guiding "Weary Blues" to a resounding finish, as the trio's tremendous three-part harmonies slide up and down the scales with delightful dexterity. It's the grand finale of the nine-song album, with other must listens — also without instrumental accompaniment — that include Dolly Parton's "Light of a Clear Blue Morning" and Paul Simon's "Loves Me Like a Rock."
The version of Parton's tune by the Jennys (above), which the country music legend first praised and endorsed for the soundtrack to the 2011 Canadian film The Year Dolly Parton Was My Mom, is awe-inspiring and elegant, yet Simon's pop ditty (suggested by Masse) does have a couple of lyrical twists to change the gender context, along with some claps, stomps and finger snaps.
While many of the Jennys' songs demand hush-hush, hear-a-pin-drop attention, "Loves Me Like a Rock" is bound to bring audiences to their feet in singalong, clap-along fashion.
"We thought it would be great, given that it's a little bit more upbeat and fun and, you know, we sing so much serious material," said Moody, who also joked that it succeeds even without the instruments heard on Simon's original.
"If you're looking for a formula," she said with a laugh, "take the band out."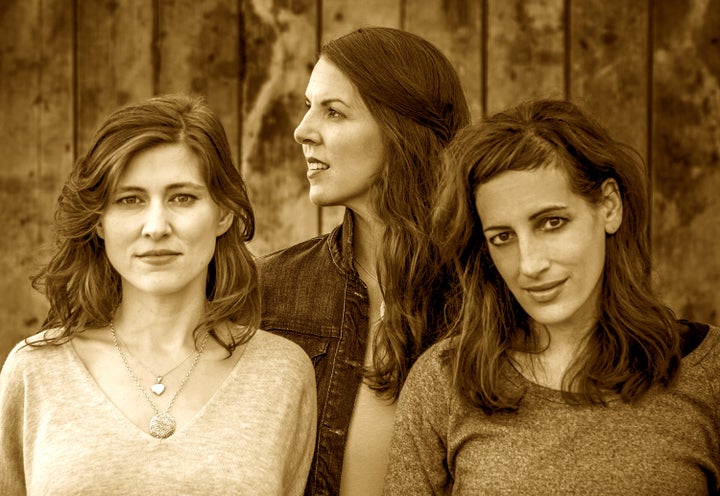 It was incredibly easy to select nine songs for the album, but finding the time to record them was extremely difficult for these three mothers of five young children — all boys.
Having already arranged the songs they have previously performed live (including the traditional "Old Churchyard," for A Prairie Home Companion show in 2015), the Jennys did some pre-production via email and a mini-rehearsal on Skype that turned out to be hilarious, Moody offered, as they dealt with internet delays and disciplined voices out of sync.
Each Jenny picked a song where she would sing lead, pending the other two's approval. Moody, whose lead vocals also shine on "Light of a Clear Blue Morning," chose Emmylou Harris' "Boulder to Birmingham"; Mehta, with her marvelous mezzo, picked Patty Griffin's "Not Alone"; and Masse, also known for her jazz collaborations with Dick Hyman and Roswell Rudd, selected "Keep Me in Your Heart" by Warren Zevon, another late great whose song was among the last he recorded before his 2003 death at age 56. All three also had just arranged Jane Siberry's gorgeous "The Valley," and considered that a "no-brainer."
There were other suggestions, too, which led to my question about considering some Beach Boys songs.
"Ooooh. … We have actually talked about it," said Moody, who revealed that the Jennys once sang "Surfer Girl," "Barbara Ann" and other Beach Boys signature hits with A Prairie Home Companion's Garrison Keillor in San Diego. "Yeah, it didn't come up for this record … but you never know."
Needing to get back soon to their school-age sons, Mehta and Masse met Moody in Victoria, where they carved out a five-day schedule three months after the newest mommy gave birth to baby boy Woodson in November. Moody (banjo, guitar) and Mehta (guitar) played on a couple of tracks but left most of the instrumentation to frequent Jennys collaborators such as Richard Moody, Ruth's brother, on viola, violin and mandolin; Sam Howard, Woodson's father, on upright bass; Adam Dobres, acoustic and electric guitars and mandolin; and Adrian Dolan, violin.
"We would've kept going if we'd had more time," said Moody, realizing that fans have been waiting "so long" for a new record and that an album full of original material they have written would have required many more days. "But that was what we wanted. We thought, obviously, if we'd had time to record 15 songs, we would've. …
"We reached our goal and we're pretty happy that we reached our goal. We had some challenges," Moody said, mentioning a bad cold that Mehta, the mother of 8-year-old twins, likely caught at home. "I underestimated how much, not only how much work it would be to be taking care of and nursing an almost 3-month-old (who still gets to hear Moody sing Raffi's "Baby Beluga" to him at bedtime), but also just the physical toll it takes on your body. Just not getting sleep at night and how that affects your voice. And so there were times where I'd go for the high notes and they just wouldn't be there because I wasn't getting enough rest at night. And that was the first time in my life that has ever happened, so that was really humbling." (laughs)
Yet, as they always seem to do after 15 years, the Jennys stuck together. If there's a personal manifesto to which they subscribe, it can be summed up in Moody's next statement:
"I think when things are difficult, everyone rallies and supports one another in a particular way. That was definitely the feeling. Band morale was high and everyone really just wanted to do it and wanted to do the best. And I think that worked out actually well."
In our August interview, Mehta characterized the Jennys' relationship as being better than ever, especially since Moody shares another common bond besides music when they're on the road or in the studio.
"I think that everybody is interested in hearing what's going on in each other's lives," Mehta said. "And I think like, you know, there's a lot of humor and a lot more lightness. … And there isn't time to get hung up on stupid things and get upset with each other. Not that we are ever really upset with each other a lot of the time. It's just … there's just no … there isn't a lot of negativity there that can build, you know."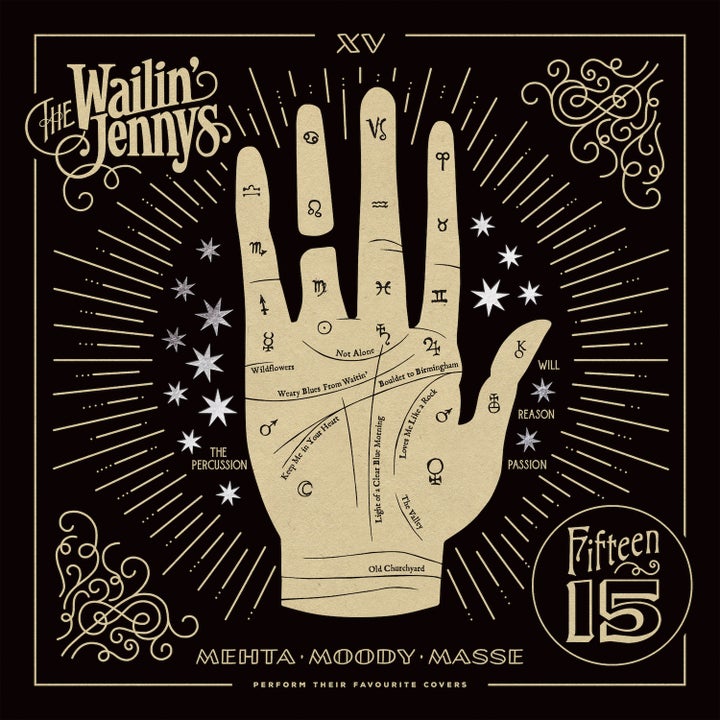 With an album of sparkling covers, the Jennys wanted, needed to make an impact even before the CD was unwrapped. They got a huge cover charge out of award-winning Ron Sawchuk.
"He's incredible. I've never come across anyone like him," Moody said of their longtime graphic designer. "There's meaning to every single thing that he does. Every stroke or every line, every symbol, there's meaning behind it."
Moody wasn't sure she could fully explain what the album cover — including the severed finger from a hand — was all about, but graciously tried to cover the cover's minute details the best she could over the next 8 minutes of this interview that lasted nearly an hour. Got a minute? Here's the short answer.
Numbers and symbols are included to commemorate the Jennys' 15-year anniversary "and for some reason, the whole palmistry idea kept coming to him," Moody said. "That's basically where it came from. There was an association for him between numbers, symbols and the passing of time with astrology and palmistry."
The severed finger is something "everyone" asks about, Moody declared. Used in some form on previous Jennys albums such as 2006's Firecracker and 2011's Bright Morning Stars, their most recent full-length album of original material, "it's a symbol of fragility and vulnerability," Moody remembered Sawchuk telling the Jennys during a phone conversation that left them speechless.
There's also a sundial hidden behind the CD and a dark circle on the back that represents a total eclipse, which occurred throughout the United States in August.
"I always thought (that) was really interesting because the Jennys were in Colorado (at the Folks Festival) a day before the eclipse, and the eclipse was, I think, 100 percent, not far way in Wyoming," said Moody, who drove with Howard to visit with his parents in nearby Cheyenne that week.
In fact, the total solar eclipse, where the moon obscures the sun, was in peak view (97.5 percent) in Casper, Wyoming, beginning at 11:42 a.m. on Aug. 21. And according to the Casper Star-Tribune, more than a million people may have visited the state for the occasion based on data compiled by the Wyoming Office of Tourism and the Wyoming Department of Transportation, which estimated an increase of more than 536,000 vehicles on the road that day.
Those numbers — and all the details on the Wailin' Jennys latest album — hopefully serve as nearly total coverage of this subject for now.
Unless, of course, Moody, Mehta and Masse decide to put out a deluxe version of Fifteen that must include — are you thinking what I'm thinking? — Bonnie Tyler's "Total Eclipse of the Heart" and "The Warmth of the Sun" by the Beach Boys.
Michael Bialas is a journalist and photographer who enjoys writing about entertainment and sports for a number of online publications, including HuffPost and No Depression. Follow him on Twitter: @mjbialas
Related
Popular in the Community