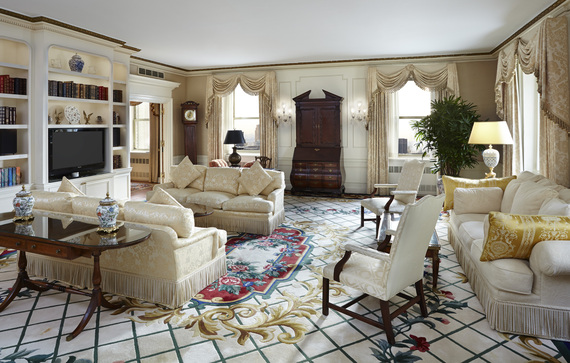 If you had to choose between staying in the suite favored by U.S. presidents or Hollywood royalty, how would you choose?
New Yorkers who are looking for an opulent staycation should consider checking into the Waldorf Towers. The little-known Towers provides visitors with the chance to choose from many historic and glam suites. You can check into the Presidential suite -- home to every visiting president since 1931 and equipped with bullet proof windows and JFK's rocking chair or the Royal suite, where the Duke and Duchess of Windsor lived and which has more of a French manor house feel and is decorated with hand-woven floral carpets. Music lovers will want to consider the 3,000 square plus suite belonging to Cole Porter, where he wrote many of his famous lyrics and where Frank Sinatra later lived. History buffs will love the spacious suite where General MacArthur and his wife lived for many years, or the Winston Churchill suite, where the prime minister stayed. If a Hollywood vibe is more your style, you will love the suite occupied by Marilyn Monroe or the Elizabeth Taylor suite, which has a grand piano in the living room and a terrific view of the Chrysler building.
Since it can be challenging to choose between the Tower's 100 plus suites, the Waldorf had just introduced a group of suite specialists to help guests decide. These specialists are trained to act as suite "matchmakers" and ensure that guests find the suite that best matches their needs/fantasies. When I asked about a suite for myself and my ten-year twin old boys, the suite specialist suggested the MacArthur suite, a more masculine and very spacious suite where everyone could have their own bedroom and bathroom and no one would destroy any fragile knick knacks. For a super romantic stay, the suite specialist suggested the Royal suite, a very elegant two bedroom, with a chandelier in the bedroom and home to that famous couple -- the Duke and Duchess of Windsor.
Guests staying in one of the Tower's suites also get access to a private entrance, a concierge and gym and a terrific lounge where complimentary breakfast and treats are served throughout the day.
REAL LIFE. REAL NEWS. REAL VOICES.
Help us tell more of the stories that matter from voices that too often remain unheard.