The Walker Family, The Justice Project, Trans-Parenting and Trans.Report call for action and healing in response to the murder of Reese Walker, a transgender Black woman in Wichita, Kansas.
The LGBTQ community is calling for action and a thorough investigation of her murder by law enforcement; for more accurate, sensitive coverage of her murder by mainstream media; and for others to understand the impact her murder has on members of the Black LGBTQ and transgender communities' sense of safety in Wichita.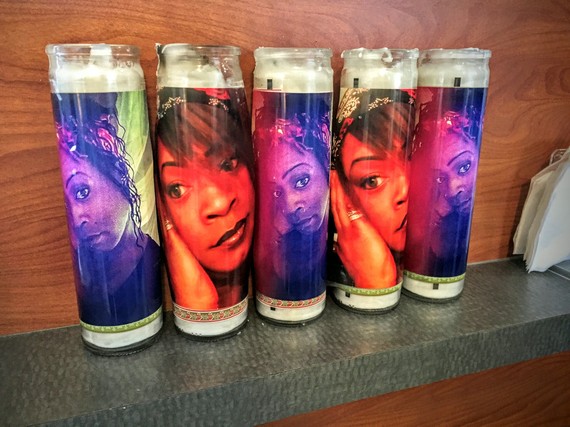 While details of the murder are still under investigation, her biological and chosen family, some of whom are members of Wichita's lesbian, gay, bisexual, transgender and queer (LGBTQ) community, believe that this killing may be hate-motivated violence based on Reese's gender expression and identity. Reese was a pioneer for transgender visibility and school policy reformation in Wichita and was pursuing a path to social work to be a strong activist for other young transgender people.
Reese's mom, Shari, craved Reese's Pieces Peanut Butter Cups so much during her pregnancy that she named Reese after the candy. Her family remembers her as vibrant, loving, nurturing, generous and kind. She was accepting of everyone around her and hilarious -- always the life of the party. Her sister Shampayne remarked, "You got fresh air when you got Reese. She had an essence that pulled people in."
Family meant everything to Reese. She was close to her mother, her brother Louis, her sister Shampayne and her three young children. Reese loved kids. Shampayne said that her kids were practically Reese's kids. "We took care of each other, even when we got into fights. And we don't say 'bye.' We only say 'later.' Goodbyes are forever; because you never know when you're going to see someone again, we say 'love you' and 'later' as a family rule, just in case,' Shampayne said.
Reese's mother always knew she was different. Reese came out as transgender and started living as a female in the 9th grade. She was a trailblazer for trans youth, appearing in the newspaper The Wichita Eagle when her school, South High of USD 259, changed the anti-bullying policy to cover LGBTQ kids. This had such an impact on the students that a framed copy of the story hung at the front of the school for several years.
During her time at South High, Reese was very involved in drama, art and music. She was in Madrigals and her musical team won competitions several years in a row. That love continued throughout Reese's life as she had music playing 24/7, everything from country, rock, R&B and rap.
In addition to attending beautician's school, Reese was pursuing a path in the field of social work. She dreamed of being a social worker to help other transgender people. Reese was used to having people talk about her and spread rumors. She regularly had to defend herself, but she relied on humor and her sense of generosity to rise above adversity.
When the family hosted a candlelight vigil on Wednesday, May 4th in front of her Windridge apartment in the Southwest Meridian neighborhood, they were overwhelmed by the stories from strangers who said that Reese had helped them, fed them, listened to them, encouraged them, gave them a place to sleep for the night, or made them laugh when they were sad. They continued to hear similar stories at the Celebration of Life at a family's house near Murdock and Poplar, their childhood neighborhood, on Friday, May 6th.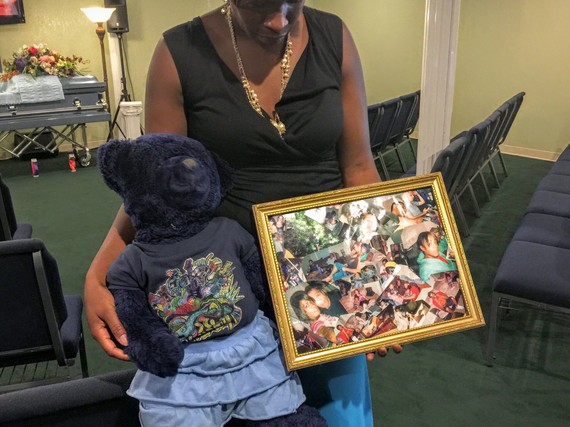 Shari remembers her daughter as a gentle soul who would never intentionally hurt anyone. She said that she raised her children to know right from wrong, and her only worry was that Reese always gave people a second chance, even when they may not have deserved one. She does not believe Reese was capable of the things alleged of her. "It's not in her character. It's not in her soul. It's just not her," Shari said.
The family is frustrated with the way the investigation is being handled. Detectives only first spoke with the family five days after the murder on Thursday, May 5th. They are concerned that the narrative in the media doesn't fit the way they have ever known or understood Reese to live and that the crime could be hate-motivated. Reese's family finds the arrested suspect's "trans panic" defense concerning.
The "trans panic" defense is a discredited legal strategy which suggests the defendant is overcome by temporary violent fits of rage and loss of control due to the discovery of their victim's transgender identity. California remains the only state to have banned "trans panic" as a permissible defense.
The Walker family is working with The Justice Project, Trans-Parenting, trans.report, and still has need to connect with local advocacy and therapy services, including an immediate need to speak with supportive trans-affirming Black clergy members of the Christian faith.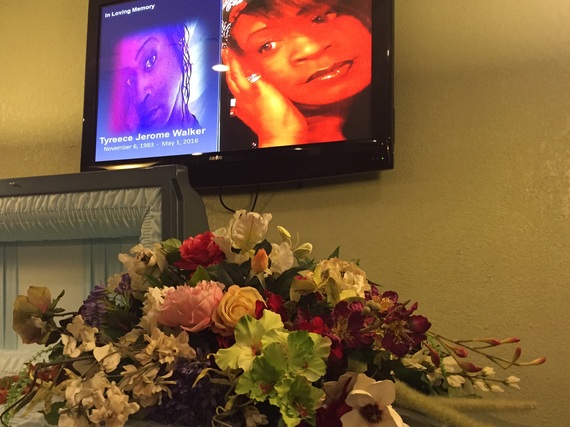 The Walker family, The Justice Project, Trans-Parenting and trans.report recognize that Reese's murder, the 10th reported homicide of a transgender person in 2016, is only the most recent death in an epidemic of violence facing transgender women of color in this country, according to the National Coalition of Anti-Violence Programs (NCAVP). Together, the Walker family and supporting agencies are committed to hosting an upcoming community healing event for Wichita to discuss this violence and institutional racism that jeopardized Reese and other transgender community members' safety.
DONATE directly to the GoFundMe page to support Reece Walker's funeral, as well as the storage and moving costs for which her family is now responsible.
ENCOURAGE the Wichita Police Department (Twitter: @WichitaPolice, Facebook) to treat Reece's homicide investigation as a possible hate crime and urge more accurate, sensitive coverage on Reece Walker's murder.
VOLUNTEER to help support the Wichita Community Healing event should contact Randall Jenson (advocacy@randalljenson.com) with The Justice Project.
Directly SUPPORT the work of both advocacy agencies: The Justice Project, working directly with transgender women impacted by violence and in-survival, and Trans-Parenting, providing support and educational resources to parents and care-givers of transgender children.
SHARE this community alert and other stories of anti-trans violence with trans.report. Correcting transphobic violence in our communities starts with always having a safe place to have your voice heard without prejudice. Contact Trans.Report \to share your story.
THE WALKER FAMILY ENCOURAGES ANYONE WITH INFORMATION ABOUT REESE'S MURDER TO CONTACT THE WICHITA POLICE DEPARTMENT AT (316) 268-4181.
We also encourage anyone who has experienced anti-LGBTQ violence to contact the police or NCAVP at www.ncavp.org or (212) 714-1184.
IF YOU WOULD LIKE TO SUPPORT THE FAMILY OR ARE A MEMBER OF THE MEDIA:

The Walker family asks for privacy to grieve and heal with this tragic loss. While they will consider media interviews, they ask that any respectful media requests be directed to them through Trans-Parenting at this time by calling (800) 513-1715.
This community alert originally debuted on Trans.Report
REAL LIFE. REAL NEWS. REAL VOICES.
Help us tell more of the stories that matter from voices that too often remain unheard.