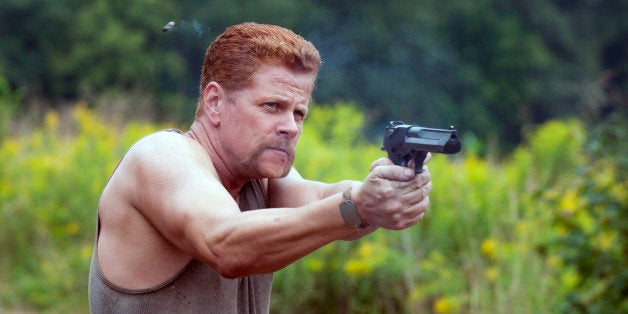 "The Walking Dead" Season 4 got off to a killer start on Sunday night (pun intended). But where will the AMC zombie drama go from here? Warning, spoilers ahead.
Prior to the Season 4 premiere, the stars and producers of the show teased a brand new threat. It was revealed at the end of the first episode when Patrick succumbed to some kind of virus that presumably also wiped out one of the pigs.
"Pulling in a new threat in your fourth season, I think, is a good thing," Kirkman told Vulture of the virus. "Also, it's important to know that this is really just some form of the Spanish Flu. It's something that exists in our everyday world now; it's a time where there is no modern medicine. Scott Gimple, the new showrunner, really wanted to explore that new possibility of the simple things, the really little things, coming to devastate these people. That's what we're going to explore."
Gimple said the zombie with the bleeding eyes likely died the same way as Patrick.
"In refugee situations, when people are in close contact like that, bad things health-wise have usually happened. In a third-world situation like this, the effects can be even worse. If that zombie died of the same thing that Patrick did, and Patrick said he was feeling ill, that would mean you'd want to stay away from those zombies as well. So standing up against the fence and smashing and stabbing them in the face, there's a great deal of blood flying everywhere. It's very bad news and presents potentially a very difficult situation beyond the simple difficulty of being around other people, which you have to be," Gimple told THR.
"The Walking Dead" airs Sundays at 9 p.m. ET on AMC.
PHOTO GALLERY
The Walking Dead
BEFORE YOU GO