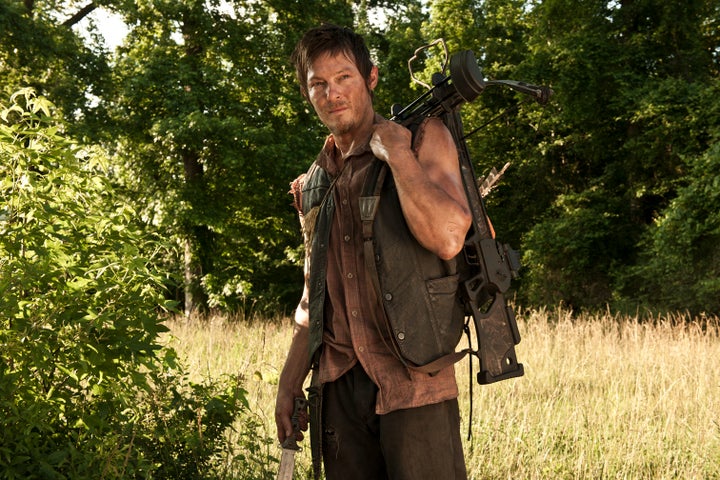 "The Walking Dead" has been the subject of plenty of buzz, from the show's record-breaking ratings to the somewhat public drama involving the show's first two showrunners Frank Darabont and Glen Mazzara and behind-the-scenes forces.
"We shoot down in Georgia, and we're in a bubble down there," Reedus said when asked about the drama the show has endured. "We're not in some studio, there's no agents and managers talking to us all day, or other actors, there's no LA hotspots to showboat in after we wrap. We're down in the woods and I think it's brought us closer together, with Frank in the beginning and certainly with Glen. It's like, 'This is ours and we're fighting to keep it as true to the story and as honest to the characters as we can.'"
"My time as showrunner on 'The Walking Dead' has been an amazing experience, but after I finish Season 3, it's time to move on," Mazarra said in a statement at the time. "I have told the stories I wanted to tell and connected with our fans on a level that I never imagined. It doesn't get much better than that. Thank you to everyone who has been a part of this journey."
"There's no way you can make everybody happy. So I'd just sort of go through and do a rewrite on the entire script trying to include all of those different voices, all of those different perspectives ... At the end of the day, though, you're never going to get consensus," he said. "So that's where I have to say, 'I feel this is the best possible script' ... At the end of the day, somebody has to make the call. Otherwise, it's just chaos."
Reedus said there aren't any "weak links" in "The Walking Dead" chain. "Everything fits together and I welcome the other actors and crew giving me notes during the scenes," Reedus said. "You know that flying stab in the head? That was our camera guy's idea. We just did it, and everyone loved it. We all have each other's back ..."
PHOTO GALLERY
The Walking Dead
REAL LIFE. REAL NEWS. REAL VOICES.
Help us tell more of the stories that matter from voices that too often remain unheard.
BEFORE YOU GO