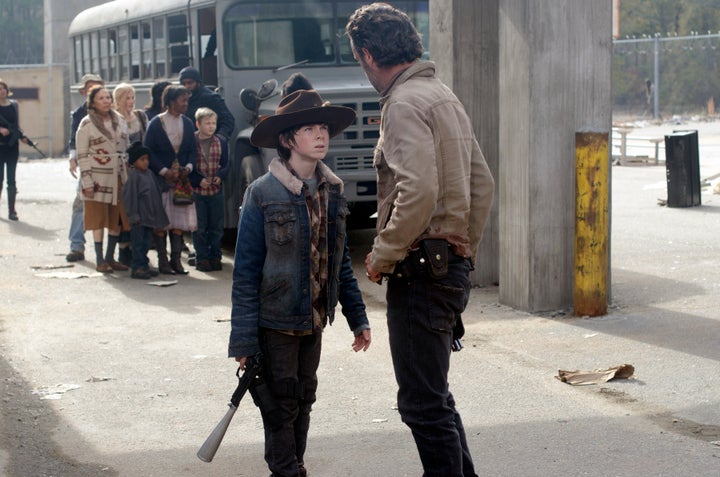 The group is still at the prison -- albeit with new roommates, refugees from Woodbury -- the Governor is still a nefarious threat out in the world and Michonne will still be kicking zombie butt with her sword, but Kirkman said he "can't stress how different things are going to be."
"There are going to be some radical changes to those elements that are going to bring in a lot of new storytelling," he told IGN. "While [Season 4] does seem somewhat familiar, it's going to be vastly different from Season 3."
One of the things that will be explored in "The Walking Dead" Season 4 is the radical change in Carl. In the Season 3 finale, Carl shot a teen from Woodbury who was surrendering and he lost some of his humanity. This "trust no one" behavior was Rick's stance for much of the third season, but following the death of Andrea, Rick's changed his tune.
"Moving into next season, we're going to see a very different Rick, but one of his main goals is to manage this situation with Carl and see if he can bring him back from this darkness that's crept into him," Kirkman said. "Whether or not he's able to do that, we'll have to see. But this is a big change in the character of Carl, but it's something that's going to be weighing heavily on Rick next season."
"We are going to amp up the threat of the walkers, because they've started to seem like a manageable threat. They are not a manageable threat," she said during "The Walking Dead" PaleyFest event. "But, it is the people who you think you can trust who betray you, that you have to fear. It is the monster inside you. We all have them. How do we keep them in check?"
"The Walking Dead" Season 4 will likely premiere in October.
PHOTO GALLERY
The Walking Dead
REAL LIFE. REAL NEWS. REAL VOICES.
Help us tell more of the stories that matter from voices that too often remain unheard.
BEFORE YOU GO