In 2010, Andrew Lincoln started off "The Walking Dead" by killing a kid zombie, aka Summer the Teddy Bear Walker. On Sunday, the Season 8 premiere of the show paid tribute to that scene, recreating it shot for shot, including having Rick kill a zombie that looked eerily similar to Summer.
We just learned there's a reason for that similarity.
After 100 episodes and a bullet to the head from Rick Grimes, Summer has made her return.
Addy Miller, who played the first ever zombie killed on "Walking Dead," was secretly brought back for the Season 8 premiere to appear in a scene that paid homage to her original opening sequence with Lincoln. Miller's representative and mother, Jaime Miller, confirmed the news to HuffPost following the episode, adding, "She's the first minor they brought back twice as a walker ... seven years apart."
And not even Lincoln was allowed to know about it.
"They had to film me separately from Andrew because he's known to spill some spoilers, so they had me in hiding the whole time so the crew couldn't even know," Addy told HuffPost.
The actress said she was on set with a made up name, Lily Brussels, which came from her dog, a Brussels Griffon mix named Lily Potter.
"I introduced myself to these brand new crew members like, 'Hi, I'm Lily,'" she continued. "The original people who've been there since Season 1, they obviously knew it was me, but we were all like, 'Shhh! Keep it a secret!' So I had to be in hiding the whole time."
We talked to Addy about her "Walking Dead" role a couple years ago when she was still just starting high school. Now a senior, she's back to reveal how that big moment went down.
What was it like coming back for the episode?
It was really difficult keeping the secret for so long because so many fans were asking after they released a clip that was signaling the parallelism between the first season and this season. They were like, "Are you gonna be on the show, Addy? It would be so cool if you came back," and I'm just like, "Oh, yeah, that's not gonna happen. I wouldn't bet on it."
I had reached out to your mom before the episode, and she said she couldn't say anything.
I know! My mom showed it to me. She's like, "Do I spill the beans or not?" I'm like, "I don't know. It's up to you, Mom."
When did you find out you were coming back?
I found out the day before I filmed that I was gonna be on set. My mom is just like, "Hey, Addy, we gotta leave tonight." I'm like, "Wait, what's going on?" She wouldn't tell me. And I just pieced the pieces together. "Is it the 'Walking Dead'?" She's like, "Oh my gosh, yeah!" [Producer Greg Nicotero] called while I was at school, and he's like, "Can I have Addy come back? We're gonna do a tribute to her scene, and we thought it'd be a really cool idea to have her come back and pay tribute to herself." I'm like, "Heck yeah! Let's do it! We're going!"
How was it being on set again?
The makeup process was a lot different this time, because first season it took about two and a half hours, and they only had a few prosthetics. This time it doubled that time, and I had a full mask. It was really cool to see how the zombie process has changed because they're more decomposed this season than first season.
I couldn't tell because of the cars, but were you carrying a stuffed animal this time, too?
No, this time I'm all grown up, and it's basically an older play on my character, so no little teddy bears this time.
We already saw your zombie, Summer, take a bullet to the head, so is there a different name for the zombie you played?
I have no idea. I wish I knew. It was so last minute that I didn't get to piece anything together, but I'm really happy with it.
Andrew Lincoln really had no idea?
No, he had no idea I was there, and he's probably really upset.
So they shot your scenes separate?
He was on set that day. They did do that scene the day I was there, and they just had me completely separated from him.
It's been years between your appearances. Do people ever recognize you from "Walking Dead"?
Yeah, it actually happened this weekend, too, when I was in Times Square of all places.
You're in this large mass of people in Times Square, and someone just happens to go, "Wait, is that Addy Miller?" And I'm like, "What? Is this happening?" But, yeah, it happens a lot. It's really cool. I really like it even though I look nothing like my character.
I actually just got back home from filming in Utah for a month on a film called "Behind You." It's my very first film where I am the top-billed cast member and the main lead of the film that gets to carry it on, so that's pretty big for me. I'm really excited about it. It's a horror movie, and it's about two sisters who had lost their mom, and their dad is off in some other country doing something where no one is able to contact him. We are sent to our aunt's house, and it turns out we're not the only ones in the house. Dun, dun dun ...
Before You Go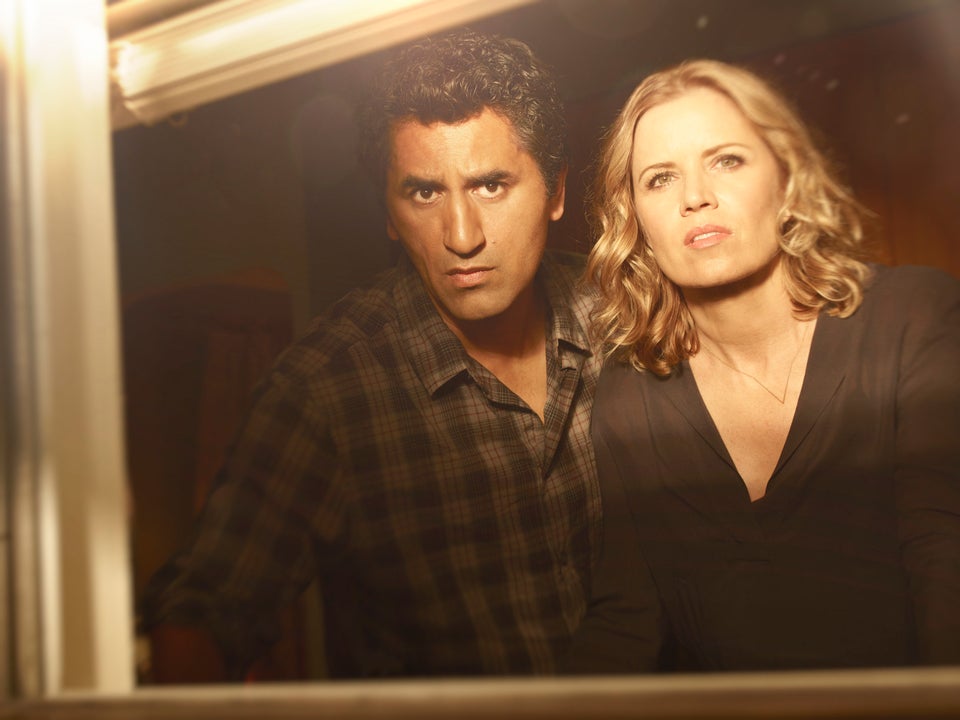 "Fear the Walking Dead"