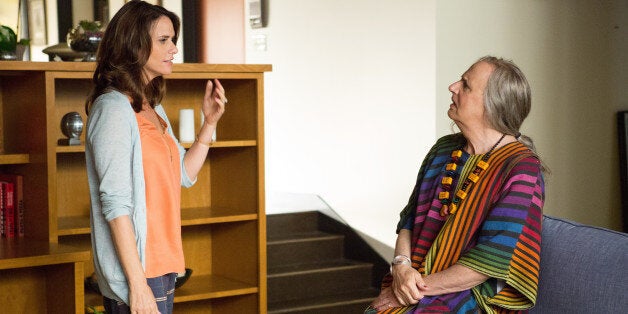 It has been years since the opening weeks of a new television season truly "belonged" to broadcast -- but it seems that this year, in particular, the "other guys" have been coming on especially strong, with big news, bold moves and some of the most exciting new shows of 2014.
Here's a look at a few of the biggest broadcast buzz-killers.
Transparent. Overnight, Amazon is the new Netflix. During premiere week, arguably one of the most competitive of the year, it dropped the entire first season of its brand new comedy drama Transparent, featuring the performance of the year by Jeffrey Tambor as Mort Pfefferman, a divorced father of three adult children who decides to become his authentic self -- a woman named Maura. It is no exaggeration to refer to it as the most highly acclaimed new series of the fall season. Lingering outrage over the inexplicable snubbing this year and last of the brilliant Tatiana Maslany of BBC America's Orphan Black by voting members of the Academy of Television Arts and Sciences is the only thing stopping me from naming Tambor as the first likely Emmy winner at next year's awards. Watch this show appear on every important Top Ten list in December.
The Walking Dead and American Horror Story: Freak Show. Speaking of stealing the networks' thunder, Sunday will bring with it the season premiere of AMC's The Walking Dead (along with its addictive live after-show, Talking Dead). The buzz for this show is already greater than that for any other series currently on television. Close behind on the media hot meter is the return FX's multiple award-winning franchise American Horror Story, this time subtitled Freak Show (pictured below).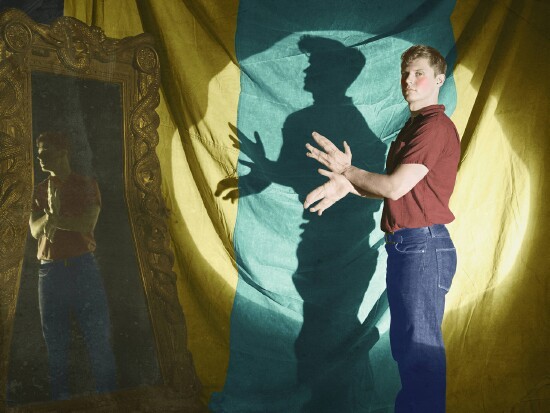 Doctor Who. Seven episodes in and I'm still not sure how I'm feeling about Peter Capaldi as the latest regeneration of the title character in Doctor Who. I hope to fully come around, but so far it feels to me as though the part is still being written for Matt Smith. Maybe it's just the stories that have left me cold. I still wish the Who creative team had opted for a younger Doctor, perhaps an older teenager, which would have been something completely new for the franchise. All concerns aside, I am enjoying the slow-growing relationship between the Doctor's latest companion, Clara Oswald (Jenna Coleman), and her colleague Danny Pink (Samuel Anderson). And even when it's a bit off, Who remains one of the most imaginative series in the history of television.
Sons of Anarchy. I've lost count of the dead bodies so far this season on FX's ultra-violent biker soap. The carnage is so omnipresent that it has lessened the sickening impact of the savage murder of Tara, or so it would appear given the robust ratings Sons is currently enjoying. (Viewers are plainly more forgiving than critics on such matters.) Much of the all-encompassing madness has everything to do with the malevolent machinations of motorcycle mama Gemma Teller (Katey Sagal), easily the most detestable character on television now that King Joffrey is rotting in his grave on HBO's Game of Thrones. It's more than a little exasperating to watch every character on the canvas, including her son Jax, blindly accept everything the ferociously flawed Gemma says as unequivocal truth. But there wouldn't be much of a story at this point if Jax and his buddies weren't so dangerously (and at times laughably) dim. I can't imagine Sons coming to a satisfying conclusion in a few weeks; in fact, given everything that has happened, I'm not sure that Jax murdering his monstrous mother will be enough of a payoff. Still, Sons is nothing if not consistently surprising, so I'm there until the end.
Homeland. One show I don't think I'll be staying with is Showtime's Homeland, which began what is supposed to be its comeback year with a highly problematic two-hour premiere that included a scene in which bipolar CIA operative Carrie Mathison, dangerously freaked out (if that is the correct term) by the prospect of motherhood, momentarily attempted to drown her new baby. I don't know what to say, except that the writers and producers of this show, who are trying to rebuild it after its dreadful third season, haven't done themselves any favors. What were they thinking? What should we be thinking? More importantly, why should we care? The best thing about Homeland right now is the story of Carrie's colleague Peter Quinn (Rupert Friend) and his struggle with PTSD, which last Sunday had him beating the crap out of two slobs in a diner who thought it appropriate to make crude remarks about the plus-sized woman with whom Quinn was enjoying a meal. Actually, there was something very satisfying about that scene, even if it was meant to be alarming.
Kingdom. Aside from the antics of Justin Bieber, I can't recall the last time a male performer generated so much instant publicity for a passion project as Nick Jonas did last week for the new DirecTV series Kingdom (and his upcoming solo album) by stripping down and grabbing his junk. He did this for a photo spread in the new issue of Flaunt magazine. The pics went viral fast enough to reverse time (the way Superman used to do by flying around the earth in the wrong direction). I haven't seen Kingdom, but from what I gathered at DirecTV's presentation of it at the Summer Television Critics Association tour it looks to be quite unlike anything else on television these days. Set in the world of MMA fighting, this is as much a show about bodies as minds and emotions, which makes the Jonas photos an oddly appropriate form of promotion.
Tosh.0. Daniel Tosh tried something daringly different on his Comedy Central series this week: For the first time ever, the clips of viral videos and the original content produced by Tosh and his team were deliberately family friendly. That's a laugh in itself, given how popular this often very explicit show is with kids and as a family viewing experience. "Comedy Central has been forcing me to make this show dirty and gross for years," Tosh acknowledged during the atypical half-hour, filmed before an audience of children and their parents rather than the usual crush of college kids. It was surprisingly funny, even if there was nothing in it that wouldn't be welcome on ABC's gentle America's Funniest Home Videos. Probably the edgiest thing in it was a sign outside the "Tosh Orphanage" that offered "Used Kids." The young ones in the studio audience seemed to love what their host was doing, and he really seemed to enjoy interacting with them. That's all well and good, but I wouldn't want to see him do it again.
Peaky Blinders. With even less fanfare than that surrounding the quiet arrival of Starz' new comedy Survivor's Remorse, which debuted last weekend to much critical acclaim, Netflix last week dropped the six-episode first season of the sizzling British drama Peaky Blinders. I'm half-way through, and totally hooked by a show that sounds like something we have seen a hundred times before and yet plays like something entirely new. It's a handsomely produced drama based on a real-life crime family in post-World War I England. Cillian Murphy is riveting as Tommy Shelby, the head of the family, but Helen McRory, as iron-strong family matriarch Aunt Pol, steals the show. You'll have to tune in to find out what the title refers to. (Hint: It involves razor blades.)
Satisfaction. In a move that upset nobody, USA Network last week cancelled its dark medical drama Rush. Meanwhile, it renewed the wholly unique if somewhat flawed Satisfaction, the adult drama about Neil and Grace Truman (Matt Passmore and Stephanie Szostak), an upscale (and rather boring) married couple struggling with individual mid-life crises that may or may not destroy their marriage. Satisfaction wasn't exactly a hit in its first season, but let's give USA credit for trying and sticking with something so different. Some advice for season two: Spend less time on Neil and Grace's jobs and more on their involvement with sex worker Simon (Blair Redford) and manipulative madam Adriana (Katherine LaNasa), the power hungry woman who runs his escort service. They're the best characters on the show.
Dallas. Was it something I said? Not 72 hours after my column for MediaBizBloggers about Dallas, in which I urged TNT to not only renew it for a fourth season but to find a new creative team that might correct the damage that had been done to this cherished franchise, or to at least produce a wrap-up movie that addressed the multiple cliffhangers in the final episode of the series' third season, including the surprise demise of Christopher Ewing, the network up and cancelled the show. This is no way to end the sweeping saga of the Ewing family, which has been playing out in various ways since 1978 and still has a lot of life left in it. In my MBB column I suggested that another network pick up Dallas if TNT were to cancel it and run with it - and I specifically urged CBS to consider doing exactly that. In all seriousness, I find it difficult to believe that Dallas done right wouldn't work on CBS, especially as part of its Friday night lineup, where it made history in the Seventies and Eighties.
You're the Worst. Speaking of questionable moves, FX last week decided to send its sensational new comedy You're the Worst over to FXX for its second season. Meanwhile, it's other big new comedy of 2014, Married, will remain on FX. I think they got it wrong. Worst is the funniest and sexiest new comedy of 2014. Married is the opposite in every way. Worst deserves a prime position on the glorious FX Networks' mother-ship. Married, which shouldn't have been renewed in the first place, should have been the one to go to FXX, currently the home of multiple Simpsons marathons that are remarkably enticing, but not much else. If FX paired Worst with Louie it would have the best hour of comedy on television.
Popular in the Community