I have my younger brother to thank for bringing The Walking Dead into our house. And his timing was perfect. A hurricane had just ripped through our town, taking down trees, cable and power lines. We would have been in the dark for nearly two weeks if it hadn't been for our trusty generator humming along outside our back door. We had no TV, no Internet, just a stack of Season 1 Walking Dead DVDs waiting to be watched.
I'll admit I was a little apprehensive at first. I'm a fan of scary movies but I wasn't so sure a zombie apocalypse would be quite right for me. Blood and guts? For sure. Remotely believable? Probably not.
One episode and I was hooked -- and I am definitely not alone. A whopping 16.1 million people watched last week's Walking Dead Season 4 premiere, that's 4 million more than last season's finale. All those eyeballs made The Walking Dead the highest rated show on cable (it airs on cable channel AMC) and the most widely watched show on all of TV during that time period.
And it's who watching that's got all of TV land talking. Millions and millions (10.4 million exactly) of people between the ages of 18 to 49 are tuning in. And this 18 to 49 age demo is key because advertisers will spend big money to get their attention. The Walking Dead Season 4 premiere was the most watched show in that key demo during that time, even outnumbering all those primetime football fans.
Where the season's stats or the season's story are going from here is anybody's guess. But Robert Kirkman, creator of The Walking Dead comics, has promised "a lot of mystery to the season" and a "shocking" return of the governor. There are also plans for a spin-off where "we are going to see an entirely different corner of the Walking Dead world" according to Kirkman. Can't wait!
High anxiety and high ratings are great news for AMC, the cable channel that owns The Walking Dead. Their ad prices are on the rise and so is their stock price, which is trading at an all-time high. And of course there's a lot more flesh-eating fun to go around -- video games, a board game, action figures, bobble heads, Halloween costumes -- you get the idea.
And here's something else to sink your teeth into: The University of California, Irvine is offering an online class called Society, Science, Survival: Lessons from AMC's The Walking Dead. Thousands have signed on to learn everything from how infectious diseases spread, the best way to manage stress in a disaster, nutrition in a post-apocalyptic world to the best place to hide from a zombie herd.
Sign me up... I just hope there's no homework.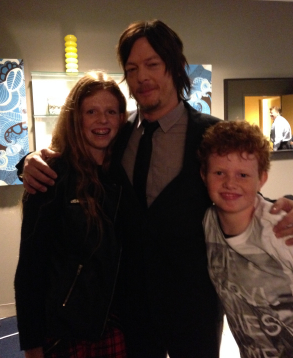 My brother, me and Norman Reedus (Daryl Dixon) from The Walking Dead!
Photo courtesy of Blake Kernen.
REAL LIFE. REAL NEWS. REAL VOICES.
Help us tell more of the stories that matter from voices that too often remain unheard.