For the latest issue of Starburst Magazine we get deep with The Walking Dead's executive producer Gale Anne Hurd. [CAUTION: Spoilers ahead.]
VB: Congrats on the show getting renewed for a 5th season!
GAH: Thank you! We're all so happy to be coming back. It's one big Walking Dead family and when we're not together we miss each other.
Alright -- we're diving in! Let's start with some of your reactions to the first half of Season 4 -- what was a favorite moment?
What I love was that we keep changing things up. One of the bold moves, I think, was to see the transition of Phillip, the Governor, essentially into Brian. At least initially someone who seemed like he was on the road to redemption, and that to me was a fascinating journey. In the end it didn't quite work out, but there was hope -- and I think that's the remarkable thing.
Do you see Rick stepping it up more as a father and leader now that Hershel's gone?
We'll have to see, because we ended the middle of the season with everyone flung to the four corners, so to speak. They're no longer the community, they're on the run -- they're on the road.
So... Got any Baby Judith theories?
[Laughs] Do I have any Baby Judith theories? I have a lot of theories, but I also know what's really happened so... I've got a bit of an advantage there.
We know, we know, grrrr! Alright, let's talk about Carol, who let's admit, hasn't always been a fan-favorite.
But you know, we had to lay that pipe. And we couldn't have done it without an actress of the ability that Melissa McBride has to bring all those different colors to her character. Some people can change right away, some people change gradually. Carol wanted to make sure that no one is a victim, especially the defenseless. She couldn't save her daughter Sophia, she doesn't want that to happen again.
But what also really struck me is that she didn't pretend or lie -- which she could have. She could've said to Rick, 'No, it wasn't me.' It's not like there's forensic science, they're not calling CSI and fingerprinting. But she didn't. And that's a degree of strength and a willingness to accept the consequences -- something we never saw in Shane.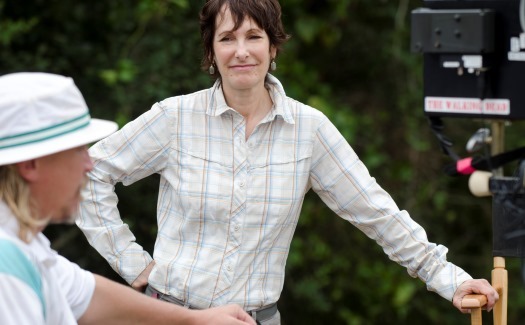 What about the relationship between our most solid couple, Glenn and Maggie? Will their connection change?
I've always seen their relationship as the real beacon of hope in the darkest of dark worlds. Because as long as there's love, it's going to go through difficult periods in the best of circumstance, but I think love endures. And I think they have that kind of love.
Valentine's Day is fast-approaching, let's keep going with love -- will fans ever get a Daryl romantic-interest??
That's something I can't address! But at the same time, Daryl's gone through so much... And I'm sure he felt that Carol had betrayed him as well. There was a code and she broke that code. So is he ready for love? Probably not right away.
Maybe it's that he's finally ready to let people in, and that's a big step for him.
I think that he realizes now that the life of a loaner is not all that he thought it was. And if you pick the right people to let in, sometimes they'll break your heart -- but the pain is worth it.
Hungry for more? Check out the full interview in the latest issue of Starburst! We get super-deep into the characters' motivations and Gale gives us a few tidbits about one of her favorite characters, Tyreese!
The second half of the fourth season of "The Walking Dead" airs in the U.S. on Sunday's on AMC. Photo by Gene Page, courtesy of AMC.