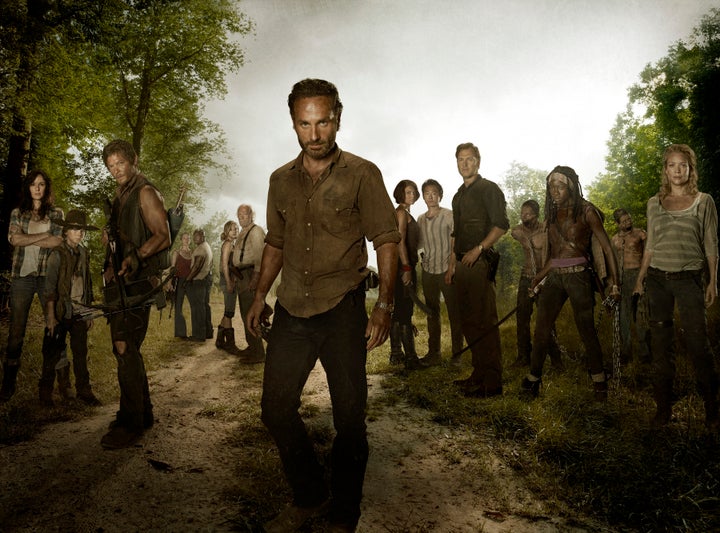 "The Walking Dead" isn't the kind of show that shies away from killing off main characters, but two main character deaths in one episode? A lot of fans were left shocked after this week's episode, "Killer Within," and for good reason.
Warning: Spoilers ahead! If you have not seen "The Walking Dead" Season 3, Episode 4, "Killer Within," proceed with caution.
With T-Dog (Irone Singleton) getting torn to shreds by walkers and the group otherwise occupied with securing the prison once again, Lori Grimes (Sarah Wayne Callies) finally had a redemptive moment, making the heroic but difficult decision to give her own life to save her baby -- and to have her ultimate fate sealed by her young son Carl (Chandler Riggs).
Sarah Wayne Callies spoke to a group of critics the morning after "Killer Within" aired, all about Lori's death. Keep reading for her take on the birth scene and leaving the show ("It felt like the Lost Boys losing Wendy. That crew and I are really close," she said). Plus, find out what Lori's death will mean for the larger group, and also when we'll find out the sex of the baby and how we'll know who the dad really is.
On Lori being the hero
Sarah Wayne Callies: "I think the Lori death is very unique among the ones we've had on 'The Walking Dead' because it's one that she's chosen. It's an interesting tone because it's not surrounded by quite the same level of crisis and panic, althogh she's clearly in a situation where things are going to go badly."
On Carl doing the dirty work
Sarah Wayne Callies: "It was pin-drop quiet throughout that whole scene ... there was a level of concentration and respect and focus from all 80 people who were there that was remarkable. It was also significant that the entire cast showed up. I finished the scene and I came out, and there was almost every single member of our cast that had just come to sit and watch and be there. It was difficult, I'll be honest. Chandler and I didn't really talk at all the week that we were shooting that because we couldn't really look at each other without losing it. I love that kid."
Saying goodbye to Lori
Sarah Wayne Callies: "I loved Lori. I love Lori. She's one of those characters that I think will live in my heart for a long, long, long, long time. I learned so much from her. [In] one of my first conversations with Frank [Darabont], we agreed that we wouldn't do the TV version of this. Lori was not going to be some big busted, beautiful woman with flowing perfect hair who was standing by her man. We talked about doing the ugliest, dirtiest, most dangerous and sometimes unlikable version of this that we could. It was so exhilarating to be able to dig deep into the darkness of motherhood and the darkness of marriage ... To work on a production that had the courage -- even though some fans kicked up a fuss about it -- to have the courage to say, 'We're going to tell this story a way it's never been told before' is remarkable. It's the best work I've ever done on camera, and that's because the material was so strong. It's an experience unlike anything I've ever had, and I've learned so much from it. I love Lori so much. Her passion, her fire, her lack of vanity ... [laughs] I love that woman and I am going to miss her."
How it almost didn't happen ...
Sarah Wayne Callies: "Frank and I talked a lot about the necessity of Lori dying, and we fought about it. Glen [Mazzara] and I talked about that scene a lot -- what pieces had to be in place for Lori, for Carl and for Rick. In a way it was an intimate process, because Glen had lost his mother shortly before they started writing the season ... The death of Shane. The death of Lori. Those, to me, were very difficult things to get around. I had spoken to Frank about that at a certain point and he goes, 'I don't need to kill you.' And I said, 'Due respect, sir, yes you do.' [Laughs.] He said, 'I've never had a leading lady argue her way off a show.' And I said, 'In the books, Rick goes nuts because his wife died. And I think the way he goes nuts is pretty cool, and I think you're gonna do that at some point, so know that I'm a big girl when you make that call.' I can't wait to see those episodes afterwards and see what happens."
Who's the daddy?
Sarah Wayne Callies: "The only definitive way to tell in a world where there's no paternity test would be if the baby has blue eyes, then the baby is Rick's ... both Rick and Carl have blue eyes, and it's a recessive trait. Shane had brown eyes, and Lori had brown eyes. If it's a brown-eyed baby, there's no way to know."
Is it a boy or girl?
Sarah Wayne Callies: "I believe you'll find out in the next episode. But yeah, it's either a girl or a boy. [Laughs.]"
On Rick without Lori
Sarah Wayne Callies: "It's important for what happens to Rick later in the season that he replay that scene between the two of them at the end of Episode 2, over and over in his head and go, 'Why didn't I tell her I loved her? Why didn't I say 'I forgive you'? Why didn't I say 'I'm sorry'?"
Tell us: Were you shocked by the deaths in this week's episode?
"The Walking Dead" airs Sundays, 9 p.m. ET on AMC.
PHOTO GALLERY
The Walking Dead Season 3
REAL LIFE. REAL NEWS. REAL VOICES.
Help us tell more of the stories that matter from voices that too often remain unheard.
BEFORE YOU GO