Everybody loves a heavyweight title fight. From Ali-Frazier in the glory days of boxing to Giants-Patriots in the Super Bowl or the Today Show versus Good Morning America on morning television. There is always high-drama, all-star characters and webs of back stories and intrigue.
This helps to explain the premise -- and emergence -- of my new book, and first try at authoring, The War at the Shore. It is a story about two of the biggest tycoons in the casino and real estate business -- Donald Trump and Steve Wynn. A championship slugfest for the very future of Atlantic City from two of the biggest players on the planet. I was right in the thick of it, as Wynn's development partner, and lived a five-year real-world experience that embodies the notion of "you really should write a book." So, I did.
This story shares some of my early professional experiences and transition into the world of casino development. Wynn's Mirage Resorts wanted to return to Atlantic City with a game-changing casino and Trump, the dominant force in the seaside enclave, who worked to katy bar the door and keep the Las Vegas visionary out of the market.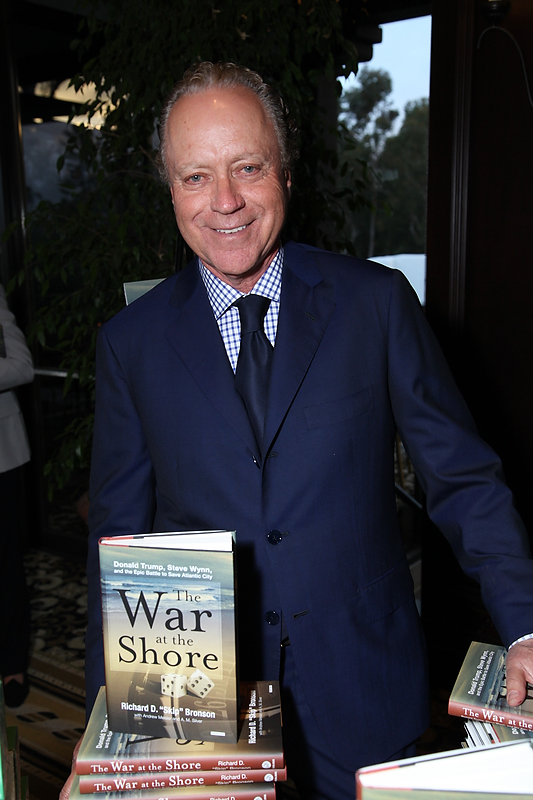 The battle royale took place from 1995 to 2000 on the Jersey shore, in an aftermath that lives on today. You need to read the book (wink wink) for a look-back at these titans and how their companies and our industry operated alongside a spider-web of politicos, public policies and powerful people. It was an epic tug-of-war to see if Atlantic City could welcome a game-changer or, for the most part, continue on life-support.
It is now a decade later so, let's revisit where the main characters are today.
Donald Trump: No longer the king of AC, he's now the king of NBC. He has built a phenomenal brand and television product that draws big ratings. I played golf with The Donald last weekend at Trump National and he runs his golf clubs like he runs the boardroom; firm and first-class. Nobody else has a world-class portfolio like his in every corner of the globe.
Steve Wynn: Steve never returned to New Jersey and has been focused on growing his new Wynn Resorts, particularly in Asia. He remains the most bold and leading-edge figure in the casino industry today, anywhere in the world. Had he entered the Atlantic City market at the turn of this last century as we hoped, I think he would have shifted the entire paradigm in Atlantic City. I had dinner with him this week in Las Vegas and he remains one of my dearest friends.
Atlantic City: Oh boy. Still struggling for mindshare, respect and success. In the years since "The War," the adjacent state of Pennsylvania has gone on a casino building spree, driving a nail into the heart of Atlantic City's market share. Sadly, for decades, the State of New Jersey has played "helpy-selfy" to the gaming revenues generated there and has used them throughout the state, rather than to drive true local economic development and a world-class destination. I fear for the long-term health of this unique place.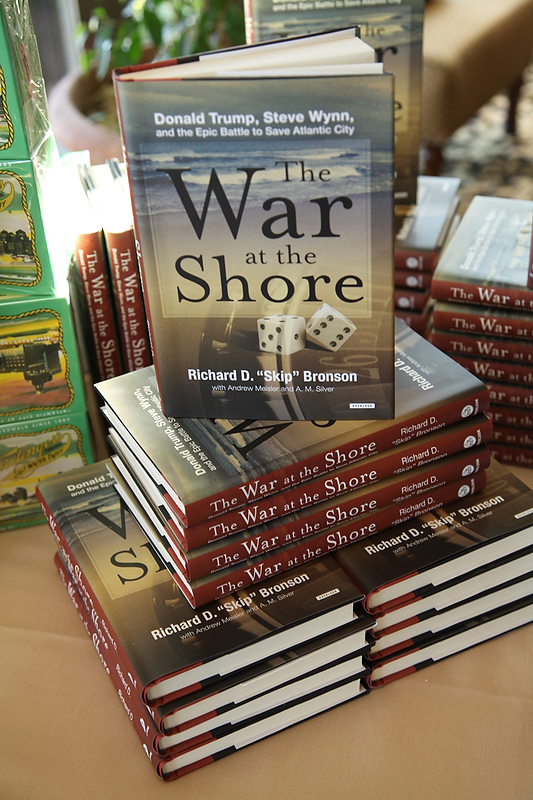 And how about me? I've still got my hair and health and live in Los Angeles. Always looking to the future, I co-founded U.S. Digital Gaming, the nation's first company with platforms and programs that await the legalization of internet gambling. Another company of mine, The Bronson Companies, remains in the forefront of new casino development around the world.
In the last couple of weeks, I've been on a whirlwind tour of promotions and publicity for the book. Lots of fun doing interviews and visiting with old friends and making new ones.
My favorite moment so far? My book launch in New York on June 11 when Donald and Steve joined me in a big bear hug and a friendly reminisce of this epic tussle. Is it possible that The War at the Shore became The Friends from the Shore?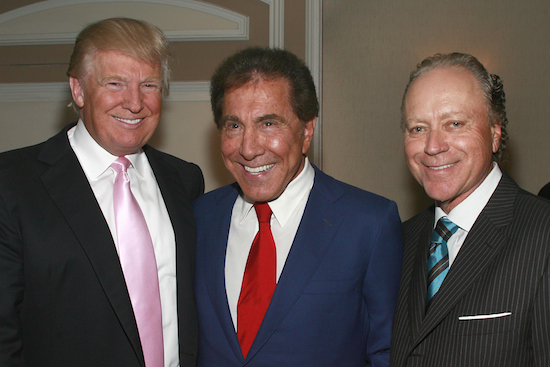 Richard D. "Skip" Bronson is a long-time casino industry executive and developer. He is a Founder and Chairman of U.S. Digital Gaming (USDG), a world-class, American technology company that operates internet gaming platforms and programs. He served with Steve Wynn as one of two inside directors of Mirage Resorts (NYSE) and was President of New City Development, an affiliate of Mirage, where he oversaw many of the company's new business initiatives and activities outside of Nevada. Today, he remains an active casino development principal, creating new opportunities throughout North America. Bronson is the author of "The War at the Shore: Donald Trump, Steve Wynn and the Epic Battle to Save Atlantic City" (Overlook Press, June, 2012). For more information about Mr. Bronson, please visit www.thewarattheshore.com or www.usdg.com.
REAL LIFE. REAL NEWS. REAL VOICES.
Help us tell more of the stories that matter from voices that too often remain unheard.