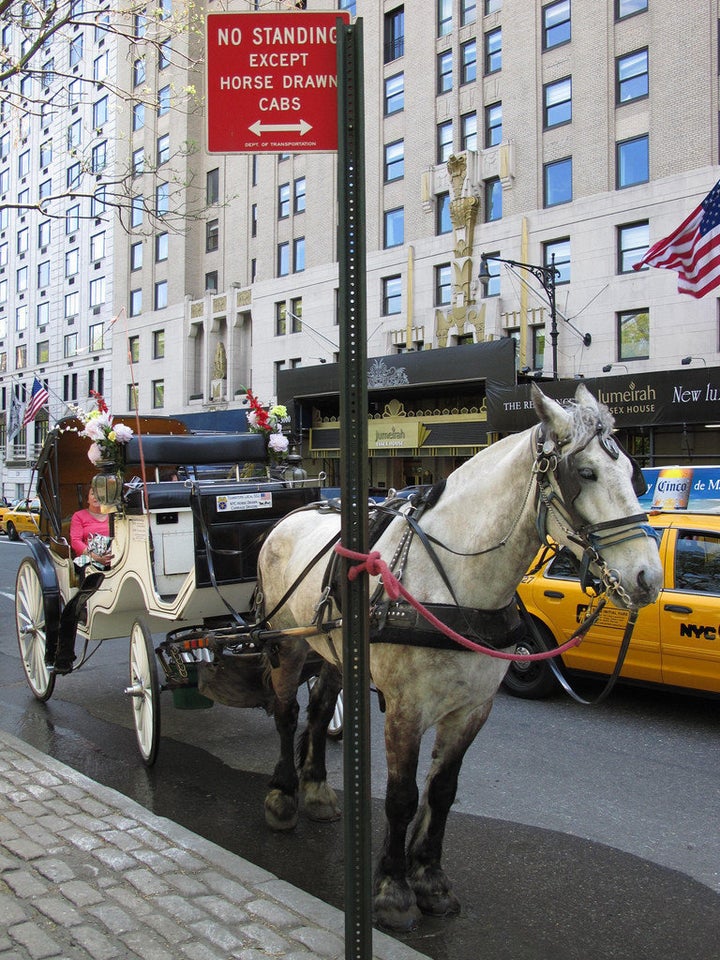 As long as the temperature is between 18 and 90 degrees, with no adjustment for the wind chill factor or humidity index, a New York City carriage horse works nine hours a day, seven days a week. It is a brutal existence, dodging buses and taxis, standing in the sun, rain, and snow, and, of course, pulling heavy loads. The end of the day is not much better -- a return to stalls that are so small that the animal cannot even lie down. There is no grazing, and, perhaps even worse for these highly social creatures, no ability for interaction with others of their species.
The horses wear blinders to block out the truth about their terrifying existence. So does Mayor Bloomberg. He was recently quoted in the New York Times as saying that: "They're well taken care of. The horses here are supervised by the health department, the A.S.P.C.A. The later, however, is a reluctant supervisor, since it states on its website: "... horses were never meant to live and work in today's urban setting." Bloomberg goes on to say, with his usual sensitivity, "most of them wouldn't be alive if they didn't have a job."
For a New York City carriage horse, death is not an option. Unless, that is, it comes through neglect, cruelty, or a run in with a truck. Smartphones now allow for pictures and videos to be taken of fallen horses. The public outcry following the death of Charlie, a beautiful white horse that dropped dead on 54th street on October 24th, came about because of a photograph by Matthew Miller that went viral. An autopsy performed at Cornell University College of Medicine revealed that Charlie had a stomach ulcer and a cracked tooth. He never should have been allowed to work that day, and died painfully on the job Bloomberg claims he needed to stay alive. (An initial statement followed by a retraction resulted in the examining vet, Pamela Corey, being suspended without pay). A few days later, on October 28th, a tourist witnessed and photographed a horse get so spooked by traffic that he crashed his empty carriage. On Friday, November 4th, a six-year-old horse named Luke collapsed on 60th Street in front of the Mandarin Oriental hotel. This was also quickly captured by camera phone.
It is evident that something has to be done to either better regulate or abolish an industry that belongs to a time before the Columbus Circle area became the crossroads of the world, traffic multiplied to an impassable level, and a global obesity epidemic made pulling a carriage carrying four passengers plus driver a terrible struggle for just one over worked and under rested animal. Horse drawn carriages have been banned in large tourist cities like London and Paris, and small ones like Santa Fe. I have recently been to all three, and despite the lack of buggy rides, I didn't notice any shortage of visitors. New York, arguably the greatest city in the world, has theater, opera, restaurants, museums, ballet, the High Line, sporting events, university lectures, magnificent shops, a cemetery, Green Wood, that rivals Père Lachaise in Paris and even has resident parrots, and Brooklyn, the borough recently called "the coolest city on the planet" by GQ. In other words, there's more going on in a square block of this city than just about any place else on earth, and although Mr. Bloomberg says that "tourists love" carriage horses, I think we can manage to attract people to our city just fine without them, and we would need blinders on our souls to believe they are a humane tourist attraction in 2011 New York.

Support HuffPost
The Stakes Have Never Been Higher
Related
Popular in the Community