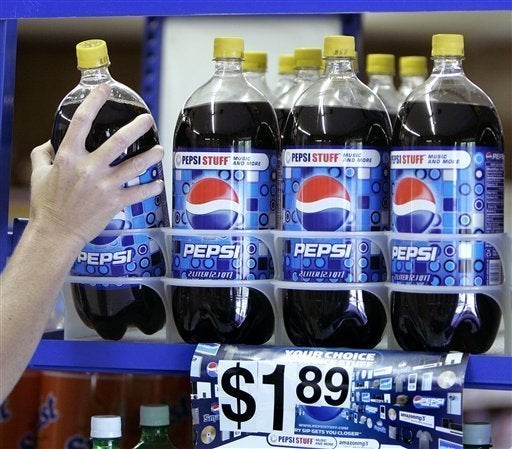 How Sweet it is! Or maybe not.
That's a reference to an every day occurrence. In brief, some guy comes up with what he thinks is an ingenious product that's a far superior mousetrap to what's currently on the market. But skeptics ridicule the idea and the creator goes through some hellish times with a product that either winds up a winner or eventually is flushed down the toilet. More often than not, it's the latter.
Michael McCarthy, who is pitching such a product, knows the ups and downs. A semi-professional football in his 20s, McCarthy, a former linebacker, took plenty of hits. Now 63 and chief executive of NXT Nutritional Holdings, a publicly-owned development stage company that's focused on the standalone, rapidly growing $1 billion-a year sweetener business, McCarthy is once again taking hits -- this time in another risky arena, Wall Street.
What makes his story of particular interest is that he hit it big at Pepsi-Cola, and is trying to do pretty much the same on his own by going head-to-head against such well known and financially stronger rivals as Sweet 'N Low, Equal and Splenda. Moreover, he's in a rough battle with skeptical short sellers (pros who bet stock prices will fall) who think his venture has all the staying power of the rotary telephone.
A former vice president of Pepsi-Cola who helped the company turn a juice products business he sold them in 1994 into a national $63 million annual operation, McCarthy is angling to strike gold once more with what he says is a natural, healthy sweetener with no aftertaste called SUSTA, which NXT introduced in July.
So far, at least, McCarthy has been demonstrating to his competition and non-believers what it's like for a business pipsqueak to run the four-minute mile. To date, NXT has gained commitments for SUSTA's entry into nine supermarket chains representing 1,200 stores, notably in eight states on the East Coast.
Included are A&P, Whole Foods, Shop Rite, Shaw's Supermarkets, Gristedes, Pathmark Supermarket and King Kullen Supermarkets. Two additional large chains. Two more biggies -- Kroger and Wegmans Food Market -- are expected to be added before year end.
SUSTA is sold in a box of 50 packets that retails at $6.99. Ingredients include vitamin C, dietary fiber, fructose, priobiotics and antioxidants. All told, a packet contains five calories.
NXT, which also sells a line of flavored yogurt drinks that is presently sold in several thousand stores in 14 states on the East Coast, is planning to use its all-naturals sweetener as the basis for an offering of healthy food products.
McCarthy has set some lofty goals for NXT, which wound up with red ink last year (not unusual for start-ups in their early stages) on sales of $2.9 million. His game plan calls for sales of between $10 million and $12 million next year during which he expects the company to turn profitable in June or July. A further jump in revenues to $25 million is projected in 2011. Likewise, he expects SUSTA to be in 5,000 stores by June of 2,010.
Looking out three to five years, McCarthy says he believes NTX has laid the groundwork for the development of a successful, profitable business that should generate about $100 million of sales in three to five years on which it should realize an earnings return of 15% to 20%.
What about the company's finances? NTX is burning cash at the rate of $100,000 a month and presently has funds to cover only four more months, McCarthy says. However, he doesn't see any problems, noting that NTX is in the process of raising an additional $6 million through a convertible debenture offering to get the company cash flow positive.
Whether NTX can achieve its ambitious goals is anybody's guess, but at the moment some on Wall Street are highly dubious. Indicative of this, NTX, which came public in February at a quarter a share and subsequently shot up more than 13-fold to a high of $3.46, fell prey to a serious skid. Over four recent sessions the company has plunged more than 45% in a rising market to $1.20. But then, amid Street rumblings that the company might sign a deal with a major sports star to plug its product, the stock rebounded to about $1.70.
The stock's recent decline was especially painful for McCarthy, who is NTX's biggest stockholder. He owns four million of the company's 72 million fully diluted shares outstanding. So from the stock's high of $3.46 to the drop to $1.20, he suffered a paper loss of more than $8 million. But then, amid Street rumblings that the company would sign a major sports star to plug its product, the stock rebounded to $1.70.
McCarthy blames the drop on an attack from the shorts. In particular, he cited short seller Timothy Sykes, who could not be reached for comment. I spoke to two shorts, who basically question NXT's viability, chiefly based on the company's continuing ability to raise sufficient capital to stay afloat, surging competition from a swelling number of sweeteners, including new natural sweeteners (such as Sun Crystals, a sweetener with Stevia that's said to be okay for diabetics and which is being offered by Wal-Mart), and the likely addition of more sophisticated health-oriented natural sweeteners. The view was also expressed that SUSTA is pricey.
Said one of the shorts: "You're on the wrong track. You shouldn't ask how many new sweeteners are coming into the market, but how many of them will fail, of which there will surely be many."
Let me know what you think. Write to Dan Dorfman at Dandordan@aol.com
Calling all HuffPost superfans!
Sign up for membership to become a founding member and help shape HuffPost's next chapter