NEW YORK/O'Reilly News Service - At approximately 9:00 last evening, the forces of Supreme Father Generalissimo O'Reilly stormed the center of the Godless ACLU, liberal New York City, and declared victory in the War on Christmas.
In a victory broadcast to the people, our beloved said, "All over the country, the sights and sounds of Christmas are on display. The Talbian-like oppression of the holiday has largely ceased."
Indeed, signs pointed to heathen armies on the run. Hassidic Jews fled to Brooklyn, leaving behind their cache of rocket propelled grenades on 34th Street, where they intended to destroy the Christmas displays at Macy's. At Rockefeller Center, radical black insurgents ran after forces uncovered their plot to place a bomb under the Christmas tree and replace it with Kwanzaa candles. The Father predicted their retreat to Sylvia's in Harlem where, "There won't be one person shouting 'M-Fer, I want more iced tea!'"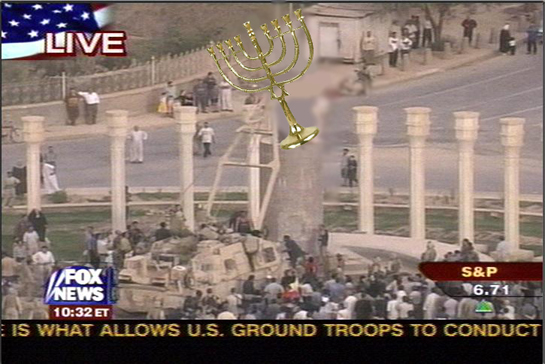 Our godly forces were quick to instill order and deter insurgencies. In Occupied K-Mart, the provisional government decreed that all employees spread yuletide cheer by no longer wishing Happy Holidays to shoppers, but, instead, Merry Christmas. Those who do not get into the spirit will be shot.
At the former Queens Center Mall (now renamed "The Mall of the Christmas Miracle of O'Reilly"), troops escorted Santa Claus and placed him once again on his rightful throne, on the third floor outside of LensCrafters.
Marty Yankelman, former commander of the Mall Resistance Forces and Interim Assistant Vice President for Marketing at the Mall, was beaten to death after he protested, claiming the Mall had employed a Santa for the last 35 years and that the throne was empty because Santa, "Was getting a quick bite at Chik-Fil-A."
The Ministry of Joy to the World announced that it had captured the third in command of the heathen forces, Lt. General Frank Costanza, leader of the radical Festivus Freedom Forces (FFF), and scheduled to hang him publicly, this morning at Herald Square.
Declared Generalissimo O'Reilly, "We have defeated, once and for all, the fascist forces who sought to rob us of Christmas. Let freedom reign!"
Popular in the Community