In cooperation with our longstanding partner, Crowdrise, The Huffington Post is celebrating its 10 year anniversary by focusing on the promise of the next 10 years ahead. We're highlighting causes that are near and dear to our ethos -- causes where we believe meaningful strides can be made in the coming decade -- and empowering readers to act and take part. Join us!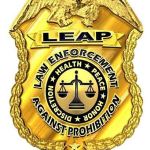 By Lt. Commander Diane Goldstein (Ret.), Redondo Beach Police Department
One of the more insidious issues surrounding America's War on Drugs has been the increasing criminalization of our children at a younger and younger age through the implementation of zero tolerance policies. Last month, a nine-year-old in South Dakota was arrested and charged for marijuana possession at school. After taking the child home to discuss it with the parents, the smell of marijuana in the house caused the Sioux Falls Police Department to serve a search warrant. The mother was subsequently arrested for child endangerment and possession of marijuana and methamphetamine. Stories like this certainly aren't isolated, and they're problematic for a number of reasons.
The Public Information Officer at Sioux Falls Police Department said he was surprised that the child was arrested since they don't normally file criminal charges against anyone under the age of 10. He also said he believed strongly that the State's Attorney would throw out the case, which would, thankfully, leave the child without a criminal record. But is a 10 year old any more deserving of a criminal record for nonviolent drug charges than a 9 year old?
As a speaker for Law Enforcement Against Prohibition (LEAP), a group of cops and other criminal justice professionals working to end the drug war, I have written extensively on the broad implications of our drug policy in America. With regards to how these policies impact children, I want to bring in my personal experience in developing the Redondo Beach Police Department's School Resource Officer (SRO) program during the height of the drug war. The implementation of zero-tolerance and sentencing enhancement zones, also known as Drug Free School Zones (DFSZ), has exacerbated the effects of the school-to-prison pipeline that disproportionately affects our children, particularly in communities of color.
Although DFSZs were designed to create "safe havens" for our kids by reducing the supply and demand for illicit drugs, we know through Monitoring the Future (MTF) surveys that drugs continue to be readily available on and off campus. DFSZ zones and zero tolerance policies have not resulted in safeguarding our children from drugs or violence but have contributed to further stigmatizing not just communities of color, but all children who may violate these overly broad laws.
The implementation of zero-tolerance drug policies and safety enhancement zones has contributed to an increase in suspensions, expulsions, and school dropouts, all of which correlate with a student's likelihood of ending up behind bars . Research has shown that "high school dropouts are three and one-half times more likely than high school graduates to be arrested, and more than eight times as likely to be incarcerated ." The criminalization of students has resulted not just in a college attainment gap, but also assures that children from communities of color, most targeted by these policies, are at risk for a ride on the school-to-prison pipeline, virtually guaranteeing them a lifetime of poverty rather than the chance to attain economic mobility. This cycle is especially brutal in the African American community, as data demonstrates that black students are three times more likely to be suspended or expelled than their white counterparts.
Recently the U.S. Justice Department sued the State of Mississippi and local officials after the Meridian Police Department was shown to be violating the rights of children, particularly black students and students with special needs, by routinely arresting suspended students even when they lacked legal grounds to do so.
It is troubling to me that our law enforcement communities view our children (even those that commit criminal offenses) as easily discarded and not worth rehabilitating. One example of this attitude is found in a 1988 DFSZ implementation manual developed by the Chiefs of Police National Drug Task Force, where the Chiefs refer to students that are subject to zero tolerance drug policies as "taking out the garbage." Clearly the many years of 'tough on crime' rhetoric has contributed to the disenfranchising of those that deserve our compassion and attention.
LEAP has long advocated that the over-criminalization of our society, particularly the use of law enforcement, to solve what is clearly a public health issue harms the relationship between law enforcement and the communities we serve. Further, criminalizing children only encourages a generation to distrust police, an entity intended to protect communities. The drug war, the militarization of our police departments, mandatory minimum sentencing, zero-tolerance policies and drug free enhancement zones have cost us over one trillion dollars since the start of modern drug war with few positive results.
We know that reality-based public health education and increased regulation of tobacco worked to reduce its usage rates in the U.S. for adults and kids. Isn't it time that we address and resolve the issues and public health harms caused by illegal drugs as well?
1. Advancement Project, EDUCATION ON LOCKDOWN: THE SCHOOLHOUSE TO JAILHOUSE TRACK (Mar. 2005), p. 8. Across the board, the data shows that Black and Latino students are more likely than their White peers to be arrested in school, regardless of the demographics of the school's enrollment. Researchers conclude that racial disparities cannot be accounted for by the socioeconomic status of students. Nor is there any evidence that Black and Latino students misbehave more than their White peers. Race does, however, correlate with the severity of the punishment imposed with students of color receiving harsher punishments for less severe behavior.
2. Johnston, L. D., O'Malley, P. M., Miech, R. A., Bachman, J. G., & Schulenberg, J. E. (2014). Monitoring
the Future national results on drug use: 1975-2013: Overview, Key Findings on Adolescent Drug Use. Ann
Arbor: Institute for Social Research, The University of Michigan.
3. Judith, G., Pranis, K., & Siedenberg, J. (2006, March 1). Disparity by Design: How drug-free zone laws impact racial disparity - and fail to protect youth.
4. Bridge, B.J., Curtis, L.E., Oakley,N., "No Single Source, No Simple Solution: Why We Should Broaden Our Perspective of the School-to-Prison-Pipeline and Look to the Court in Redirecting Youth from It," Journal of Educational Controversy, Fall 2012/Winter2013.
5. National Coalition For Drug Free School Zones: Implementation Manual. (1988, January 1). Retrieved July 28, 2014, from https://www.ncjrs.gov/pdffiles1/Digitization/140213NCJRS.pdf
Popular in the Community