Writer Matt de la Peña spoke with the artistic director of Washington Ballet about the upcoming world premiere of Sleepy Hollow. The following is excerpted from that interview...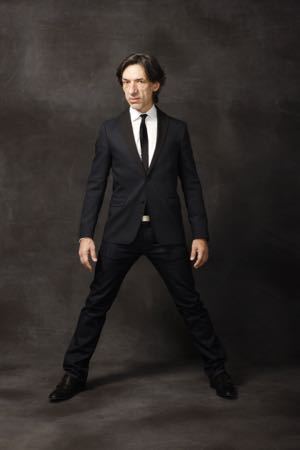 Septime Webre, photo by Dean Alexander
Septime Webre has found a distinctive niche during his tenure at WB, a company he took over from the legendary Mary Day in 1999. His vision of The Nutcracker -- set in 1882 Georgetown -- has become a must-see event of the season. The Washington City Paper called his adaptation of Lewis Carroll's Alice's Adventures in Wonderland "an incredibly creative spectacle, pure and simple." His adaptations of The Great Gatsby and The Sun Also Rises have proved to be ambitious ventures, offering a brand new vision of two American classics.
Can you tell me about Sleepy Hollow and how it came to be?
So about five years ago I launched a project called the American Experience. It's a project to develop full-length ballets using great works of American literature. It seemed to me that our American story has not really been told in the ballet medium. [The Washington Ballet] started by adapting F. Scott Fitzgerald's The Great Gatsby, then last year I adapted [Ernest] Hemingway's The Sun Also Rises. Sleepy Hollow is the third installment about America's first great ghost story.
That's interesting you say that our American story has not been told; it seems odd that we, as Americans, wouldn't take more interest in our own stories when it comes to ballet.

American ballet came into its ascendancy under Balanchine and the aesthetic has been abstract -- a modernist aesthetic. So much of our stories are still stories written by old dead white guys. They're so Eurocentric. The [American Experience] project is an effort to develop works in a different direction. It's been fascinating to build these new ballets from scratch. In the case of the Hemingway and in the Gatsby projects, those works are so rich; it was a process of editing out information. In the case of Sleepy Hollow, it's a thrilling, twenty-page short story. It's very concise. The process has been the opposite; it's been one of exuberance and extrapolation. It struck me early on that the headless horseman is haunting Ichabod Crane but one doesn't know why. So I've developed Ichabod's back-story. In a moment of anger, Ichabod picks up a sword and decapitates [a British soldier], essentially creating the Headless Horseman. The haunting is a Karmic guilt that Ichabod carries with him through his life. He moves to Sleepy Hollow to escape that torment.
Your fascination with 19th and 20th century literature is well known. You've created The Sun Also Rises, The Great Gatsby, and you're in the midst of tackling Sleepy Hollow. What intrigues you about those particular time periods?
As a kid I discovered books. I grew up in the Bahamas until I was 12 on a tiny island. There was no television. There were really three things: I occupied my time with my brothers -- I have eight brothers and a sister -- and we were building sand castles like scale models of Versailles; putting on theatrical plays with my siblings, which led to some of my directorial interests; and a lot of time with books. Books seemed to sweep me into different time periods. I was always interested in history. Something about the energy and drive of Americans. The first part of the 20th century, American energy and ingenuity were at its height. The wheel starts to spin very quickly for we Americans. The whole hundred years since then has been a really fast trajectory of exuberant discovery. The 1920s have been fascinating to me because there were no rules; we were pioneers again, discovering our potential. Likewise, Sleepy Hollow takes place in the early years of the American Republic. There's a kind of buoyant optimism about building a new country and starting fresh. That feels right to me. I suppose there's also something to do with the fact that my family was Cuban refugees. I was the first son born outside of Cuba in the early '60s, and so I grew up with the kind of fresh start. We feel a new fresh start in the first few years of the country, as in Sleepy Hollow.
In your mind how does a piece of literature qualify to become a dance?
I don't think about the dance while reading the book, at least not initially. I'm just captured by the story and by elements of the writing style. So, for example, in the Hemingway project, I was super interested in Hemingway's writing style. It's a tough story to tell. When I realized that I could handle a ballet about erectile dysfunction, it meant I could handle any topic [laughs]. In the case of Hemingway I wanted to tell the story, but also reflect it in the dance vocabulary. Hemingway writes in this punchy, staccato, very masculine style. I consciously wanted to make movement phrases that were short, staccato, punchy, and similar to Hemingway. That was an interesting challenge.
Choosing Sleepy Hollow, I've been through a lot of things. Hemingway, which was my most recent project, was so very serious. I wanted something with a sense of fantasy. Hemingway was so black and white. I wanted something that was exciting, thrilling and theatrically extravagant. Sleepy Hollow fit that bill.
Do you find that stories with so much whimsy require a different approach to the techniques of classical ballet?
My experiments have been more on the classical side. I took over the company from the great Mary Day and Mary had a very particular point of view about the company. It was a small company doing a lot of neoclassical work, but other than The Nutcracker, she never presented a full-length classical ballet. Among the goals was to continue to forge new territory in terms of contemporary ballet. Over the last five years I've very carefully added full-length, 19th century works into the repertoire.
Right after Sleepy Hollow we're staging a big production of Swan Lake. It doesn't get more classical than that. The classical approach by our artists has grown. I want to challenge our dancers in a contemporary way, but also the classical way. I'm unafraid to work in the classical vernacular these days, whereas 15 years ago it was not my thing. I came from a classical background, but as a choreographer I was trying to develop my own voice.
This interview is excerpted from the original posting on 4dancers
Calling all HuffPost superfans!
Sign up for membership to become a founding member and help shape HuffPost's next chapter