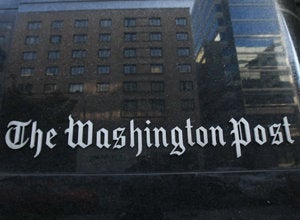 The Washington Post Guild accused the paper on Tuesday for unjustly laying off employees and targeting employees of color.
The Guild claimed that the paper was trying to force out "at least thirteen people through layoffs, coerced buyouts or outright dismissal on dubious charges."
Guild Unit co-chair Fredrick Kunkle called the paper's actions "troubling" since "more than half of those employees are African-Americans or Latinos."
Kunkle wrote that the paper was telling staffers "the bar had been raised." He blasted the paper's evaluation system for including what he called "highly subjective and weaselly criticisms such as inserting too many pop culture references in stories."
A spokesperson for The Washington Post responded to the Guild's charge and said, ""Our commitment to diversity extends from hiring to promotion and retention."
Kunkle blamed "money" as the reason for the the paper's demands and actions. The paper reported over $6 million in losses in the third quarter of 2011. The paper also closed all of its regional bureaus except for those in Annapolis and Virginia in September.
While Kunkle wrote that the paper was facing circulation and advertising challenges, the Audit Bureau of Circulation reported that the Washington Post ranked as the eighth most circulated newspaper.

Popular in the Community