 When we turn a tap off, we think the water stops. But the fact is Americans use more than 150 trillion gallons of fresh water a year for drinking, cleaning, growing food, making products, and generating electricity. We use even more energy to collect, transport, and store water, and still more to treat our wastewater. Clearly, the story of water doesn't end at the tap. Whether we live in the water-rich east or the dry, hot southwest, the conservation and recycling of this increasingly finite resource is one of the single best solutions for a sustainable future for our nation -- and the world.
As the Second National Mayor's Challenge for Water Conservation, April 1-30, gets underway this week, the nonprofit Wyland Foundation is once again asking people and leaders across the nation to make a series of online pledges to conserve water at mywaterpledge.com -- and discover the many corresponding benefits that go along with those commitments. Cities compete in their respective population categories to essentially see who can best inspire and educate their residents about the growing importance of water conservation. Participating residents from five winning cities (population 5,000-30,000, 30,000-100,000, 100,000-300,000, and 600,000=) are entered into drawings for hundreds of environmentally friendly prizes -- from a Grand Prize Toyota Prius C to water-saving irrigation products to a $1,000 shopping spree at Lowe's Home Improvements. Up to the minute standings are posted throughout the month.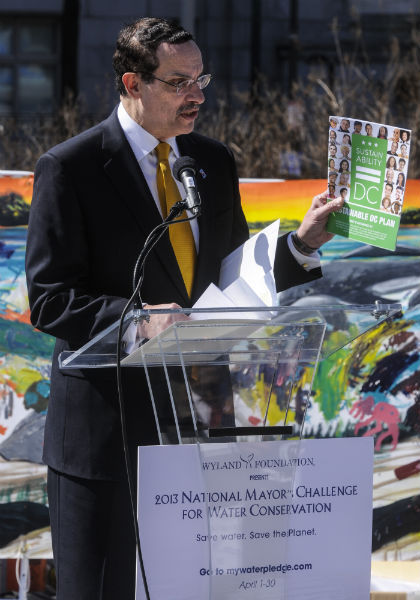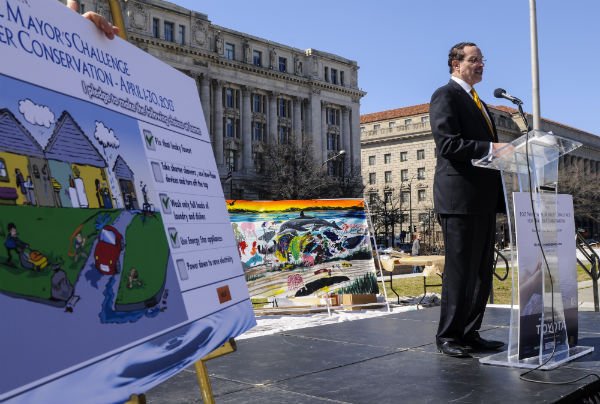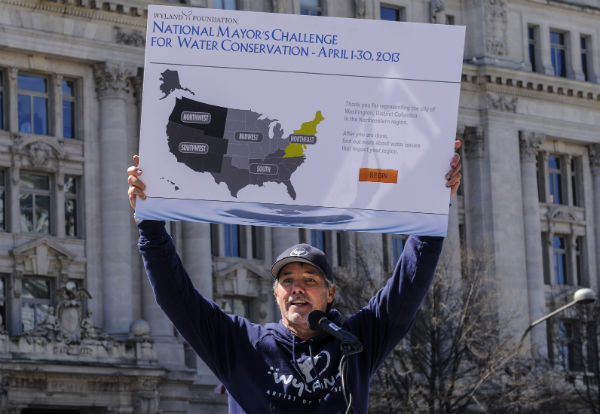 Last year, residents from more than 1,000 cities across the United States made personal pledges to fix leaky faucets, landscape with climate-appropriate plans, use sprinklers with minimal settings in the early morning and evening hours, and start thinking beyond their impact at home by fixing car leaks that can contaminate local water watersheds. Along the way, they discovered that a few small changes not only saved them money, but saved infrastructure and operating costs for cities, protected watersheds and ecosystems, and promoted drought resiliency.
Suddenly, it seemed, water was sexy. The cities that won were completely engaged, from their schools and local companies to the chamber of commerce and city leaders, many of whom took to Twitter and Facebook. Others made their own YouTube videos, took to the streets, or challenged their neighboring leaders to a water challenge throw-down.
This year, over seventy of the nation's leading mayors, including Denver's Michael Hancock, Seattle's Mike McGinn, Atlanta's Kasim Reed, Washington, D.C.'s Vincent Gray, and Tucson's Jonathan Rothschild have risen to the challenge and are urging their residents to get their friends, families, and neighbors involved.
With our nation facing climate fluctuations, drought conditions, growing populations, and an aging water infrastructure, the story of how we get, use and pay for water in America is rapidly rewriting itself. The challenge we all face now is in recognizing these changing conditions and adapting to them.
The National Mayor's Challenge builds on our country's love for competition with a series of pledges that have been carefully designed to reap rewards for individuals and their communities to make a significant long-term positive impact on the environment. It brings together expertise from a cross-section of partners, from national presenting partner Toyota to the U.S. EPA, USDA Forest Service, CH2M Hill's WaterMatch, Rain Bird Corporation, Lowe's and the National League of Cities, and it offers insights into water conservation that many people didn't realize. There are no costs to cities to participate, no additional staff time. All it requires is the will for each of us to work together to manage one of our most precious resources in a rapidly changing world.
Calling all HuffPost superfans!
Sign up for membership to become a founding member and help shape HuffPost's next chapter