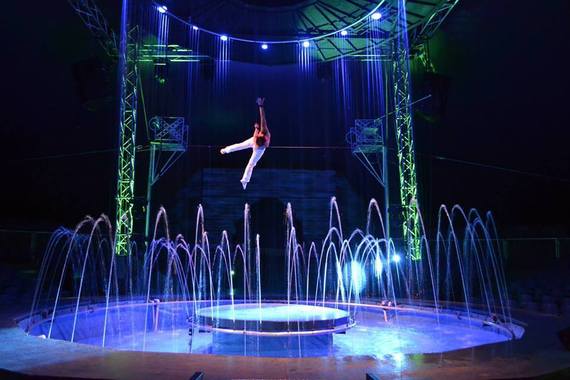 Chicago is about to dive into the magical world of Cirque Italia, the first ever Italian water circus, when it returns to town with a brand new show June 9-12 and June 16-19.
This amazing traveling, European-style circus is filled with aerialists, acrobats, contortionists, high wire acts, giant bubbles, jetskis, a laser man, a mermaid, and even a dinosaur to add a little extra excitement.
As if that weren't enough, the entire show takes place on a custom built 35,000 gallon water stage which features a dynamic lid that lifts 35 feet into the air, "curtains" of rain, lasers, lights, and fountains which dazzle the audience. And of course, the show takes place under a majestic white and blue big top tent as any spectacular circus should.
For comparison, Cirque Italia's water circus is similar to Cirque du Soleil - although drastically more affordable, more family oriented, and more interactive with the audience - and nothing like the Ringling Brothers as there are no animals involved at all. The show makes for a perfect afternoon or evening for the family, a group of friends, or even a date night, and is guaranteed to bring a smile to every audience member's face, regardless of age.
The show's owner and founder, Manuel Rebecchi, has a deep seeded history in the circus industry as his late aunt ran one of the largest circus shows in Europe. When Manuel came to the states several years ago, he decided that Americans needed to experience a European-style show and had the brilliant idea to create the first traveling "water circus" in the US. He immediately wanted to create something special and memorable. By joining forces with Chante' DeMoust - the show's COO/Producer with an extensive background as a dancer and producer in the performing arts - Manuel has put together an astounding stage production with some of the finest performers from around the world.
Each show takes place under a grand, swirling white and blue tent which seats about 1,200 people who are all welcomed into the big top setting as if it was their own home. The variety show can be fun, intimate, and romantic and truly appeals to all ages.
Plus, there are plenty of opportunities to meet and take photos with the performers, as well as bring home some special Italian souvenirs.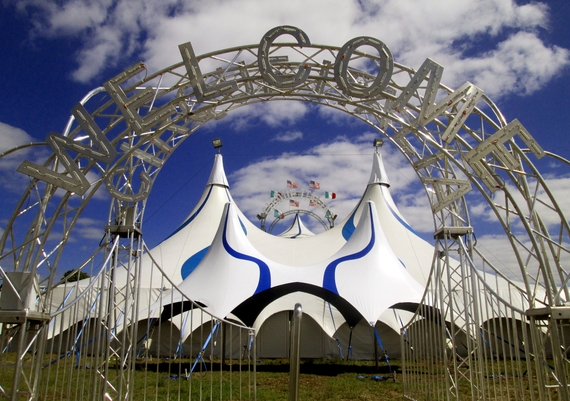 Tickets are extremely affordable, ranging from $10-$50 per person, and certain seating areas even have a "free child" offer with the purchase of an adult ticket. Basically, the show provides loads of entertainment for less than the price of a trip to the movies, enabling families, friends, and couples to make memories without breaking the bank.
Cirque Italia takes place in Cicero, IL and will be in town for a limited run, so make sure to experience the family-friendly, Vegas-style circus and variety show before they drain the massive pool, pull up to the tent poles, and take their water show on the road to the next town.
Click here to get the inside scoop on the best concerts, festivals, parties, and more in your city every weekend!
Popular in the Community