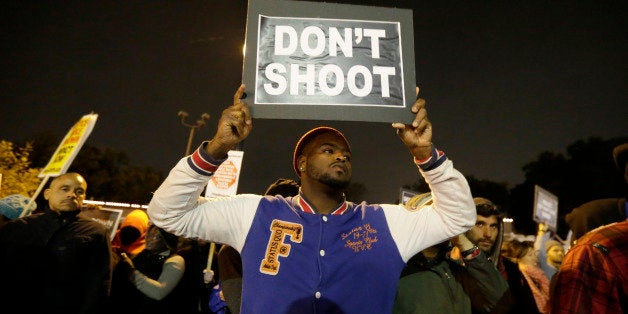 For 84 days, young people from St. Louis have put their lives on the line in often late-night standoffs with the police to protest the killing of Michael Brown. Many first met during the hours that Michael lay bleeding on Canfield Drive and the days of protests that followed.

Chanting "It is our duty to fight for our freedom! It is our duty to win! We must love and support each other! We have nothing to lose but our chains!" they have stood face-to-face with lines of baton-wielding police officers night-after-night.

They've persisted against tear gas, pepper spray, rubber bullets, having military weapons pointed at them, being hit and kicked by police, and facing efforts by authorities to single out protest leaders for arrest. Instead of crushing the protests, the heavy-handed police response has been a crucible out of which a new generation of young leaders have emerged, and the community they have formed is having reverberations across America.
Some in the media have falsely portrayed the protests as violent. The truth is that courageous young people, like Tef Poe and Tory Russel of Hands Up United, Ashley Yates of Millennial Activists United, and Rika Tyler and T-Dubb-O have forged a fierce form of non-violent direct action. It is moving to watch them stand within inches of police and speak the brutal truth about their experience of being black in St. Louis.
There is growing concern that a decision not to indict Darren Wilson could lead to a new round of police violence against peaceful protestors. Last week, Tim Fitch, the former St. Louis County police chief, said that illegal leaks about the grand jury process were a way of preparing for "game day." What does Fitch mean by game day? How will the police respond to massive protests against a failure to indict? Will they bring back military equipment and heavy weapons? If there is looting and arson, will the police respond by attacking the non-violent youth who are holding the protest lines in Ferguson?
St. Louis authorities have spent millions of dollars on equipment and police overtime, but done so little to listen to the community and act on deeply felt greivances. The decision to respond to young protesters with brute force rather than negotiation has only put off the day when St. Louis reckons with the task of creating a region in which everyone counts, has a say and can live free.
Dismantling racial injustice in St. Louis

Police brutality sparked the movement in Ferguson. But when young people march under the banner of Black Lives Matter, they are taking on the whole system of racial injustice that structures life in the St. Louis area, and across the country.
There is a lot to protest against. The almost entirely white police forces in Ferguson (the city is 70 percent African-American, but 94 percent of its police are white) and across the St. Louis region have a long history of racial profiling and harassment, using excessive force against African-Americans, and resisting civilian oversight.
In the weeks after Michael Brown was killed, protesters exposed a bench warrant system that has municipalities like Ferguson raising much of their revenue by stopping and harassing African-American drivers.

While St. Louis is similar to many metropolitan areas in the Midwest in its hyper-segregation in housing, schooling and employment, it is uniquely balkanized by race and class. St. Louis City is separated from St. Louis County, and the county is divided into 97 different municipalities, with the African-American population concentrated in the increasingly segregated North County area.
White wealth and privilege in St. Louis rests on generations of racial exclusion and oppression. African-Americans in St. Louis are 2.5 times more likely to be unemployed, a larger racial gap in unemployment than all but three other metro regions. St. Louis County has some of the greatest disparities in public education in the country. In fact, children in Canfield Green, where Michael Brown was killed, don't even attend school in Ferguson -- which is an underfunded but accredited school system. Instead they go to the underfunded and unaccredited Riverview Gardens district, which is 98 percent African-American.
What good is the Democratic Party?
Fundamentally, the youth leading protests across the region are in a standoff with a calcified white Democratic Party establishment in St. Louis and Missouri.
County Prosecutor Robert P. McCulloch has the most direct power to bring about a public trial of Darren Wilson. McCulloch, a Democrat with 23 years in office, has deep ties to the police and a poor track record of holding them accountable for abuse. McCulloch has also been functioning as the political boss in St. Louis County, recently orchestrating the defeat of an incumbent African-American county executive by a white candidate in the August Democratic primary.

The Democratic Party in St. Louis City and County and in Missouri could not maintain its power without the support of African-American voters. Yet Governor Nixon has been largely AWOL on Ferguson, refusing to appoint a special prosecutor or speak out against the abusive police tactics against non-violent demonstrations. This month he announced a commission to look at the underlying issues of inequality that have been raised by protesters. The significance of this commission is still an open question.
One telling illustration of the disconnect between the Democratic Party in the state and the African-American community: Since Michael Brown was killed, the Missouri Democratic Party has contributed $267,634 to the State Senate campaign of State Representative Jeff Roorda, a man who headed up fundraising efforts for Darren Wilson. Roorda was fired from the Arnold, Missouri, police force for making false statements. He is now the executive director of the St. Louis Police Officers Association. In the legislature he has led efforts to oppose the use of on-body cameras and introduced legislation last year that would have prevented the public from seeing any records related to police shootings if they contain the name of the officer who did the shooting. How does a huge investment of resources into a politician with Roorda's track record and positions square with a commitment to racial justice?
The way forward

With the grand jury supposedly still at work, the media have been filled with one-sided leaks that represents a shameful effort by prosecutors and police to manipulate public opinion. The Justice Department has called it inappropriate and troubling.
It is unusual for a prosecutor to bring a murder case before a grand jury without a recommendation to file charges, which is what McCulloch did. And it is uncommon for people under investigation to testify, yet that is what Darren Wilson did. It seems clearer every day that McCulloch is using the secret grand jury process to deflect political responsibility for not prosecuting Wilson and to try to wait out the protests.

That is wishful thinking on his part.

The only real solution to the stand-off in Ferguson is a public trial of Darren Wilson where we can all hear the testimony of witnesses about what happened on August 9, and serious negotiation with the young people leading the protests.
The way forward on Ferguson are negotiations that bring about fundamental changes in policing, governance and the economy in the St. Louis region, changes that dismantle structures that exclude African-Americans in St. Louis from economic opportunity and entangle in them in a broken criminal justice system.
The list of desperately needed changes is long and includes new police leadership in St. Louis County; an end to the bench warrant system as a municipal revenue strategy; consistent approaches across the metro region to policing that are based on best practices from communities that have brought down high levels of police abuse and gun violence; a serious jobs program; and state criminal justice reform that invests in jobs and education over criminalization and incarceration.

Change is coming. Young people are leading it. The rest of us must follow them even if the way forward is uncomfortable. The time to start delivering on justice is now.
REAL LIFE. REAL NEWS. REAL VOICES.
Help us tell more of the stories that matter from voices that too often remain unheard.