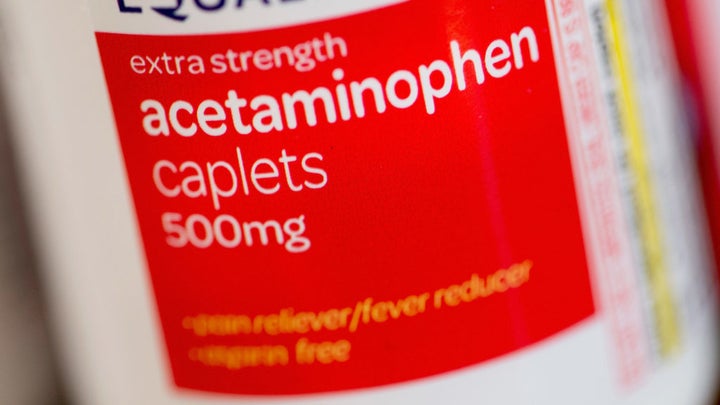 WASHINGTON — The Food and Drug Administration has, for years, limited the amount of acetaminophen in any prescription painkiller to 325 milligrams a dose. Yet walk into your local CVS and you'll still find dozens of non-prescription painkillers containing 500, even 650, milligrams of the ingredient.
The FDA also requires prescription codeine products to include a warning that they are unsafe for kids under 12. If your local drugstore carries it, you may find non-prescription codeine cough syrups that still list dosing information specifically for children.
If those inconsistencies boggle the mind, there's little wonder: By nearly all accounts, the way in which over-the-counter drugs are regulated is a mess.
The FDA can move relatively nimbly to update dosing and label information for prescription drugs if new safety or scientific information emerges. The same simply isn't true for over-the-counter products — a reality that frustrates drug makers, the FDA, and many public health groups.
Now, however, Congress — persuaded in part by that shared consensus — is poised to act. Lawmakers in both parties and both chambers are finalizing legislative text that incorporates a deal hammered out between the FDA and industry over the last several years and are preparing to push the changes through next year. The House Energy and Commerce health subcommittee could mark up legislation as soon as this month, several aides tell STAT. Key senators are also hoping to introduce their own bill within the next several weeks, aides in that chamber said.
"Nothing in [the current system] makes perfect sense," Dr. Theresa Michele, a director at the FDA's Center for Drug Evaluation and Research, told STAT. "We strongly believe that these changes will better serve and protect the public health, so we're pretty excited about them."
The current regulatory process for over-the-counter, or OTC, drugs dates back to 1972, and is based on a simple but flawed assumption that most such products already on the market wouldn't change much over time. It set up a monograph — the list of pre-approved ingredients and doses and label information — for active ingredients like ibuprofen, acetaminophen, ipecac, or hydrocortisone. As long as companies stuck to the monograph, they could market a new product using those ingredients without any additional FDA review.
The drugs could stay on the market while the FDA reviewed them, even if that process was lengthy.
But the scientific understanding of the products — or the appropriate doses — is constantly evolving. And not only is the FDA department working on the issue short-staffed (just 18 scientists oversee OTC considerations, with a budget about 40 times smaller than the prescription drug review budget), but the process required to alter a label or dosing instruction, among other possible changes, takes much longer than the comparative process for prescription drugs.
"Everyone thought, 'These are old drugs, there's no innovation, science doesn't change. We're just going to write it once and we won't have to think about it again," Michele said. "But … that just isn't true. Even for old ingredients, we're constantly finding new uses and new things about them."
The FDA has realized, over time, that the task of reviewing OTC drugs is too monumental under the current structure and with its current resources. There are some 800 covered active ingredients, but hundreds of thousands of products on the market use them for more than 1,400 different conditions or indications. The agency has yet to finalize about a third of the evaluations it set out to do back in 1972, let alone to consider necessary updates. It took years to get a warning about the risk of liver injury onto acetaminophen products, for example, and the agency is still evaluating the current dosing rules it's already changed for prescription drugs.
"Everyone agrees the system is broken. There's reasonably broad agreement about how to fix it," one Senate aide said. "The devil's in the details, but everyone agrees that it needs to be improved."
The deal the FDA hammered out with industry sets up an entirely new process for regulating the OTC drugs currently swept up by the 1972 initiative.
Drug makers will help subsidize the FDA's regulatory efforts with millions of dollars in new user fees, in a new system modeled on the prescription drug industry's user fee agreements. In exchange, drug makers will get a new chance to earn an exclusivity period for new products — which they say will encourage new innovations, like sublingual sprays or gummy versions of existing drugs. Though the House is still determining exactly how long that exclusivity period will last, the Senate has agreed to a period of two years, according to aides in both parties in that chamber.
(Drugs launched after 1972, like IvyBlock, already go through a separate process much like the one for prescription drugs.)
The draft legislation would dramatically streamline the way the drugs are regulated, shifting from a rulemaking process to an administrative order process much more like the way the agency regulates prescription drugs. That will let the FDA finish its review of the remaining OTC active ingredients more quickly, and also speed any necessary updates to already-reviewed drugs for safety concerns. At a congressional hearing on the issue in September, Janet Woodcock, the director for the Center for Drug Evaluation and Research, laid out a potential timeline that would reduce the current years-long update or approval process to fewer than two years.
The legislation would also require drug makers to submit all of the data they have related to the safety and efficacy of a given product, not just data that looks good for the manufacturer. The fees from industry — to the tune of about $34 million annually, after a gradual increase — would support new IT infrastructure for the review department as well as dozens of new full-time employees.
In the House, key Energy and Commerce Committee leaders and Reps. Bob Latta (R-Ohio) and Diana DeGette (D-Colo.) have led the push for the overhaul. In the Senate, it's the Health, Education, Labor and Pensions panel and Sens. Johnny Isakson (R-Ga.) and Bob Casey (D-Pa.).
Supporters, including drug makers, say it's a win-win for everyone.
"We thought FDA would be interested in some tweaks and some incremental changes. Instead, they were very excited to really revise the system — take it to a place that would see us into the future and make the changes that were needed to make it a sustainable long term system," said Barbara Kochanowski, a senior vice president at the Consumer Healthcare Products Association, which led the negotiations on behalf of drug makers.
Kochanowski said industry was initially surprised by the FDA's request for funds, but got on board once it realized the potential benefits of the streamlined process.
Perhaps the biggest remaining issue centers on exclusivity. Drug makers have said it's important, especially as they're being asked to pay those user fees. Right now, they argue, they could spend years innovating a new product formulation, for example, only to miss a retailer's purchasing window, or only to see a competitor launch within days. That discourages innovation.
At least one lobbyist suggested that an exclusivity period could mean higher prices for over-the-counter products, where competition has tended to keep prices low. And Democratic aides said they, too, had worried initially about patient access issues related to a long exclusivity period.
But because the active ingredients will stay on the market, that shouldn't be nearly the same concern it is in the prescription space, several aides and lobbyists said. A product manufacturer could earn a period of exclusivity for a gummy Advil, for example — but traditional forms of Advil would remain available.
It's not clear when the bill will ultimately move through both chambers, though several aides and lobbyists suggested it could be included with the reauthorization of a user fees package for veterinary drugs that expires in 2018.
Most of the legislation's supporters — in Congress and out — agree that it is now only a matter of "when." Industry and public health groups are broadly on board, and Congress wants to act. At the September hearing, members were more likely to ask questions about why the issue hadn't already been addressed than about substantive policy changes.
"I wasn't aware of this until I read the briefing, but if the system is broken, my gosh, does it take 45 years for the FDA to say 'Help, we need help?'" asked Rep. Joe Barton (R-Texas). "This shouldn't take a moonshot."