While in San Jose for the annual BlogHer conference, I finally got the chance to really explore the charming city. Previously, like with my visits to Atlanta, I had only been to San Jose for quick business trips without any time to explore the third-largest city in California and the tenth-largest in the United States. The city is also a majority-minority, and as a result, the area delightfully reflects this diversity.
If you want to make the most of your future visit, the following recommended activities can be accomplished during a long weekend.
The Tech Museum of Innovation, or simply The Tech, is a bright orange and blue colored building next to the Plaza de Cesar Chavez in downtown San Jose. The Tech has the largest IMAX dome screen in the West and has many hands-on, accessible exhibits influenced by the tech environment of the city. Locally based companies like Google and Adobe both have interactive displays for visitors to experience. There is also a fun earthquake simulator, robotic challenges and many more fun exhibits aimed at kids ages 5-12.
Adjacent to the Plaza is the San Jose Museum of Art, housed in a former U.S. Postal building and library. Celebrating 44 years, the museum hosts a large permanent collection emphasizing West Coast artists of the 20th- and 21st-century and traveling exhibits. Currently, The Emily Fisher Landau Collection is on display, which includes work by Andy Warhol and Keith Haring. Again to reflect the tech roots of the area, they often like to feature new media exhibits as well. The space is bright and calming and can easily be enjoyed in an hour visit. Children under the age of six receive free admission.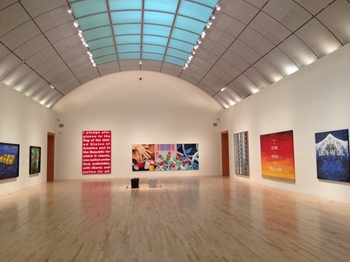 4 miles from Downtown San Jose is Santana Row, a popular shopping strip featuring 70 upscale shops even Tesla Motors, 20 restaurants, nine spas and salons and one hotel. The design is very Parisian with European-influenced architecture, boutique storefronts and fountains, benches and piazzas throughout the area. There is even a genuine 19th century, neo-Gothic church façade from Montpellier, France that was moved to the area and now serves as an entrance to a wine bar. It was brought in pieces and reassembled in San Jose. Visitors can also partake in a game of chess on the oversize chessboard in the plaza.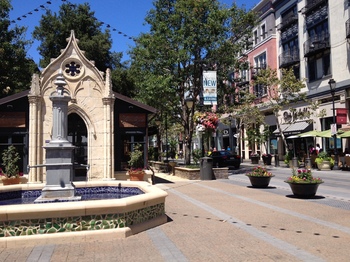 Just across the street from Santana Row is the must-see Winchester Mystery House. Built under the direction of Sarah Winchester, widow of the Winchester Rifle fortune, it is one of California's most unusual mansions. Rumored to be fighting off bad spirits and karma, for nearly forty years from 1884-1922, Mrs. Winchester had a staff of carpenters and gardeners working around the clock, always adding to her home which has more than 160 rooms. The mystery is in the odd design choices like a staircase that leads to nowhere, a room with four fireplaces in it, rooms built within rooms, windows that look out to blank walls and much more. I was afraid it was going to be hokey, but was glad to see the rumored ghost sightings play second fiddle to the house itself, which is an architectural marvel and extremely well preserved. Guided tours are offered daily, every day except Christmas. Summer is their peak season, but during Halloween they also offer candlelit tours.
For a casual and social setting, the San Pedro Square Market is a must. The marketplace features several food stalls representing an eclectic variety of foods from sushi tacos, pulled pork sliders, brick oven pizza, Pad Thai, warm chocolate chip cookies and more. Not being able to make up my mind on what to eat, I visited several food vendors for a satisfying hodgepodge of a meal. The different to-go restaurants are set inside two industrial-styled halls with plenty of outside seating shaded by sycamore trees and strung lights. The vibe is laid-back and artsy and I'm told they regularly have special events and live music.
The casual Vietnamese eatery, Pho 69 came recommended to me by several locals, so I made sure I tried their namesake noodle soup before leaving. The serving size was enormous, but I valiantly sipped my way through, barely making a dent in the steaming, savory bowl of soup, which I honestly never wanted to stop eating. If you're a fan of Pho, make sure you stop here too. It's quite busy during the workweek though, so you might want to plan your visit during the weekend or before or after the lunch hour rush from Noon to 2 p.m.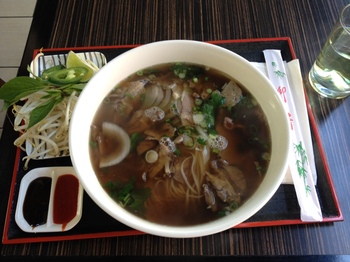 For fine dining and a truly decadent meal after work or to celebrate while in town, definitely visit ARCADIA, a modern American steakhouse. Celeb chef Michael Mina is behind this stylish New American eatery serving classic cuts of beef, fish and contemporary steakhouse side dishes like truffle mac n' cheese. The Burrata salad contains fresh seasonal fruits or beats depending on the time of the year, the pork chops are mouthwatering and the prime steak and Wagyu beef is tender and delicious. Consult their sommelier for local wine label pairings to complement your meal. Recently, OpenTable.com diners voted ARCADIA onto the 2012 OpenTable Diners' Choice lists. Mina will also have a new restaurant, Bourbon Steak & Pub that will feature fresh, farm-to-table cuisine, opening at Levi's Stadium this fall.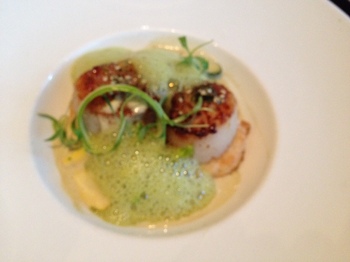 Related