Jacob Kaufman: Landscape Releasing | The exhibition takes as its premise Kaufman's meditations on, and close reading of Toshio Shibata's photograph, Grand Coulee Dam, Douglas County, WA, 1996. The result is a series of paintings that navigates a visual territory between abstraction and landscape.
Toshio Shibata's Grand Coulee Dam, Douglas County, WA, 1996 captures a dam that is just barely releasing water. We see the damn from the top down, yet the perspective appears to shift. We might be looking toward the surface of a pool below, or out against a horizon in the distance. Caught in black and white, the photograph's power lies in the juxtaposition of organic and industrial forms. The smoke-like shapes that float in the water below, and the softness of the flow, balance the dam's otherwise hard surface. In scale and form, Shibata produces landscape photography that references abstract painting while rooted in the bold contrasts only possible through film-based photography.
Shibata's abstract, organic, and hard-edge formalism is the inspiration for Kaufman's paintings. Working with the formal aspects of the photograph, and playing on the horizon line as well as the gestural release across and through that line, Kaufman's paintings produce an image not unlike topographic maps of canyons in the American West. Thus, in both form and content, Kaufman might reinvigorate the way we see Shibata, but also produce new ways of representing landscape.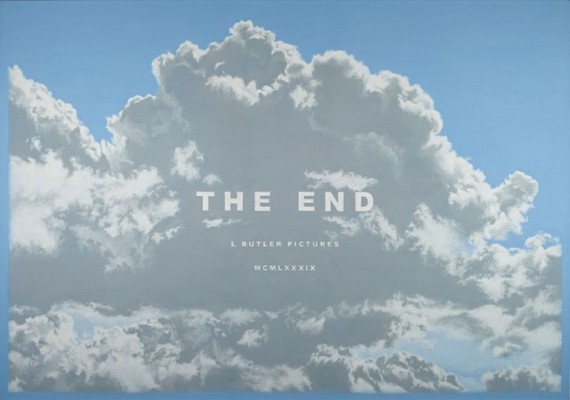 Luke Butler: In Color and Black and White | The exhibition will be featuring paintings from two distinct bodies of work for his first showing with the gallery.
In Butler's series aptly titled "The End", he paints THE END as a figure in a landscape. Removed from its narrative role, it is both familiar and strange. As a static image, it seems contradictory, absurd, and poignant - an anti-picture. Its message strays, becoming evocative rather than declarative, no longer an exit, but a memento mori.
If THE END turns the actual landscape legendary and evanescent, Luke's other works draw humanity out of iconic television figures. Using imagery from the 1970s, these works emphasize vulnerability, sorrow, ambiguity - things more commonly seen outside the tidy world of televised narrative. In paint, on canvas, frozen in mid-gesture, men of action become figures of pathos. They have somewhat the appearance of religious painting. Television was an indelible and impactful presence in Luke's young life. Insinuating its legendary figures into a larger picture of mythology is one way for him to see beyond its frame.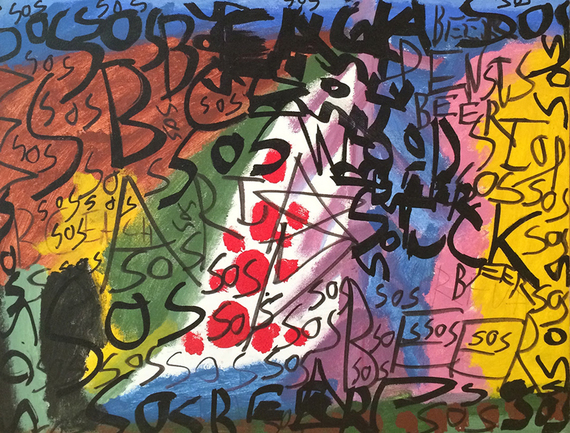 Noah Erenberg | Working within the spectrum of autism, Noah has been honing his craft for the last 25 years, producing a vast body of work in a variety of mediums that displays a remarkably confident and discerning handling of paint and other materials. Subtly delirious and restlessly controlled, Noah's work reflects his surroundings on the California coastline, along with his extensive cultural intake.
Three of Noah's styles are represented in this show: a series of portraits that possess a powerful vitality and feverish use of color; a group of paintings that collapse elegantly into abstraction, registered with an expertly delineated color palette - these semi-abstractions are more calm and contemplative; seemingly expressive of a yearning for serenity, they would not look out of place beside the work of such canonical painters as Marsden Hartley or Milton Avery. And text-based paintings: amplified doodlings, in which seemingly unrelated words and symbols slash across colorful surfaces with an unsettling urgency. These are provocative and visually compelling works that definitely create an impression.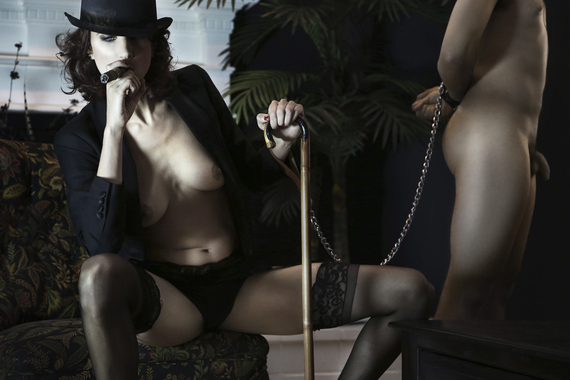 Brooke Mason: La Haute Main | Art Critic Peter Frank writes about Mason's upcoming show, "The enactments Brooke Mason stages and records are not psychological dramatizations or arcane religious pageants, much less, for all their trappings, carnal dumb shows. Rather, they are choreographies, a form of dance-for-the-camera that takes its visual cues as much from classic ballet as from dungeon fantasy and cosplay, and its narrative cues much more so."
Australian-born photographer Brooke Mason has been capturing stunning images for the fashion and entertainment world for over 15 years. Originally based in New York City, and now living on the West Coast, her work has been featured on the covers and editorial pages of fashion and lifestyle magazines worldwide. A former international model herself, Mason is well-versed in contemporary media standards of art, aesthetics and beauty. Her life as an artist is greatly influenced and informed by European art and sensibilities. Mason has traveled extensively lifelong, visiting numerous museums and galleries in over 20 countries to date, as well as a year's residence in Southeast Asia.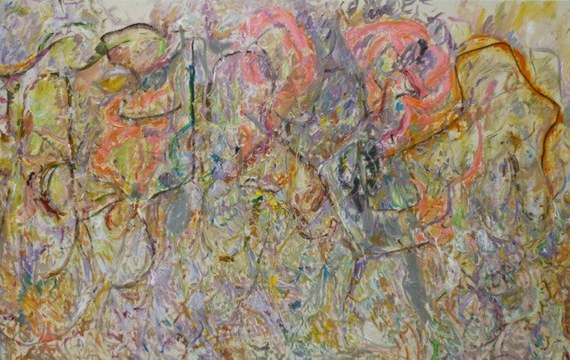 Ed Moses & Larry Poons: The Language of Paint | Living on opposite coasts, Ed Moses and Larry Poons have worked in the realm of abstraction for the last six decades, each producing a unique and innovative oeuvre, driven by experimentation, process, color and materiality.
These two quintessentially iconoclastic painters present interesting parallels due to their their career-long disregard for prevailing styles, their similarity of approach and their passionate pursuit of the possibilities of paint. Moses and Poons exemplify spontaneous approaches to the process of painting, in careers that have spanned more than half a century. They have relentlessly pushed the potentials of the medium, embracing artistic practices that require a willful immersion into the chaos of the moment. For each artist, these paintings begin as journeys into the unknown and end as records of the trails they blazed on their way back out.
For the most comprehensive calendar of art events throughout Los Angeles go to Artweek.LA.
Related
Popular in the Community