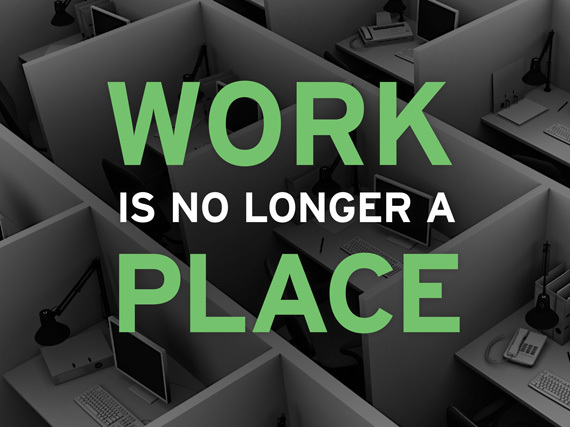 The biggest opportunity in the sharing economy is our talent, as I highlighted in Part I of this post. Let's take a closer look at 5 major disruptions that are driving the talent sharing economy and upending the way we work and live:

1. Corporate loyalty is dead
A recent survey shows that nine out of ten Millennials say they expect to stay in a job for less than three years. This translates into 15-20 jobs over the course of their working lives!
Consider this: the average time to hire a full-time employee is more than 30 days. This means we spend more than 30 days every two to three years hiring for the same position.
Today, the Internet makes it easy for people and jobs to connect... and disconnect as needs ebb and flow. As more work happens online, we can measure results much more precisely
Now it's about employability as opposed to employment.
What does that mean? The concept of static roles is fading into the past. Workers of the future will be thinking about income security, not job security. They will be creating diversified portfolios of income, rather than relying on a single job.
They will be thinking "what skills do I need?" instead of "what role will I have for the next 10 years?" And will constantly ask "Am I at the top of my game, or is the field shifting?"
On the flip side, business will be thinking more like a Hollywood movie crew: identifying the skills they need for the project at hand and assembling the best talent possible to deliver the ideal result.
2. Social networks have changed how we hire
In today's connected era we're sharing information about ourselves that would have been unimaginable even ten years ago. A generation has grown up pouring out their thoughts onto a digital stage.
The implications of this go to the very core of how we think about people we don't know. Our mental model has shifted from "don't talk to strangers" to "vet, connect, and trust."
You can now learn a lot about a person you might want to hire before ever meeting them. A host of sites with social networking components have sprung up that let you evaluate people's work, and even get a sense of character: from GitHub to Quora to blogs.
And, we can often figure out who we know in common in order to vet a candidate or get more color on their strengths, weaknesses, and work styles.
Traditional resumes are out, online profiles are in. The online profile of the future helps you get matched to the right job -- or matches you with the right professional to hire. You can see or share work examples. Ratings and reviews capture past performance and you can often see proof of skills through tests and credentials.
3. The best talent isn't necessarily within driving distance
Actually, this has always been true; what's new is we no longer need to be restricted by this outdated limitation.
Once this light bulb goes off you can never go back: today talent can be anywhere and it can connect quickly. When we fill a job on Elance.com and oDesk.com, the average job is filled in under three days and 25 percent of openings on our sites fill within 24 hours.
That means people are finding each other literally overnight -- and getting the job done faster than ever before. We can connect, work, and disconnect from anywhere with such fluidity that we're evolving to smaller work units that people can tap into as their time allows.
How is this evolution of work shaping our lives? Be prepared for a future that will look like this:
4. Businesses of one will be the new normal

By 2020 40 percent of the workforce is projected to be independent. And people who work for themselves tend to work much closer to home.
A world populated with solopreneurs will face new challenges. Physical roads and bridges will become less important as online roads and bridges become more important. Governments and businesses of the future will have to step up to support these solopreneurs with high-speed/free Internet access, affordable benefits, innovations in solopreneur retirement funding, and inspiring coworking spaces.
Let's take the next step in re-imagining what happens when our entire work life can be carried on a laptop or tablet, and everyone we collaborate with is a Skype video conference or Google hangout away.
Here's the transformation and it is profound:

5. Work is no longer a place

Now that we can bring the work to the worker, rather than the worker to the work, our lives will start to look different.
Cubicle farms will give way to co-working spaces, business suits and pumps will be replaced with jeans and Converse sneakers, and rush hour will feature fewer clogged highways.
In fact, looking 10 years into the future, I predict the talent-sharing economy and our emerging "work from anywhere" world will cause some people to rethink urban life.

The same throngs of people who in times past flocked to cities in search of work can now choose to be anywhere, reducing the pressure on rent, housing and other urban infrastructure. They can be in the countryside, in a small town, or on-the-go as part of the new breed of what we call... Digital Nomads.
Popular in the Community