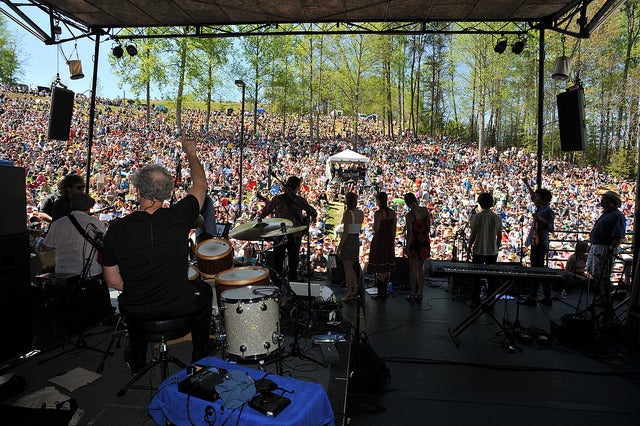 Every year, right around this time, a voracious group of music fans — a cult of sorts — overtakes a rough, wooded hillside at Wilkes Community College in North Carolina.
They arrive early. To secure a spot under a tree, which will provide shade or deflect some of the rain. Whichever comes. They trudge upward, eyes forward in search of a spot somewhere near the stage, a place somewhat level.
Coolers and camping chairs tilt and sway as people climb. As morning turns toward afternoon they must climb higher, closer to the summit, where grass meets asphalt at the edge of a parking lot.
Eventually they will sit. They'll wait, and they'll wish.
James Nash, the group's founding singer, guitarist and songwriter, said the idea grew from a festival jam, typically an amalgamation of talented artists with no direction other than to play great music.
MerleFest asked Nash to lead such a jam session, but organizers gave him time to think. Ambition took over.
Nash is a fan of Led Zeppelin II and, he thought, wouldn't it be fun to do an acoustic version, to transform a heavy rock sound into hybrid bluegrass; to substitute a fiddle or a dobro for electric guitar. To showcase artists such as Joan Osborne, Elvis Costello and Mike Farris.
After all, Nash told music writer Lisa Snedeker last year, it's what friends do.
But the allure of the Album Hour lies in its inherent mystery, amplified by a series of vague clues leading up to the show, the ultimate tease. The band plays an album —start to finish. They just don't tell you what it is.
A few years ago The Waybacks, with the help of some famous and talented friends along the way, lit things up with "Before the Flood," an iconic double album from Bob Dylan and The Band. Last year they did Springsteen's "Born in the U.S.A," and the year before killed it with "Deju Vu," from Crosby, Stills, Nash and Young. They've done Hendrix, the Allmans, Zeppelin and the Stones.
The Waybacks use Facebook to parse out a series of clues. Take a couple from this year: "Of all the vans we've driven to gigs, the eight-seaters are lightest," and "Nelly Meese feared her only friend."
Guesses this year run the gamut — from Yes to the Eagles to Van Morrison to CCR to Marley.
Thing is, almost no one knows.
"There's only one real rule," Nash says. "It's that everybody (in the band) has to love the album. It's just too much work … not to love it. It's a ton of work … but the audience loves it so much. People are talking about this for months and months."
The clues, Nash says, must be Google-proof.
"Anything that can be remotely found on Google, people are going to get in a second.
"We work hard to keep it a secret."
Early on The Waybacks did the Stones' "Sticky Fingers," but fans knew it was coming. Bad clues.
"We have to make our clues kind of ridiculously hard," he says. "If we have references to a song lyric, we have to paraphrase it. Because, if you put the exact song lyric it will pop up."
The Album Hour is an event in and of itself, though it's just is small part, really, of what has become one of the Southeast's biggest Americana and bluegrass festivals, spanning four days April 28-May 1. Festival headliners this year include Jason Isbell, John Prine and John Oates. Robert Plant and The Avett Brothers have played Merlefest, and so has the Merle Haggard and The Doobie Brothers. Sam Bush and Jerry Douglas play every year.
There's just something about this band, this setting. This hill.
"The reason this show works, the reason it even exists, is because of all the people who have supported it … We're all together in it.
"There are people who have been to every album hour and come up to talk to us every time and enter every contest we had and own the CDs. They get there three hours early and set up a blanket. Those people, I love that they can do what they do. If they care that much to show up that early and be there, it puts more responsibility on us to give them a great show … . We spend weeks arranging this stuff, and you feel the difference."
Nash tells a story about the Zeppelin show, about how it was way loud. About how an older woman, probably in her 70s, stood near the stage afterward waiting for Nash, who expected a good scolding.
"'I love Led Zeppelin,'" she said, according to Nash. "I saw Led Zeppelin play in 1971, and this show was great."
"There are lot closet classic rock fans out there who are just waiting to come out to Album Hour and rock out a little bit.
"This festival rocks, too."
See more from John Trump at halfwaysouth.com. Email him at halfwaysouth@gmail.com.