Those lazy, hazy, crazy days of summer are just another trackable set of data if you're in the wearable tech business. Summer brings its own set of challenges to the quantified world: sun, air quality, allergies, even relationships. And now, moving beyond basic fitness trackers, the next generation of wearables promises to let you measure everything from the sun's rays to the quality of the air you breathe -- just in time for summer.

For the sun's rays: Soltrackr
Wide-brimmed hats and sunscreen only go so far towards combatting sun damage. Soltrackr is a small device that attaches to a key fob or carabiner. It knows your location and the time of day as it takes a measurement of the sun's UV radiation levels. Through a Bluetooth connection on your smartphone, the device will instruct you on finding the balance between too much sun exposure and getting an adequate amount of Vitamin D. It'll tell you how long you can safely stay in the sun based on your age and skin type. Soltrackr also delivers biofeedback (you can touch the sensor which is a built in pulse oximeter) to optimize workouts and manage stress by measuring blood oxygen levels. And just for fun it can also be used as a remote control to snap a selfie or a tracker to locate your keys when the device is clipped to your key chain. The extra offerings are a bit random but sun worshippers or the sun deprived should put this one on the list. The Soltrackr Wireless Health Companion will be available at an introductory price of $49.

For the Sun's Rays: My UV Patch
Last January at CES, L'Oréal showcased My UV Patch, a stretchable Band-Aid-like patch worn on your body. It provides a continuous real time measure of UV rays received. Now the product is ready for market, just in time for summer sun. The stretchy material patch contains photosensitive dyes that detect and report a change in skin color. Of course the app that's coupled with the patch offers a variety of L'Oréal sunscreens. The price will be announced by the end of the month.

For Jet Lag: AYO
Summer travel is rife with indignities, not the least of which is unpleasant airplanes and jet lag. You know that your circadian rhythms and biological rhythms get thrown out of whack as you jet set from timezone to timezone, right? AYO is a special pair of glasses that helps adjusts your hormone levels using a specialized blue-light based solution to minimize the effects of jet lag. Can't say that it'll beat melatonin or Ambien but it's worth a try. Preorders are available on Indiegogo for $169.

For indoor air pollution: uHoo
Summer air can be oppressive. Allergies and asthmas can flare. uHoo, a device with five air pollutant sensors, lets you know just how oppressive. Meant to measure indoor air quality, uHoo senses and reports on dust, volatile organic compounds, carbon dioxide, carbon monoxide and ozone. A basic version of the product lists for $89 (dust and organic compound sensing only) and a premium version (all five sensors) lists for $139. On Indiegogo now.
Atmotube can be carried with you and let you know just how bad the air around you is. It looks at volatile organic compounds and gases like carbon monoxide. As more people use the device, Atmotube hopes to get a good picture of real time air pollution all over the world.
For your summer Zen: ZENTA from VINAYA
What better time to tap into your emotional well-being than summer? This wearable device is an attractive piece of jewelry that goes a step further than most wellness trackers by looking for patterns in your behaviors. By looking at variations in your heartbeat, respiration and perspiration it can help figure out if you're overly stressed - or maybe overly in love. It offers breathing and calmness advice when it detects stress. It can also let you filter important (and unimportant) messages in and out of your life. On Indiegogo for $119.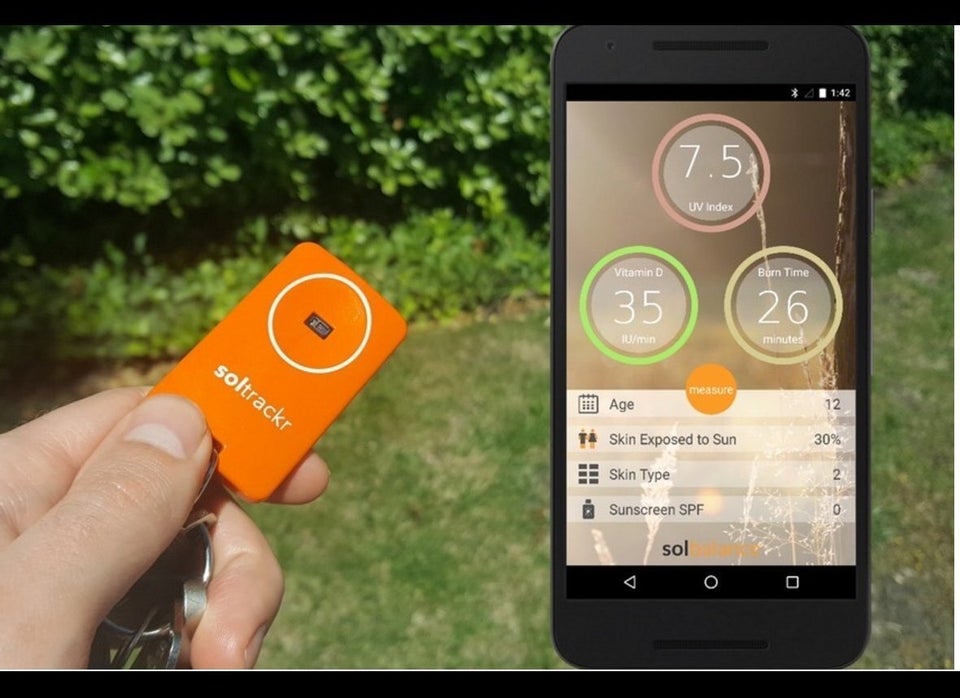 Wearables of Summer
Support HuffPost
The Stakes Have Never Been Higher
Related
Popular in the Community