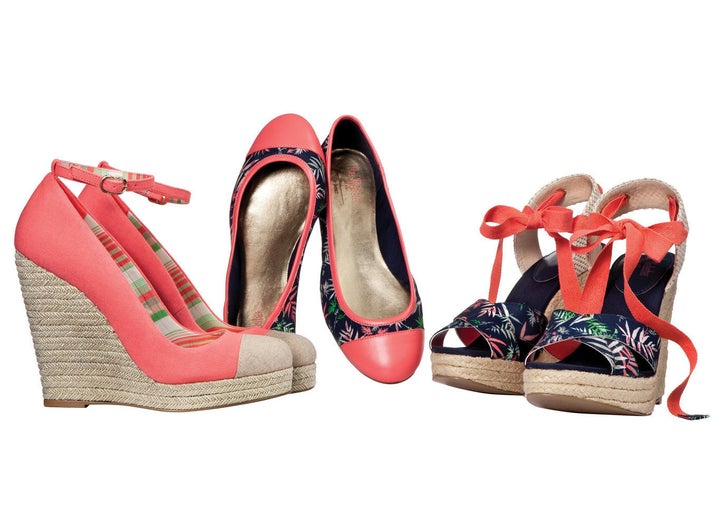 Next month's Target shopping list: milk, deodorant, and a white canvas palm-printed tote from The Webster at Target.
That's right, Miami's own iconic high-fashion boutique, The Webster, is getting a new location -- 1,800 of them, to be exact.
On May 6, Target will unveil their newest design collaboration concept, The Shops at Target, in partnership with specialty stores to co-create affordable, limited-edition collections in different product categories. First up, The Webster at Target, a capsule collection produced with the Collins Avenue shop's co-founder and CEO, Laure Heriard Dubreuil.
[Scroll down to view the collection lookbook.]
Inspired by the store's acclaimed aesthetic, The Webster at Target's 211-piece collection brings the easy-going, haute-happening lifestyle of the Miami Beach-er to Target customers nationwide.
In-store shoppers can snap up women's items (think stackable bangle bracelets in green-and-mustard plaid, coral-colored full jacquard skirts, and a melon short suit with matching cropped blazer), and the entire line of men's gear, including aqua, mango and palm-print rolled-cuff shorts. Savvy web surfers will find more women's apparel (and shoes!), along with mini-me versions for kids and baby, including art-deco-printed maxis and breezy flamingo-dotted frocks.
The high-fashion feel will be no surprise to Miamians, who have long perused the well-edited racks of designer apparel and luxury goods at the local boutique.
The Webster is one of five specialty boutiques Target sought out for the mass retailer's first edition of The Shops at Target. Joining The Webster are San Francisco's The Candy Store, Aspen's Cos Bar, Boston's Polka Dog Bakery, and Warren, Conn.'s Privet House.
And if there's any concern that The Shops at Target launch will be met with door-busting, mad-rush sell-outs rivaling the Jason Wu at Target debacle, it seems the mass retailer has learned its lesson. Jessica Carlson, Target spokesperson, assures that both stores and online inventories will be stocked appropriately to meet demand.
Huffington Post Miami spoke with Heriard Dubreuil to talk inspiration, her personal wardrobe, and what's next for The Webster.
How did this partnership come about? When Target approached us, I was excited for the opportunity to bring The Webster aesthetic to a broader audience. Together, we created a collection that incorporates the unique aesthetic of The Webster at prices Target guests will love!
What does The Webster hope to gain from this partnership? Working with Target gave us an opportunity to create a collection that represents the DNA of The Webster and reach a larger audience given the nearly 1,800 Target stores across the country! I believe that if you maintain quality, as I did with my line for Target, partnering with a mass retailer has great potential to benefit your business. Also for international clients that are Webster and Target fans, a limited number of pieces from the collection will be available on thewebstermiami.com.
How would you describe The Webster aesthetic? The Webster is very warm and welcoming -- beachy and chic, yet luxurious. It has a sense of good energy and, much like Target, anyone can come and spend the day! The Webster's physical environment, including the banana leaf wallpaper and the art deco floor patterns, is reflected in the pieces of the collection.
What was your involvement in the design process? I was intimately involved throughout the entire [one-year] process, whether that was reviewing product samples or providing feedback on packaging, to ensure that the spirit of The Webster and its unique perspective was clearly conveyed. All 211 pieces in the collection take inspiration from The Webster's décor and I wanted to make sure each piece was something I would buy or have in my personal wardrobe!
Does your personal wardrobe mix high fashion with more affordable pieces? I loved Proenza Schouler and Missoni for Target! These types of collaborations allow people to wear designer clothes at an affordable price, while still maintaining the look and feel of luxury.
Favorite piece in The Webster at Target collection? There are so many! For women, I love the color-block cardigan inspired by [one] my mom wore when I was little. I also love the wedges -– they were inspired by and remind me of a 1960s bombshell, but also speak to the Miami vibe and Art Deco look of The Webster. For men, the white pants, photo print tee and belts are my favorite pieces -– they have such a bohemian look!
Does The Webster have plans for future collaborations with other retailers? We are currently working on some designer partnerships and exclusives but there are no current plans of collaborations with a retailer … but we never know what the future holds!
PHOTO GALLERY
The Webster For Target Lookbook
Calling all HuffPost superfans!
Sign up for membership to become a founding member and help shape HuffPost's next chapter