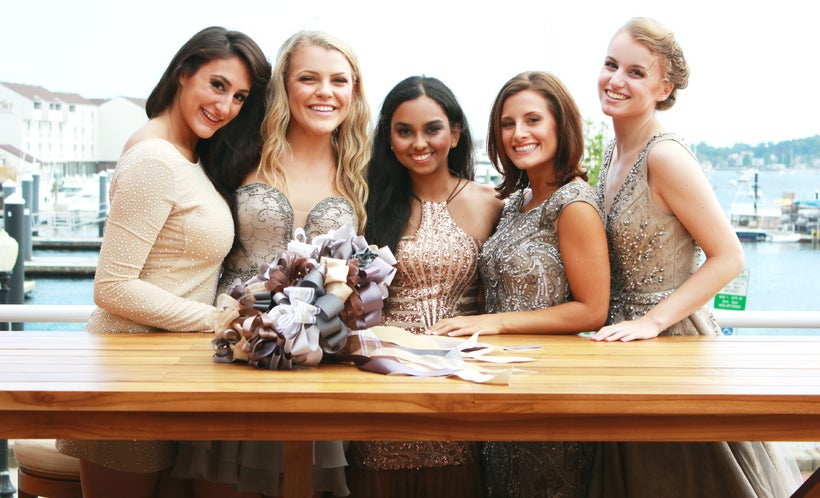 The Wedding Evolution of the Last 50 Years
The concept of having a wedding has been around for what feels like forever. While some traditions have remained intact over the years, like wearing a white dress, throwing a bouquet to a group of lonely-hearted friends, and spending the day with the people you care about the most (or your parents care about the most - if they are the ones footing the bill) some traditions have completely flip flopped.
Whether it's songs, styles, or party favors, the trends have changed, for the good and perhaps even the bad, over the years, especially over the last 50 years.
Ready for some throwbacks? Here are four big ways weddings have changed from 1967 to 2017
There's a good chance that at the last wedding you went to, the wedding party (the couple, their close friends and parents) made a grand entrance into the reception area, with loud music, impromptu dance moves, and a circle of guests clapping and cheering them on.
Not only is having a grand entrance, with a playlist attached, something that wasn't a trend in the 60's, the type of music has drastically changed too.
Wondering what the number one first dance song was in 1967? Well, it was a wonderful slow dancing tune that made couple's smile. It was Louie Armstrong's "What a Wonderful World".
According to The Huffington Post, the top wedding songs for the couple's first dance today include hits by Ed Sheeran & Bruno Mars. These songs are slow enough for a good cheek to cheek dance, but have catchy rhythms to entice the people watching to sway along.
Perhaps the most talked about wedding 50 years ago was the wedding of Elvis and Priscilla Presley. The couple got married in Las Vegas in the most non-cliché Vegas wedding kind of way. Instead of throwing a wedding for hundreds of people and paying hundreds of thousands of dollars for it, they got hitched as low-key as possible to avoid reporters and stop it from leaking to the press.
Nowadays, grocery store magazines and headline news are captivated when a celebrity couple gets married. Magazines pay hundreds of thousands (even millions) to celebrities for photos of their weddings and other life events. One of the biggest celebrites to get married in 2017 will be Pippa Middleton. If her wedding is anything like her sister's, there's a good chance it will be broadcast on live TV.
3. Father Daughter Dances
If ever there was an area of the wedding that's gotten so creative and even gone viral, it's the father daughter dance. Some duos have taken it upon themselves to stage choreographed, and pretty epic, dance routines that have gotten them over 10 million YouTube views.
It is said that bachelorette parties may have started in the 1960's and while they were always meant to be "one last fling before the ring" for the bride and her friends, over the years they have gotten more luxurious and expensive.
Bachelorette parties are no longer local. Groups will travel internationally or to the latest and greatest exotic destination that's Instagram worthy - of course. No wonder it costs the average bridesmaid over $1,200 each time they say I Do to walking down the aisle for a bride.
5. Old, New, Borrowed, Blue
A tradition that has transitioned over time is having the bride carry or wear something old, new, borrowed and blue. Now, you might very well see blue spotlighting in the venue for the "something blue" or a drone "borrowed" from a friend taping incredible video of the day! Expect to see couples getting more tech savvy than ever before.
Calling all HuffPost superfans!
Sign up for membership to become a founding member and help shape HuffPost's next chapter
This post was published on the now-closed HuffPost Contributor platform. Contributors control their own work and posted freely to our site. If you need to flag this entry as abusive,
send us an email
.