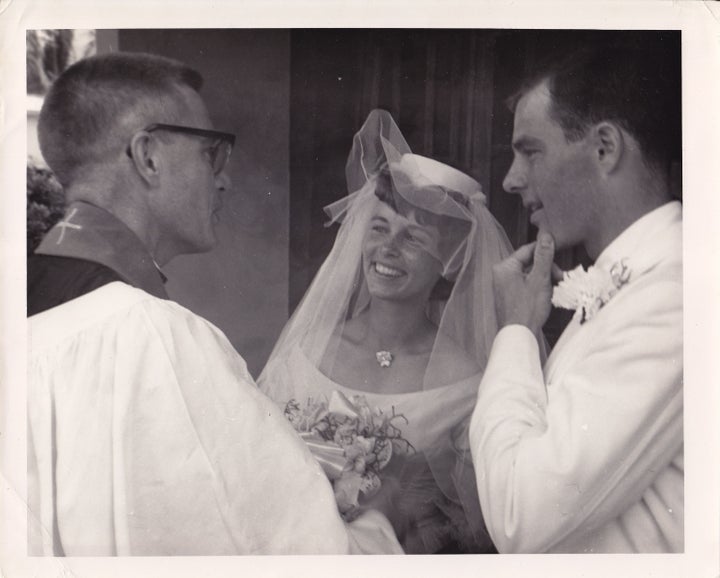 I was married in the early '70s before destination weddings and long engagements with lengthy planning time.

I met my husband in October, he proposed in February and we decided on a June wedding. My parents met him just one week before the wedding. They handled everything down to my mother making my wedding gown.

My fiancé and I were married on a Friday night, attended a reception of my parents' friends on Saturday afternoon and were gone by Sunday morning.

The whirlwind weekend is a vague memory, but I do remember the dress. It was long, empire-waisted and white, of course. I was going through a "country" thing and for some strange reason the dress came with a pinafore. As I said, it was the '70s.

After the wedding, my new mother-in-law wrapped the gown in tissue and placed in a box for safe-keeping. So safe that for the next 40 years and three cross-country moves, I wasn't exactly sure where it was.

Recently, I went looking for my gown. I searched the basement, the attic and finally found it in the back of my garage. When I pulled back the tissue, the memories of that special day came rushing back.
Most little girls (and older ones, too), dream of a fairytale wedding. Their fantasy dress is fabulously romantic, indescribably beautiful, and above all, white.

The wedding gown occupies a unique moment in a woman's life. While fashion may change the silhouette, the white dress and veil have remained virtually unchanged for the past 150 years.

Why do brides-to-be make such a big deal out of selecting a wedding dress? Is it the countless princesses from childhood fairy tales? Or the endlessly photographed dresses of royalty and celebrities that have followed us into adulthood?

Maybe its because a wedding gown is the most expensive garment a woman will ever buy and typically the only garment she will have custom-made for her. According to Brides magazine, the average price in 2011 was about $1,289.00. The gowns shown in the glossy magazines or hanging in the designer bridal salons range from $2,000 to $10,000.

Once the engagement is announced, the wedding dress search begins. Although most modern brides assume the dress will be white, the color did not become a popular option until 1840, after the marriage of Queen Victoria to Albert. The young Victoria broke with a long-standing tradition of English royal brides dressing in silver. Thrifty Victoria chose to wear a white gown so she could incorporate some lace she already owned. The official wedding portrait photograph was widely published and soon brides were choosing white in honor of the young queen.

Recently, wedding gowns have become so central to the idea of a fairytale wedding that entire reality television shows have been created around the selecting and buying the perfect dress.

Whether it is homemade or hand-me-down, vintage or designer, the iconic wedding gown holds a special place in a woman's heart and in her memories.

Last year, I encouraged women to share their wedding gown stories through a national essay writing contest called "THE WEDDING GOWN PROJECT, One Day, One Dream, One Dress."

The essay that won the contest was, "The Perfect Wedding Dress: Sometimes Good Things Come in Trash Bags" by Christy Yates. Christy wrote about her cash-conscious grandmother, who found a designer wedding gown at the local resale shop. She presented the beautiful dress to Christy in a garbage bag.

All the entries from the essay contest inspired me to create a documentary about women's stories of their wedding gowns. With the help of cinematographer Erin Hudson, I followed women into dark basements and dusty closets to locate their treasured dresses and the stories they hold.

We interviewed and filmed a divorced woman who has kept her wedding dress for over 50 years, a woman whose dress has been loved and worn for five generations and a lesbian couple who made their commitment to each other in coordinated skirts and vests. We visited a local elementary school to talk to a kindergartner about her wedding dress dreams fueled by the Disney princess collection.

After reviewing essays and conducting interviews, I agree with one essayist who wrote, "Wedding dresses are like old love letters, they shouldn't be thrown away."

If you are interested in supporting the making of the documentary "THE WEDDING GOWN PROJECT, One Day, One Dream, One Dress," please visit the Kickstarter page here.
Below, a few photos from "The Wedding Gown Project":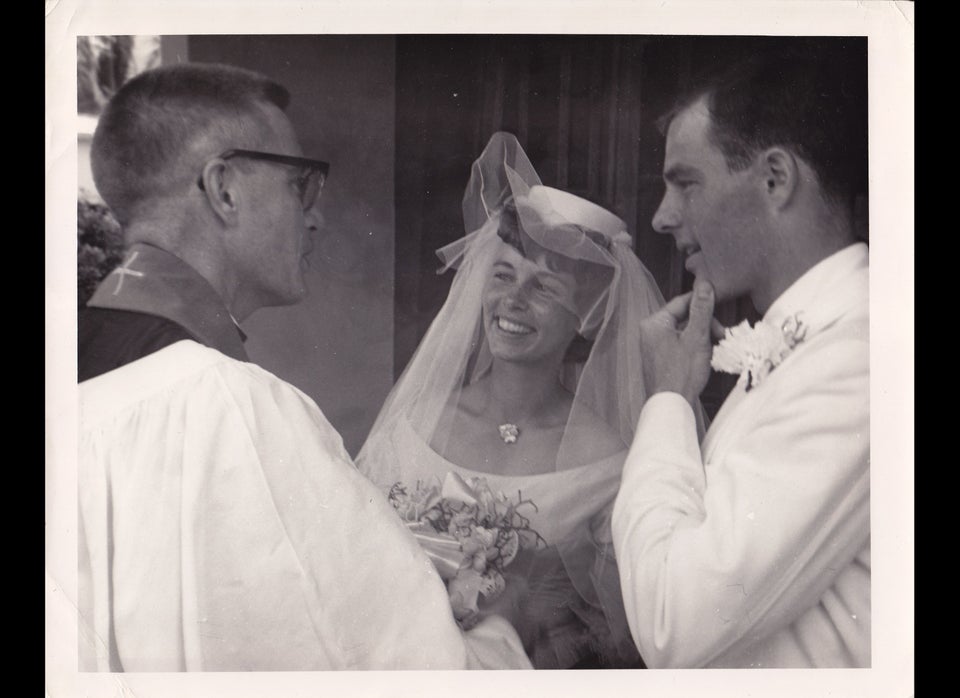 Popular in the Community