If there were a malady known as Terminal Cuteness, then that would be the diagnosis for The Wedding Singer, written by Chad Beguelin and Tim Herlihy, with music by Matthew Sklar, directed by Larry Raben and given its professional regional premiere at Musical Theatre West.
Hopscotching decades from the 60s to the 80s, this production tries with uneven success to evoke songs and fashions (especially hair) in an attempt to make the era (and its music) feel more romantic and perky than, in cheesy reality, they really were. Even with the happy ending, it's not a feel-good production, as per romantic comedies, but treacly and not a little gooey.
Directed with anodyne pertness by Raben, it's the story of Robbie Hart (Ciaran McCarthy) who, until he becomes a rock star, fronts a band that plays at weddings in Ridgefield, New Jersey. He lives with his grandmother, Rosie (the redoubtable Mary Jo Catlett). He's a successful wedding singer because McCarthy is leather jacket dewy, in a Billy Idol sort of way. He's a hopeless romantic until his Snooki-esque fiancée Linda (Kelli Provart) leaves him in the lurch at the altar. Adrift with despair, he chromatically tanks the weddings of others because his has just tanked. After he's pulled out of the dumps -- actually, make that pulled out of the dumpster -- by Julia Sullivan (the girl next door Renee Brna), a waitress who's engaged to an Ivan Boesky-wannebe Glen Guglia (the appropriately unctuous Derek Keeling), a junk bond trader and a purveyor of skanks, he finds the true love he sought all along.
The problem here is that, in its attempt to evoke an era, Raben doesn't anchor the story with characters that are more flesh and blood than paper and glue. As a result, the love story rings false. The production feels like an extended music video, with all the attendant problems of character development and creation of a serviceable plot that don't feel microwaved: it's savory and hot the moment it comes out of the oven, but then it cools down much too fast. Though the chemistry of the two leads for the most part carries the story, what saves the evening from dullsville is more the enthusiasm of the ensemble cast (and the audience cheering them on) than our identification with sharply defined characters whose plights are meant to be our own.
Like the plot, the characters are paper-thin so that for extended periods the evening grates like a Richard Simmons exercise video. McCarthy and Brna show remarkable prowess as vulnerable though starry eyed losers-at-love. For the most part, their performances are credible: capable of and hungry for love but, until the end, not finding it. Their production-long trajectory -- including a nice love-at-first-sight, an endearing registration for weddings gifts, a practice wedding kiss -- towards each other carries the evening. But the secondary cast is more like cut-outs than supporting cast, a point made clear in that Las Vegas chapel where celebrity impersonators feel more real than the supporting cast.
There are funny-enough period references -- a briefcase-sized mobile phone, putting your money in New Coke and not three dollar coffees at Starbucks but the production focuses too much on effect and not enough on cause so that, by the end, it's neither feel-good nor a convincing love story. Could it be the decade? Nah, it's the production.
Performances are 8pm, Thursday and Friday, 2pm and 8pm, Saturday, 2pm, Sunday, with a 7pm performance added on July 17th. The show runs until July 24. Tickets are $30-$73. The Carpenter Center is located at 6200 East Atherton Street. For more information call (562) 856-1994 ext. 4 or visit www.musical.org.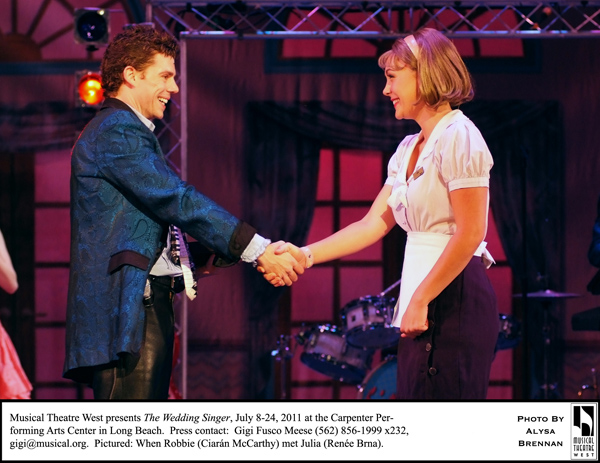 Calling all HuffPost superfans!
Sign up for membership to become a founding member and help shape HuffPost's next chapter