"The library should be a safe harbor for controversies of all types, and those controversies can be dealt with in the context of what is known about art, about literature, democracy and freedom," library trustee Clement A. Price, a Rutgers university history professor, told the AP. "There's no better venue in Newark where such a powerful and potential controversial drawing should be mounted."
PHOTO GALLERY
Kara Walker:
Simply titled "Bodybuilding," the collection of photographs highlights an array of individuals who push their bodies to unfathomable extremes. The 2005 series features women and men of all ages, exploring -- lightheartedly and seemingly without judgment -- a realm where obsessions with appearance and uniformity far exceed societal norms.
PHOTO GALLERY
"Bodybuilding" By Brian Finke
Now, we can certainly appreciate the beauty in the classical aesthetic that so often characterizes sites of religious observance. But sometimes even traditional venues need a radical makeover.
Graffiti artist Hense did just that to a former church in Washington D.C.'s up-and-coming arts district. The artist got to work with the help of a small crew, using rollers, brushes, spray paint, inks, acrylics, mops, enamels and paint sprayers to cover every inch of the edifice in popping hues. After several weeks, the white church was transformed into a rainbow splattered objet d'art.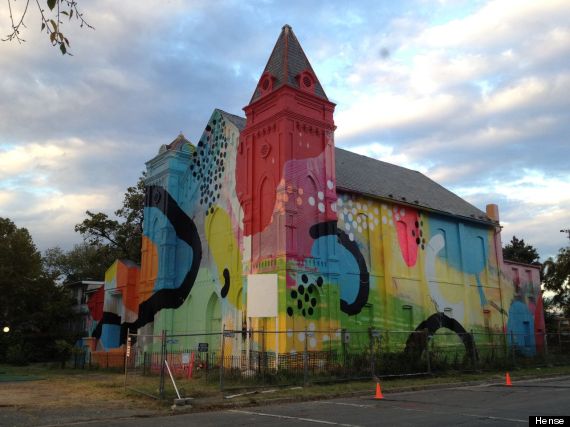 And who could forget the presidential inauguration on Monday?
In honor of the occasion, we wanted to present our favorite portraits of the president below. Instead of Businessweek's wizened version, we see a man in top form, if Pete Souza's most recent political portrait is any indication that POTUS is getting his groove back.
Calling all HuffPost superfans!
Sign up for membership to become a founding member and help shape HuffPost's next chapter