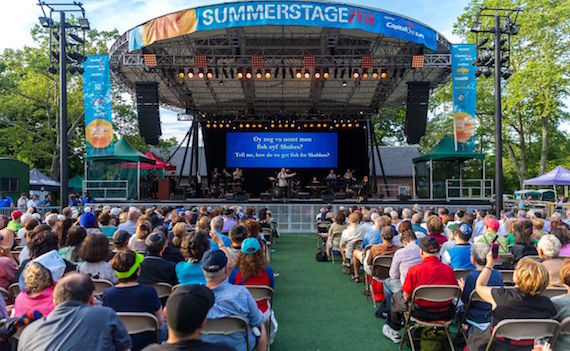 I arrived at Yiddish Soul, the free Concert at Summerstage in Central Park - presented by the 101-year-old National Yiddish Theatre/Folksbiene as the opening event of its Second Annual KulturfestNYC, expecting the same old, same old - over-vibratoed vocal chords singing "My Yiddish Mama" and "By Mir Bist Du Shain" to the de rigueur grey-haired seniors who display more nostalgia for their Jewish upbringing now than they felt when they were living through it.
Boy, was I in for a surprise!
Yiddish Soul was an inclusive, international leap of faith, a mix of old and new designed to attract everyone and anyone from the religiously affiliated to the ethnically non-religious and hopefully their non-Jewish partners, particularly young families with children who seemed pleased enough with their Yiddishkeit - Jewish heritage - to dance in circles in the aisles. WFMU's Nachum Segal hosted, welcomed one and all and reminded anyone who could eat a little something that Mendy's Booth was selling kosher noshes that would satisfy taste buds of every persuasions.
The musical program was diverse, very NOW! and drew from many sources: Cantorial and Chassidic superstars, chart busting Hebrew rocksters, a folk-spiritual pop star, a student a cappella vocal group, all backed by a boundary-busting all-star orchestra conducted by Avremi Gourarie with mainstream musicians including Yaron Gershowsky - the keyboardist, arranger & composer recently featured at BB King's; Frank London -- Klezmatics co-founder and high priest of Avant-Klez; Benny Koonyevsky - Latin/Brazilian percussion wizard; Nadav Remez - Brooklyn Jazz Underground recording star; Michael Hall - celebrated bass guitarist; Klezmer Revolutionary Michael Winograd and local trombone legend Daniel Blacksberg plus, of course, the eminense gris redeemer of Yiddish Musical Theater, the iconic Zalman Mlotek.
Yiddish soul opened with five enthralling New York cantors with magnificent voices singing breathtaking melodies: -- Yanky Lemmer who crowns the bima at the Lincoln Square Synagogue; Netanel Hershtik who knocks it out of the park in the Hamptons; Joseph Malovany, the pillar of fire at the Fifth Avenue Synagogue; Hebrew recording star Benny Friedman whose fourth CD has set new sales records and Chassidic world headliner Lipa Schmeltzer, "The Jewish Elvis," poster boychick of contemporary Jewish music with 31 million likes on Facebook. Schmeltzer is what my aunts called a mahzik, an imp. He sings and dances around the stage in a handsome black and gold kapota (longcoat) and energizes the audience into dancing with him. Later, Lipa led the audience in a sing-along of his Yiddish transliteration of the greatest hit written by an American-Jewish composer. No. It's not Irving Berlin's "God Bless America." It's Billy Joel's "Piano Mench." Lipa and Billy have both sold out Madison Square Garden - Lipa once, Billy once a month.
On to the new! Let's start with Zusha, the young Hassidic hipster trio made up of lead singer Shlomo Gaisin - the tall guy with the long hair, payess (uncut sideburns) and a beard who studied saxophone and fell in love with improvisational jazz, guitarist Zachariah Goldschmiedt who adds an edgy component from his background in electronic music and passion for reggie, and percussionist Elisha Mlotek, Zalman Mlotek's son who grew up immersed in performing klezmer music. Would you believe their debut album Kavana is #2 on the Billboard World Album charts with a bullet! They describe themselves as neo-Hasidic dudes trying to reinvigorate Judaism by teaching simplicity, authenticity and the pursuit of joy via wordless melodies, sung from an universal place in their hearts.
Another newby ensemble, The Maccabeats, are a clean-cut, soul-stirring, a cappella chorus from Yeshiva University who with just their voices and a little Jewish humor connect with fans of all backgrounds and ages via four albums and amusing, melodic videos that have understandably received 20 million hits on YouTube. You gotta see it to believe their multi-genre doowop to polka to funk to barbershop quartet version of "Dayenu." It's sweet, funny and respectful.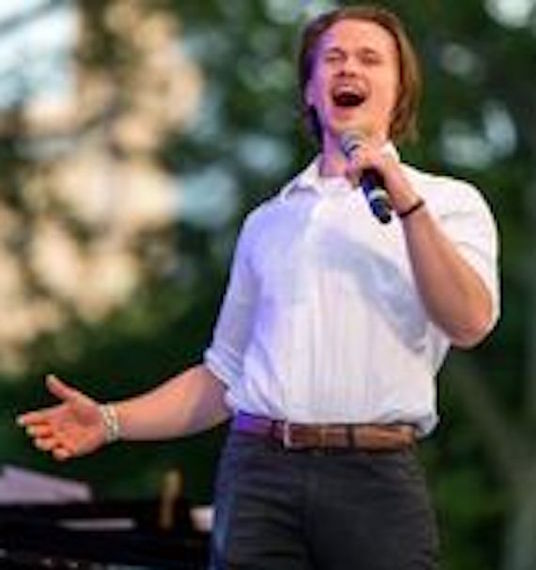 For me, the highlight of the program was the unexpected appearance of baritone Cameron Johnson, the gorgeous hunk who played the fated bridegroom of The Golden Bride, a Yiddish musical from the 1920's which just received two Drama Desk nominations! and returns with Johnson again starring as Misha from July 4th until August 28th at The Museum of Jewish Heritage 38 Battery Place, NY 10280. Johnson may not be a Jewish name but somebody better check his DNA. His Yiddish accent is more authentic than many people who were born in Berditchev.

I'm also looking forward to the return of Jinta La Mvta - Japan's sensational, premier and probably only Klezmer band that knocked them dead last year. They're marvelous, adorable and will be performing at Museum of Jewish Heritage at 8 pm on Monday, August 29. For a complete schedule check www.kulturfestnyc.org. Many events are free. Go and enjoy.
Photo Credits:Victor Nechay
Calling all HuffPost superfans!
Sign up for membership to become a founding member and help shape HuffPost's next chapter