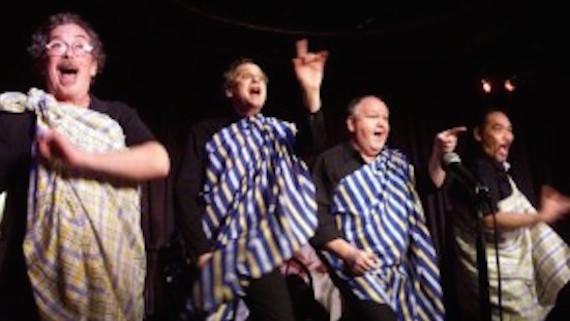 Ricky Ritzel is the Manhattan club world's kinetic musical fixture, the creative whirlwind who chaperones the weekly reunifications of Judy Garland and not-so-ever-lovin' daughter Liza -- or reasonable facsimiles thereof -- at Don't Tell Mama.
If you have to ask, don't consider yourself a Broadway buff or an American Songbook aficionado. Don't Tell Mama is the cabaret multiplex on West 46th Street where most glorious Broadway stars and award-winning composers first displayed their talents. Like who? Brian D'Arcy James, Marin Mazzie, Susan Stroman, Mark Nadler, Jim Gaffigan, Billy Porter, Steven Lutvak, (Gentleman's Guide to Love and Murder) Jonathan Larson (Rent) and Jason Robert Brown (Bridges of Madison County) -- two showrooms, one cafe and a music bar where you might find yourself cheek to cheek with Bette Midler, Michael Feinstein or a plethora of Lizas both with and without a Z.
Ricky Ritzel, Don't Tell Mama's blue-collar-yenta-cum-theatrical-anthropologist, has merged his musical legerdemain and his gift for gossip into Ricky Ritzel's Broadway, five once-a-month live shows (July-November) tweaked with his take on the scores and the plots of several Broadway musicals from hits to flopperoos. He sings, tickles the ivories, talks about the shows and the songs in them as well as those dropped from them with tittle-tattle you'll hear nowhere else. The cast? Ricky Ritzel's Irregular Regulars. A dozen should-be-far-better-known singers and comedy cut-ups including Jay Rogers (currently featured as the Wizard in Transport Group's revival of Once Upon a Mattress), Cabaret performer/director Lennie mega-Watts and surprise guests like Mama Mia and Sunset Boulevard star Karen Mason singing her heart out as Gypsy's Mama Rose, a role she was born to perform.
The highlight of every one of Ricky Ritzel's Broadway shows is the presence of Everybody Loves Sidney Myer in anyone one of his incantations, from Dolly in Hello, You Know Who to the refined stripper in Gypsy to one-fourth of the manly Roman quartet pictured above gaily declaring why "Everybody Ought to Have a Maid." Sidney, the beloved booking manager of Don't Tell Mama for over two decades, was recently lauded by Stephen Holden in the New York Times as "the evening's high point" of this year's Cabaret Convention "singing a comic obscurity," -- a review which even Larry David would admit was pretty good, pretty good.
On Tuesday night December 8th at 7 pm, Ricky and his repertorians will present highlights of Ricky's to-date musical and comedy gems as a part of Urban Stages' Winter Rhythms Series. Ricky's show will include classic hits from Jerry Herman's Hello Dolly! and Stephen Sondheim's A Funny Thing Happened on the Way to the Forum as well as cult favorites (a deceptive phrase that describes a flop) with surprisingly memorable songs, to wit, Kander and Ebb's 70 Girls 70 and what in my opinion is the greatest score ever written, Jerry Herman's Mack and Mabel, alas doomed to failure by a book which couldn't rise above its unhappy ending. How unhappy? Mack loved the Keystone Kops more than he could ever love Mabel and she died of a heroin overdose.

If you think the performers in the photo are having fun as a harmonizing Roman quartet, the audience had even more fun watching Jay Rogers, Sidney Myer, Lennie Watts and Aaron Morishito. Some of the Ricky's younger cast members like Tommy J. Dose, Jon Satrom, Laura Pavles and Sean Bernardi do double duty. When they are not singing professionally, they support themselves tending bar at music clubs around town.
I can't recommend Ricky's series enough. They were the best cabaret shows I saw this season and the audiences shared my opinion.
Give yourself a wonderful Christmas present and go see the Best of Ricky Ritzel's Broadway at Urban Stages. Lots of music plus lots of laughs and lots of surprises. Listen to me! You won't be sorry. I certainly plan to be there. I just can't get enough of him, them or it.
Photo credit: Alvin M. Chanin
REAL LIFE. REAL NEWS. REAL VOICES.
Help us tell more of the stories that matter from voices that too often remain unheard.